I have Hyperadiposity, one of the 2 sub-definitions of this complication of HIV  (lipodystrophy), excess fat in my belly and back. Did it come from the Crixivan I took many years ago or is it a symptom of HIV itself? Not even my doctor can answer this.
So how does this affect me?  I have very large upper arms, no fat at the elbow. I have a lovely buffalo hump and just recently I started having pain at the base of it. My belly fat is hard and even when I lose weight these just don't go away. My face is thin, so I have injections of Sculptra a few times a year.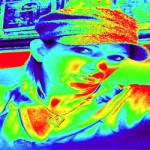 Has anyone ever had or know anyone who has had effective treatment for these? I have had liposuction, in my arms and belly… It just comes back. I saw a specialist about my hump and he was all about trying to get rid of this… I wasn't impressed that he didn't have 'before and after' pictures of successful buffalo hump removals. Let's just say, I am waiting for the photos before I go under his knife.
Jae