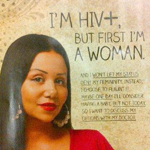 I will try to explain with humility and respect the reason why it hurts us to deny the truth and not support the science that says that undetectable = untransmittable.
This was a response to a person I will not mention because this is about all of us living with #hiv and our allies! I believe in respect above all and each individual has the human right to express himself! But, sometimes they hurt us and in many cases without that intention. I hope you understand the human side...
To read this blog in its entirety, click here.