May 7, 2021
6:00pm ET | 3:00pm PT
via Latino Commission on AIDS
Salud es Vida continúa con su serie de foros comunitarios mensuales para hispanohablantes con información relacionada con el movimiento U=U (Indetectable equivale a Intransmisible).
A principios de 2016, personas que vivian con el VIH se organizaron con aliados e investigadores para comunicar acerca de un hecho ampliamente desconocido pero que quepuede cambiar la vida radicalmente: una persona que vive con el VIH que tiene una carga viral indetectable no puede transmitir el VIH a sus parejas sexuales. En otras palabras, Indetectable = Intransmisible (U=U). En este seminario web, escuchará las ideas de una embajadora de U=U a través de su experiencia personal, así como tambien una seccion con información desde el punto de vista médico.
ACERCA DE MARIA MEJIA
Maria Mejía es embajadora global, miembro del Consejo Asesor comunitario y bloguera de A Girl Like Me para The Well Project. También es embajadora de U=U.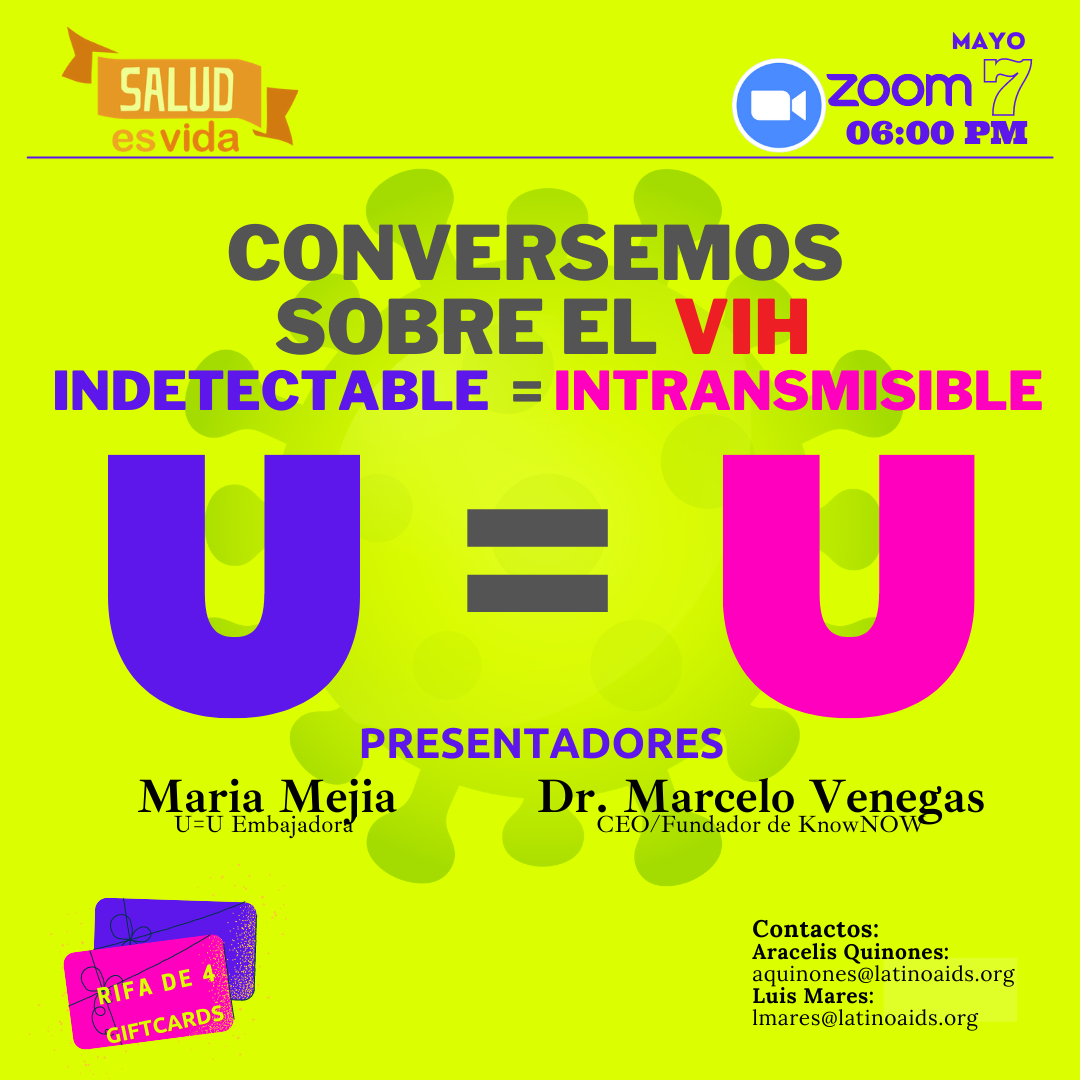 Salud es Vida continues with its series of monthly community forums for Spanish-speakers with information related to the U=U (Undetectable equals Untransmittable) movement.
In early 2016, people living with HIV organized with allies and researchers to communicate a life-changing but widely unknown and radical fact: a person living with HIV who has an undetectable viral load cannot transmit HIV to sexual partners. In other words, Undetectable = Untransmittable (U=U). In this webinar, you'll hear the insights from an U=U Ambassador through her personal experience , as well as information from a medical provider who works with HIV patients.
ABOUT MARIA MEJIA
Maria Mejia is a Global Ambassador, Community Advisory Board member and A Girl Like Me blogger for The Well Project. She is also a U=U Ambassador.