Krista Martel, Executive Director, The Well Project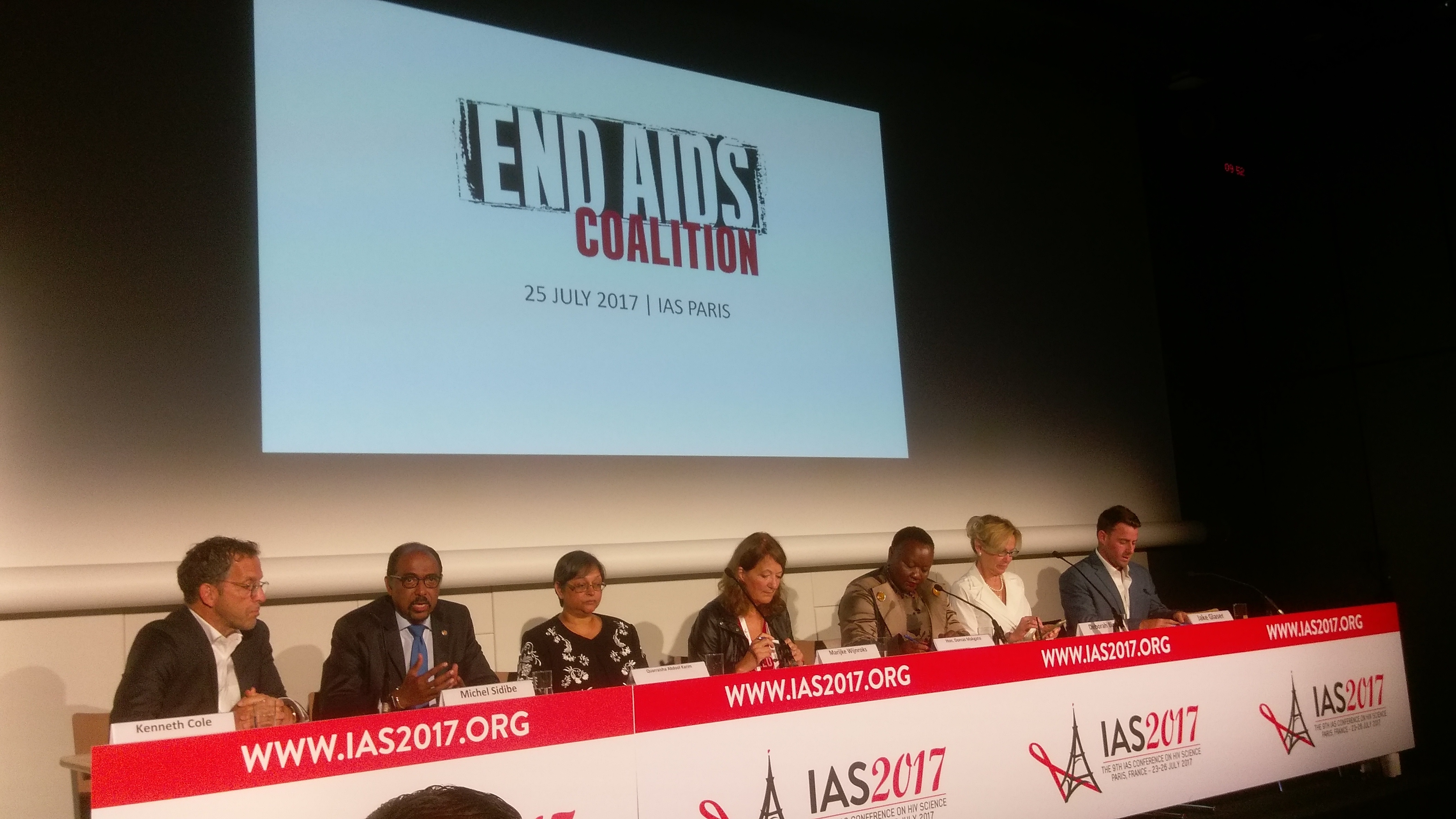 Among so many exciting events at IAS 2017, The Well Project was pleased to be invited to attend a press conference launching the newly formed End AIDS Coalition (EAC). This campaign is a collaboration of AIDS experts, scientists, clinicians, policy makers, faith leaders, businesses, activists, and humanitarians who are all working to end the AIDS epidemic by 2030. Founded by Kenneth Cole, fashion designer and chair of the board of amfAR, the idea for the coalition was born after Michel Sidibé, executive director of UNAIDS, approached Cole to be a Goodwill Ambassador for UNAIDS, prompting him to realize the need to more closely link the work in prevention, treatment, vaccine, and cure in order to end the epidemic.
Representing the EAC were Kenneth Cole, and EAC CEO Tom LaSalvia. Additional speakers at the press conference included:
Michel Sidibé: executive director of UNAIDS
Ambassador Deborah Birx: U.S. global AIDS coordinator & U.S. special representative for global health diplomacy
Dr. Marijke Wijnroks: interim executive director for the Global Fund to Fight AIDS, Tuberculosis and Malaria
Honourable Dorcas K. Makgato: minister of health & wellness of Botswana
Quarraisha Abdool Karim: epidemiologist and associate scientific director for CAPRISA
Kenly Sikwese: coordinator at the African Community Advisory Board (AFROCAB)
Midnight Poonkasetwattana: executive director at the Asia Pacific Coalition on Sexual Male Health (APCOM)
Jake Glaser: founder of Modern Advocate and Elizabeth Glaser Pediatrics AIDS Fund (EGPAF) ambassador
"This is a great opportunity to figure out how we change the global response to one in which prevention, treatment, vaccine, and cure research are all working together on one focused goal of ending the epidemic by 2030," said LaSalvia.
The leaders of the collaboration stressed that we already have the tools we need to end the AIDS epidemic and now it's about implementation. "Implementation is so difficult," said LaSalvia, noting that we are at a tipping point and "if we don't get ahead of the epidemic in the next three to five years, we will lose the opportunity."
LaSalvia called for additional partners to sign on and become part of the campaign, noting especially the need for young people and new voices. The campaign will engage with the HIV advocacy community to learn about what has worked and to determine how to leverage those successes more broadly.
"In my mind, the first half of a challenging problem is much easier to overcome. You have 50-60 percent on treatment, which is fantastic, but we have another half to go," said Karim. "It is the other half that is more challenging. I find it very exciting that the coalition is being created. Every time we have a common vision, we make more advances and progress."
The End AIDS Coalition plans to launch a global campaign in 2018 at the International AIDS Conference in Amsterdam with the goal of inspiring people everywhere to join the fight. We look forward to providing community input to EAC as they move forward. Click here for more information.