Do you get our newsletter?
Sign up for our monthly Newsletter and get the latest info in you in box.

Join our community
Connect to our support community and share experiences with other women living with HIV.
Get basic information about what menopause is, what it looks and feels like, treatments for symptoms, and keeping healthy after menopause.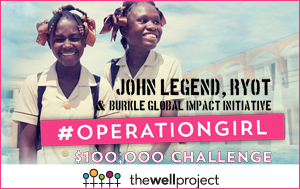 #OperationGirl $100K Challenge!
The Well Project joins John Legend & RYOT in the #OperationGirl Charity Challenge!