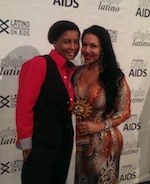 I wanted to share with the whole world my special moment and also announce that Lisa and I are married!  We got married in New York.
I was also honored by the Latino Commission on AIDS on May 13th, 2014. The Dennis De Leon Voz de Compromiso Award is a very special award because he was a fierce activist that I hope to be like one day.
Here is a video of the wonderful night at the Cielo Latino Gala and my acceptance speech for the award:
To read this blog in its entirety, click here.