November 2-3, 2017
Atlanta, GA
via The Sankofa Collaborative
After over 35 years of HIV prevention for men and women, it appears that we have lots to learn about women's microbiome and how to consider all of the components of reproductive health, sexually transmitted infections (STIs) and HIV risks to their bodies. This information is needed in order to fully inform women about how interactions between drugs and biologic functions can compromise the efficiency of medications for HIV prevention. We need a paradigm shift to call attention to the importance of studying all of the components of women.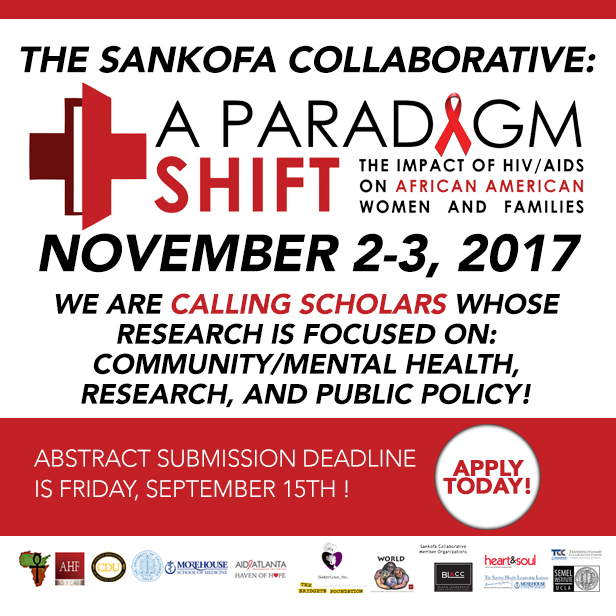 A Paradigm Shift: The Impact of HIV/AIDS on African American Women and Families conference is designed to focus on the impact of HIV/AIDS on African American women and their families. It will highlight the urgent need to call attention to the persistent health disparities and HIV's impact on Black women, particularly as we examine the inadequate level of funding and dedicated resources to combat this problem at the national, state and local levels.
This urgent conference will take place at Morehouse School of Medicine on November 2-3, 2017 in Atlanta, Georgia and is free to attend.
The Paradigm Shift conference was established by the Sankofa Collaborative. This dynamic scientific and community oriented conference is endorsed by the American Public Health Association Caucus of Black Health Workers, UCLA Semel Institute, Charles Drew University, AID Atlanta, WORLD, AIDS Healthcare Foundation, Morehouse School of Medicine, The Bridget B. Foundation and other national leaders in HIV/AIDs prevention.
The Paradigm Shift Conference will include a dynamic selection of national leaders in addressing HIV/AIDs, historical trauma, mental health/wellness, social isolation, community engagement and policy. Together, we can advance the fight to diminish HIV transmission in Black Women and the devastating impact of HIV/AIDS on Black women and their families within the context of their environment, socialization, family expectations, relationships and economic realities.
Key Speakers Include:
Angela Rye, Esq.
Norweeta Milburn, PhD
Joy DeGruy, PhD
Former Surgeon General Joyceln Elders
Camara Jones, MD, PhD
Gabriel Maldonado, MBA
Donna Hubbard McCree, PhD, MPH, RPh
Valerie Spencer, MSW
Gina M. Wingood, ScD, MPH
Faye Z. Belgrave, Ph.D
Cheryl Tawede Grills, PhD
Gail Wyatt, PhD
To learn more and to register, click here.