Krista Martel, Executive Director, The Well Project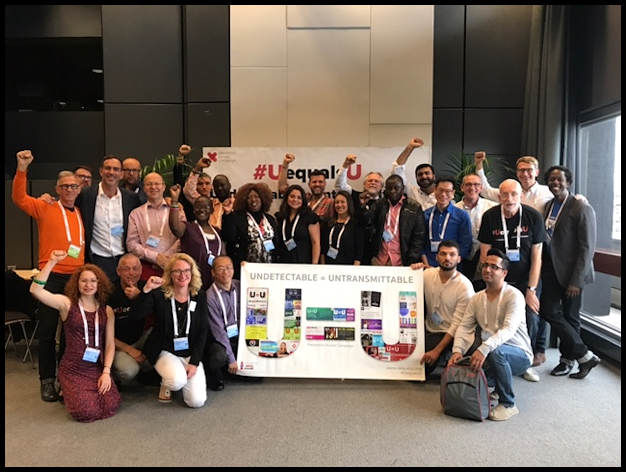 Photo credit: Bob Leahy, PositiveLite.com
"When I was diagnosed with HIV in 2003, I felt like I was a walking infection," says Bruce Richman. "I was terrified about passing HIV on to someone that I love. I didn't start treatment because taking a pill every day would remind me that I was infectious, every day. After I started treatment in 2012, when my health started to deteriorate, I learned from my doctor that because I was undetectable, I couldn't transmit HIV. I couldn't pass it on. I was elated. But very soon I became outraged. Because every HIV treatment site, every media outlet, every ASO, every federal health department, every state health department, everywhere, was saying that I was still a risk."
In early 2016, the health equity program Prevention Access Campaign (PAC) launched the "U=U" campaign, a project led by people living with HIV. The U=U campaign unites a global community of HIV advocates, activists, researchers, and community partners with the mission to clarify and share the fact that people living with HIV, who are on effective HIV drugs and whose viral load is suppressed, do not transmit HIV when they have sex. As of August 3, 2017, more than 350 organizations from 45 countries have endorsed the U=U message and consensus statement including The Well Project, International Association of Providers of AIDS Care (IAPAC), International AIDS Society (IAS), Housing Works, Planned Parenthood, Positive Women's Network-USA, New York State, the city of Paris, AIDS United, NAM/aidsmap, CATIE, ICASO, and many, many more from around the globe.
Through our education and advocacy, The Well Project's community has witnessed the profound positive impact this information can have on PLHIV's outlook on life, relationships, hopefulness, and overall quality of life. This is why we were thrilled to attend the U=U press conference and activities at IAS 2017.
The U=U press conference took place on Monday, July 24 at the Palais de Congres and was moderated by Charles King (president and CEO, Housing Works) and Dazon Dixon Diallo (president and CEO, SisterLove Inc.). The panel also included Dr. Anthony Fauci (director, U.S. National Institute for Allergies and Infectious Diseases), Dr. Deborah Birx (U.S. Global AIDS Coordinator and ambassador at large), Dr. Luiz Loures (deputy executive director, UNAIDS), and Bruce Richman (executive director, Prevention Access Campaign). The panel was overwhelmingly positive and supportive of the science behind U=U. Citing the PARTNER study, in which there were 53,000 acts of condomless sex among mixed status couples, and not one case of HIV transmission, Dr. Fauci added, "I think it's one of the unusual situations in science when the overwhelming accumulated evidence base allows us to be able to confident in what we're talking about."
In addition to the important impact treatment as prevention can have on changing the course of the HIV epidemic, the impact of the knowledge about U=U can have on people's lives is immeasurable, and we must use all of our tools and voices to inform the HIV community and general public. U=U also reinforces that access to HIV medications and appropriate and affordable healthcare is also a major priority if we are to reach our goal to end the HIV/AIDS epidemic across the globe.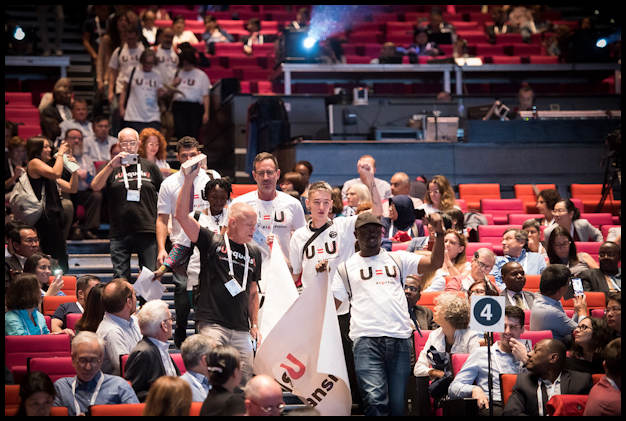 To continue to add to the theme of hope and positivity, advocates from around the globe planned (and IAS approved) a celebratory demonstration during the Wednesday morning plenary, dancing down the conference aisles to the song of "Celebration" and chanting "U=U! Celebrate Sex!" and "U=U! Science Not Stigma!"
Opposites Attract: To add to the existing scientific evidence behind U=U, an update from the Opposites Attract study was also released at IAS showing no cases of HIV transmission among mixed-status gay couples, in which the man living with HIV had a suppressed viral load. For more information, please click here!
To learn more about the press conference and U=U at IAS, go to: