Print
Email
Save
Krista Martel, Executive Director, The Well Project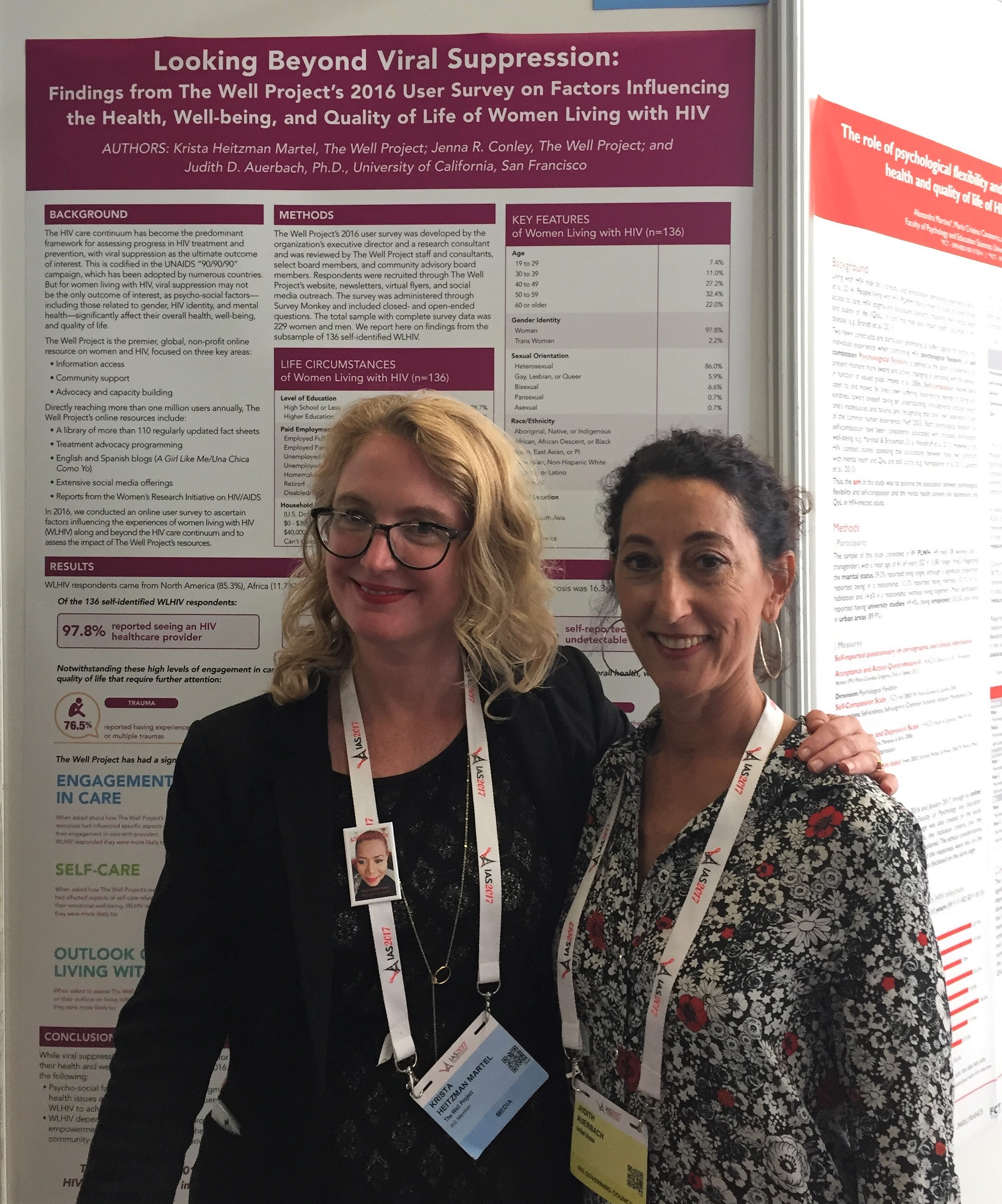 From July 23-26, 2017, more than 6,000 scientists, researchers, clinicians, and community members from more than 40 countries came together for the 9th IAS Conference on HIV Science in Paris, France. The Well Project was excited to attend and present our poster, Looking Beyond Viral Suppression: Findings from The Well Project's 2016 User Survey on Factors Influencing the Health, Well-being, and Quality of Life of Women Living with HIV. The poster highlights that while viral suppression is a meaningful outcome for women living with HIV, psycho-social factors (including trauma, stigma, and discrimination) and behavioral health issues are also important influences that must be addressed in order to ensure that women living with HIV achieve their best possible quality of life. The Well Project's 2016 user survey data also demonstrate that women living with HIV depend on The Well Project to provide credible, up-to-date information and empowerment tools that optimize their health and connect them to a supportive community—all from the comfort and privacy of home.
We've amassed other highlights and links to coverage of IAS 2017 below and invite you to read more!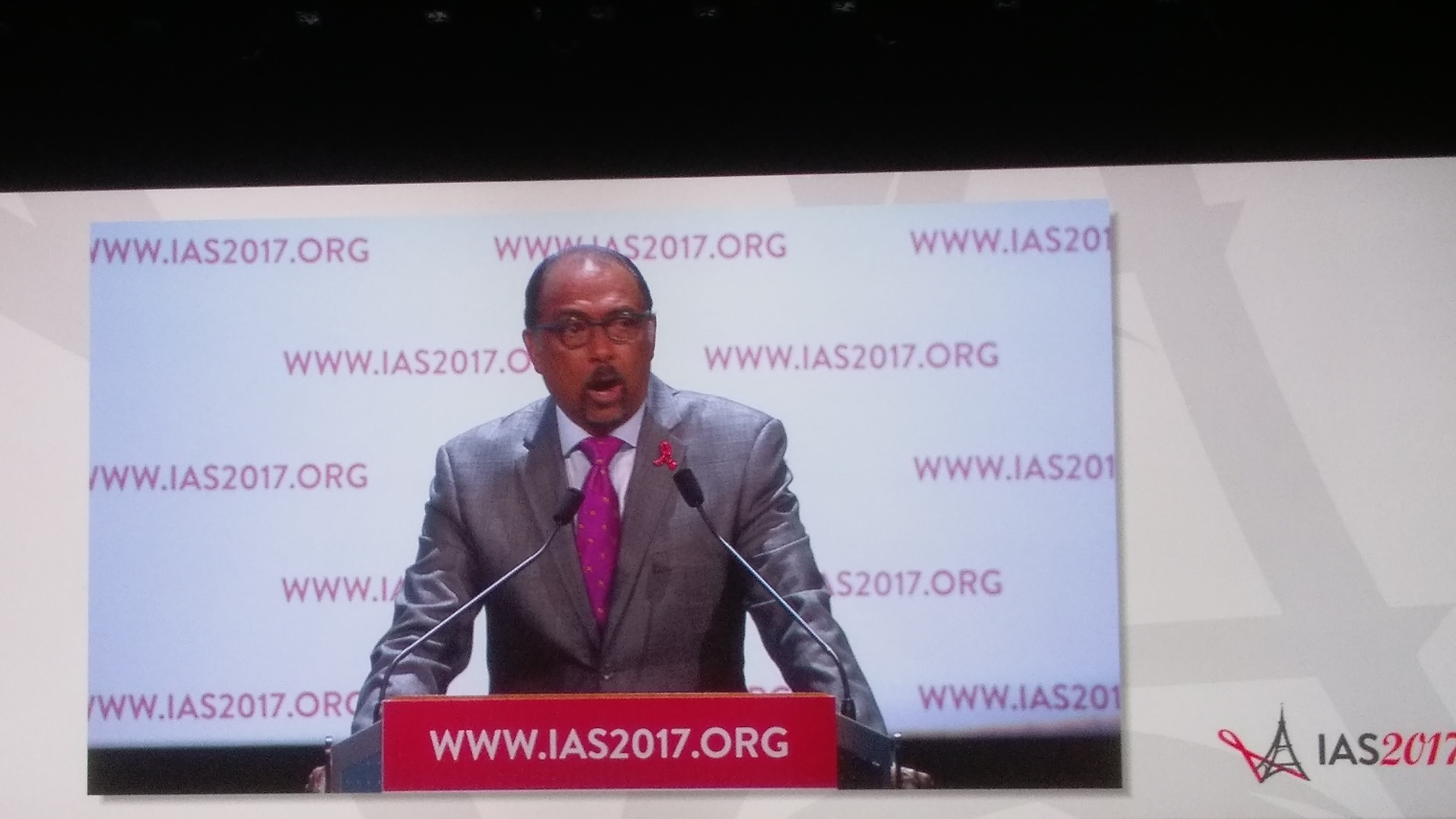 90-90-90 Progress Requires Sustained Commitment: One theme resonating throughout the conference is that we are making significant progress in HIV prevention and treatment, but it could be jeopardized without sustained funding. During the opening press conference, Michel Sidibe, executive director of UNAIDS, cited several important statistics including this one: 14 years ago when the IAS conference was last held in Paris, just 4 percent of people worldwide were on treatment and today more than 53 percent (19.5 million) of people living with HIV have access to treatment. That is tremendous progress! Additionally, death rates have been reduced by more than 50 percent and the life expectancy for people living with HIV is rising globally. Less than five years ago, there were more than 700,000 babies born with HIV every year in South Africa and today there are less than 3,000 – 95 percent of pregnant women with HIV are receiving anti-retroviral therapy!
We heard good news with four 'fast-track' cities, including New York, Paris, Amsterdam, Melbourne, either reaching their 90-90-90 targets or coming very close. A great example of the success of expanded access to treatment in both care and prevention outcomes came from Swaziland, where new HIV transmissions have fallen by 50 percent in the past five years as the proportion of people on antiretroviral treatment with fully suppressed viral load has doubled. This news was hailed by Ambassador Deborah Birx, U.S. global AIDS coordinator and U.S. special representative for global health diplomacy throughout the meeting. This is especially important as Swaziland has one of the worst HIV epidemics in the world, with nearly one-third of the population living with HIV.
But this is no time to rest. There were many warning calls that we can't lose momentum and we need to keep up global funding if we truly hope to end this epidemic. During an interview with Quarraisha Abdool Karim, Ph.D., epidemiologist and associate scientific director for the Centre for the AIDS Programme of Research in South Africa (CAPRISA), she noted, "There is a tendency in these meetings to share the good news. A lot of the gains we have made stand to be reversed if we don't keep our eye on the ball. We have a lot more to do."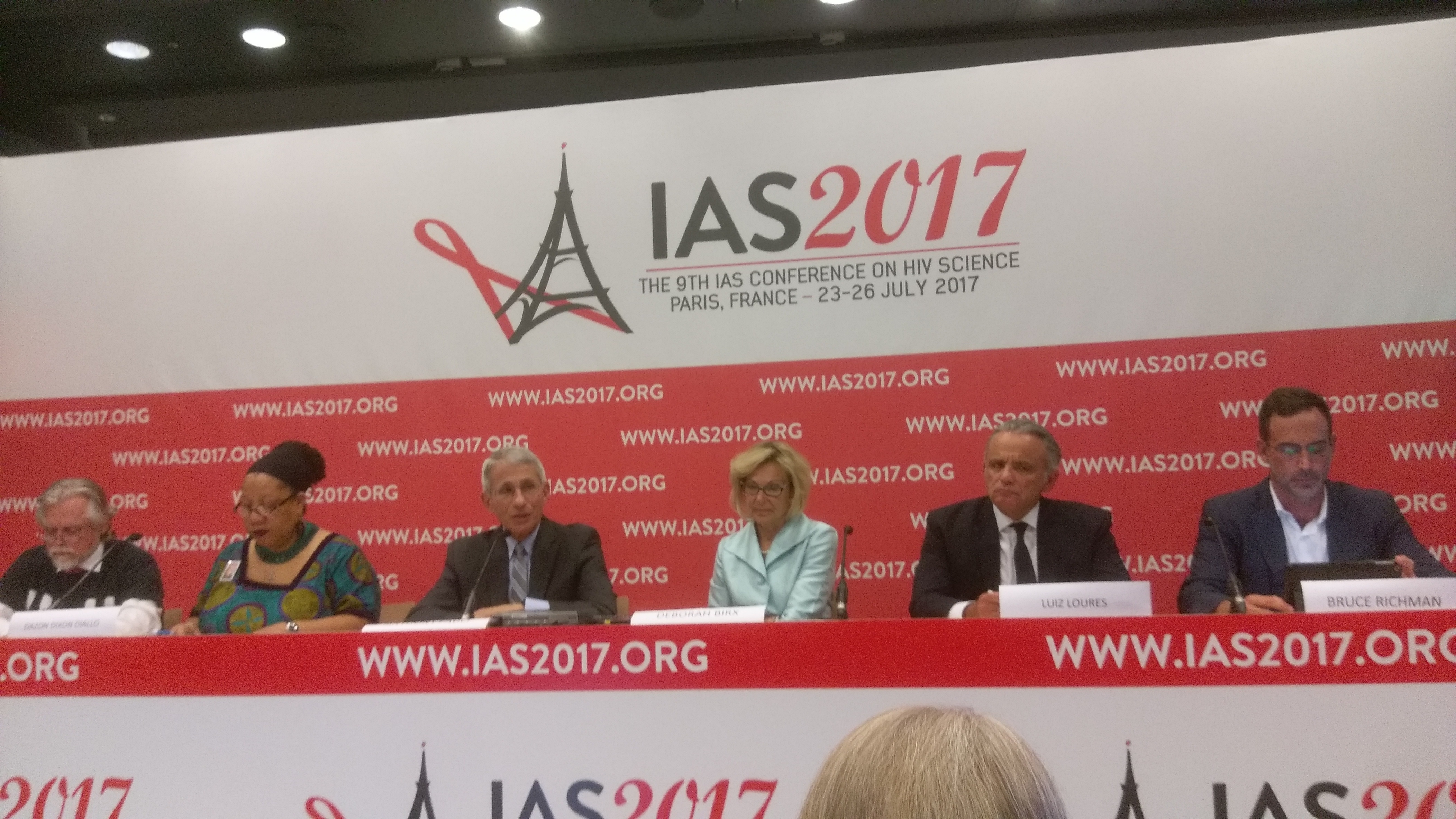 U=U (Undetectable=Untransmittable): We were thrilled to see U=U's significant presence at the conference and we were excited to take part in it! New study results from the Opposites Attract study added to the mounting data around Treatment as Prevention, finding no HIV transmissions among mixed-status couples when the partner living with HIV was on combination treatment and had a fully suppressed viral load. Please click here to read our full coverage of U=U at IAS, including the amazing press conference!
HIV among Young Women and Girls: HIV among young girls in South Africa continues to raise alarms, with more than 90 percent of new infections occurring in young women between the ages of 15-19 and nearly 1,000 young women contracting HIV every day. This is particularly troubling because South Africa has a very young population -- more than 60 percent is under the age of 13. This means there is a huge population entering into the age range that is most susceptible to HIV. At the conference, we heard over and over again how imperative it is that we not only maintain the progress we've made around prevention, treatment, vaccine, and cure research and implementation, but also increase our efforts so that we do not face a complete reversal of all that we have achieved.
Key to these efforts is primary prevention and a South African study released at the IAS conference confirmed that PrEP use was safe for teens. "Adolescents and young people represent a growing share of people living with HIV worldwide'" noted Dr. Anthony Fauci' director of the National Institute of Allergy and Infectious Diseases' part of the National Institutes of Health (which funded the study). "Science has demonstrated that the HIV prevention needs of adolescents may be different than those of adults' which is why these new study findings are so important."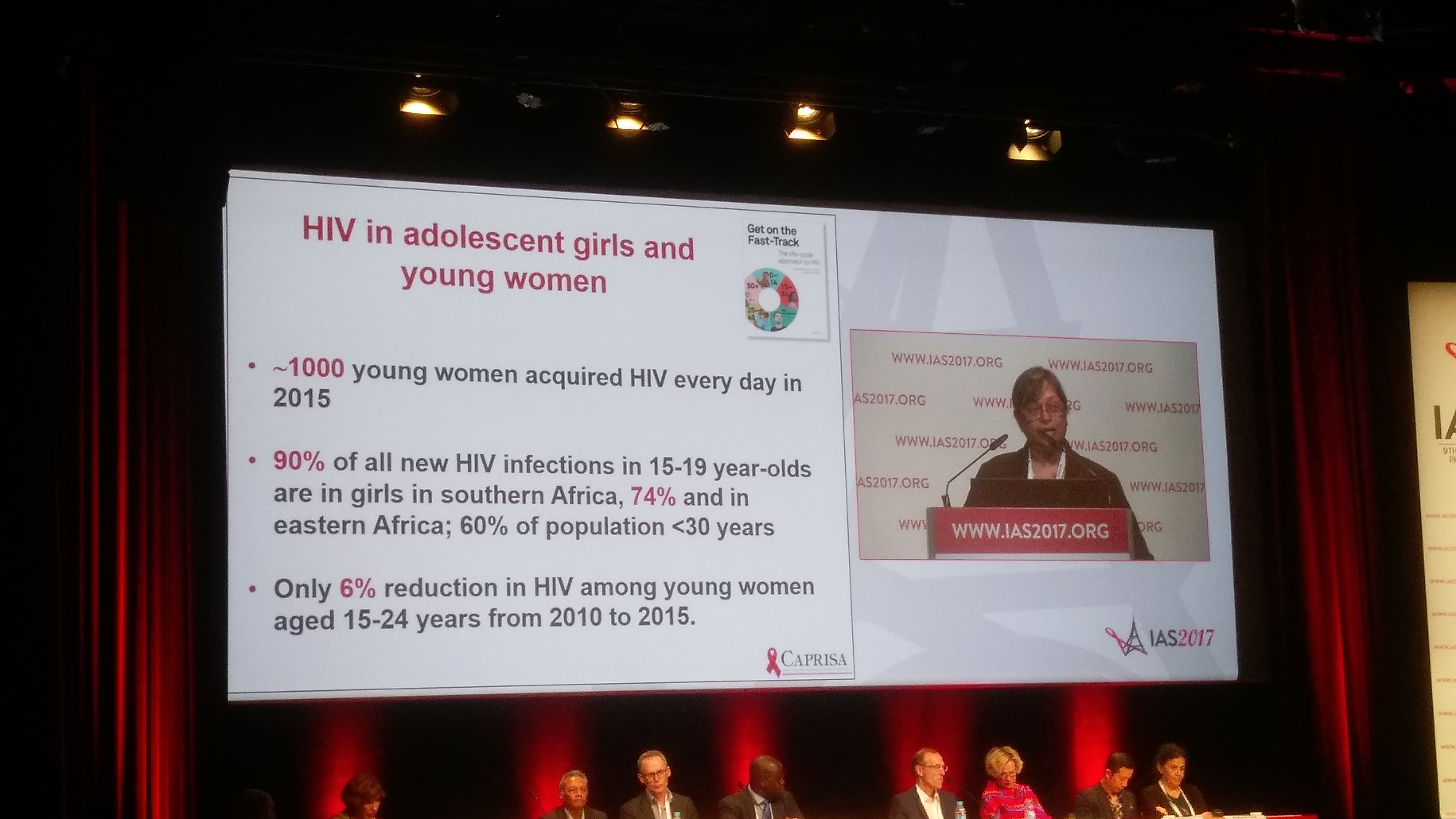 [I had the opportunity to interview Dr. Quarraisha Abdool Karim (CAPRISA) about the epidemic in South Africa as it relates to young women and girls. Click here to read more!]
And there's more! Results from a U.S.-based study showed that the dapivirine vaginal ring (HIV-prevention ring) was successful among U.S. teens aged 15-17, reducing HIV transmission by more than 56 percent. The dapivirine ring is silicone ring that contains the antiretroviral drug dapivirine. Women insert the ring into their vagina themselves and the ring slowly releases the drug over the course of a month. After that month ends, women can replace it themselves. This ring has the potential to be another tool that gives women and girls a confidential way to protect themselves, even when their partner does not wear a condom. Plans are in development to test the ring with young women in Africa. 
End AIDS Coalition: A press conference was held announcing the launch of the End AIDS Coalition, a collaboration of experts from around the world who are working to end the AIDS epidemic by 2030. "If we do not act now, and act together, to gain control of this global epidemic, it may never be possible and the costs in both funding and human lives would be catastrophic," says Kenneth Cole, End AIDS Coalition founder. For full coverage of the press conference and more information about the coalition, please click here. 
Long-acting Injectables: Have you heard about long-acting injectables? The idea is that you get a shot once a month or once every two months instead of taking pills every day. Studies presented at IAS 2017 about advances in a long-term injectable found that the injections appeared to be as safe and effective at suppressing HIV as a daily oral regimen. This is really exciting news because adherence remains a significant issue for many people and having a treatment option that doesn't require daily dosing could make a huge difference for people around the world.
Vaccines: While we all know that a vaccine is the "holy grail" in HIV research, we also know how challenging it has been to make any headway on them. Data presented at IAS 2017 highlighted an exciting, though very early, advance in a new vaccine known as the mosaic vaccine. It is only the fifth HIV vaccine to ever be tested in humans, but it still has a long way to go before we'll know if it will be successful.
HIV Cure Research: In advance of IAS 2017, an HIV Cure and Cancer Forum was held to explore the interconnectedness of HIV and cancer with the hope of accelerating the pace of discovery in HIV cure research. Please check out this wrap up from the University of North Carolina at Chapel Hill. 
On that note, if you're living with HIV, please take a moment to fill out this survey and let our friends doing this research know your feelings and thoughts around HIV treatment interruption for HIV cure research. It is especially important to get more women's input on this research. 
Other updates and coverage from the meeting of interest:
IAS Live: View video coverage from IAS 2017 including the opening and closing ceremonies, plenaries, special sessions, and press conferences 
Positive Lite: Check out conference coverage, including a great recap of all things U=U from our friend, Bob Leahy at PositiveLite.com
NAM/aidsmap.com: The official scientific reporter for IAS 2017 -- click here for comprehensive coverage of the news and data from the conference