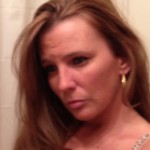 For weeks now I have been fighting depression.  Sinking slowly down a dark, lonely and miserable hole feeling hopeless. In my head I have thoughts of, "Why am I here? I have no dreams anymore, no motivation, not really fulfilling my job as a mother, wife, human being.  I wish so bad I could just stay asleep til the good part of life comes along or not wake up at all." I couldn't be so lucky, I thought. "I almost wish I could off myself and feel ok with it". I reach out to God daily to please help me or just take me home and I get nothing.  My marriage is great, he takes care of me, doesn't hit me or belittle me, so things are great, at least as long as I don't want anything from him, eg. emotional support, listen to me vent, his feelings or feedback on what to do.  My children seem to not care too much for me anymore.  The teenage years are killing me.  I fight for my children and their feelings and only get knocked down by them (emotionally) for trying to make the person that is hurting them stop and realize they are wonderful kids and they need time with him.  My family gives me great support as long as I don't ask for anything, especially to spend time with me.  The pain from my Fibromyalgia and herniated disc is a daily struggle and now I am beginning to have frequent migraines and insomnia has become my buddy.  The pain doc seems to like to jerk me around and come across like I'm  a dumbass.  This is my second pain doc so if I switch again I get accused of "doctor shopping" for drugs even tho I tell them I don't want to be dinged out, only want out of pain.
You know, it almost seems cruel that God won't "put me down".  As humans we put animals down when they are really sick, can't function anymore. And if we don't, and let them suffer, we are accused of being in-humane.  It  seems so crazy to me.  I don't write this blog for sympathy, I just want to share with you what happened to me today after the conference call with many of my fellow bloggers.  I had to set the ground work for you to see where I was before the call. Now on with the better part of this blog LOL.
I sat down on the couch to watch TV at around 1:00am, as I was wide awake, and this now being a norm.  Everyone had gone to bed and sleeping soundly.  I started to braid my hair as I had showered a little earlier to try to make me tired and help my pain.  There are many times that 3-4 days will go by that I don't leave the house or shower.  Finally at 4:00 this morning I layed down on the couch as I was finally starting to get somewhat tired.  The couch is only 1 of 3 of my beds; couch, recliner, real bed with my hubby.  I pick the one that helps keep me out of the most pain so I can sleep and not hurt when I get up.  I lay there with my 4 1/2 lbs Bailee and my 9 lbs Nana,  chihuahua mix dogs nestled close to me like I was a mattress, and trying to recite a verse from the bible to calm me to fall asleep. I set my alarm to wake up at 6:30am, in time for my daughter to get up and get ready for school as I take her each morning.  She can walk to school, you can see the school from our house but I like to take her as it makes me feel like I'm being a real mom to her.  So with my braided hair, sand in my eyes from the magical sand man to make us sleep (lol) and dragon morning breath that even I couldn't stand to smell (lol), I put on my black slippers and make sure my white ankle length robe is zipped all the way up and off we go to drop her off.  2 minutes later at 7:28 am I return home and make myself coffee and watch the news and my mind begins to wander with negative thoughts, feeling like a nothing, no good, even thoughts of things I did way back as a kid pop into my head and I feel shameful, like an idiot.  Not sure why and where these memories come from and out of the blue, but it only deepens the hole  of despair I am in.  I lay back down to try and make it all go away by sleeping.
I set my alarm for 9:50am so that I could get a cup of coffee before the call.  My alarm goes off and I push snooze as I dread facing the world.  The alarm sounds again and I jump up as I knew the call had already started.  I began to listen and seen some of the ladies I got to meet and become great friends with at the World AIDS Conference back in July, on the call.  I was excited to hear their voices and even see some of their faces.  As I listen I start to unbraid my hair and finally decide to throw a lil make up on, put on a happy face and turned on the web cam.  I actually got to peak my head out of my hole for about an hour during the call.  After everyone had hung up and my computer screen still showing the call, the screen all of the sudden went to AGLM site.  I began to read some of the blogs that were now on my screen.  It felt like I was a soldier coming home from war and spending the holidays with family as I began to read and not just any read.  They were blogs from ladies I knew!!!  Come to love and adore!!  It was like I was coming through the doorway and embracing each of them as I read each one of their blogs.
I began to read Kate06's blog.  No picture of her, only a tattoo of HOPE with the AIDS ribbon in place of the O.  I didn't realize until I kept reading that it was the Kate I met at the conference in D.C. in July!!!!!!!  I read of her struggles in her marriage, her life and read that she had written a blog earlier about her marriage and this one was an update.  I haven't blogged in a while and haven't even been to the site in forever it seems.  My heart dropped and went out to her as I read of her struggles.  I was able to meet both her and her husband and things seemed so great between them.  As I would stand outside of the bed and breakfast we all shared and smoked my cigarette and her husband smoked his, he would often talk about how much she and their son meant to him and how proud he was of his family he had.  It was horrible to read that things weren't the way they used to be or they seemed to be.
This made me think of a dear friend that just recently found out about my depression and said to me, "you always seem so happy, you don't look like you are depressed."  It's amazing the hurt we all hide from others, the world.  Reading about Kate broke my heart but as I continued to read I saw she took action, talked about it, is putting her best foot forward to make a positive change.  She inspired me today.  She let me have a peak and see that it WILL get better and to not give up.  It seems like common sense I know, but sometimes we all get overwhelmed at times and has seemed like the dark is consuming me.  I try and try to stay on the straight and narrow path God has planned for me and just when I think it's going great, the negative horrible darkness of despair hits and the unworthiness kicks in.
I continued to scroll and found another blog.  This time it was a video blog.  This blog took me over the top!!!  This woman who never spoke, only showed hand made "cards" she made with words.  Words of encouragement.  She flashed a card that said, "You are worth it".  I was saying, "Amen!" and shaking my head in agreement with each card she put up in front of her.  Between those two women, who have not spoken one word to me today, have helped lift me up and given me my ray of hope and boost of confidence that it will be ok, just keep trying and "THIS MAN" who promised to love me, does love me, continues to love me, hasn't given up on me, has a purpose for me.  "This Man" has heard my prayers and my cries all along and has never left me.  I just needed to be quiet long enough to hear HIM and when I didn't keep quiet, HE used 2 women to talk to me, my heart.  Jesus is "THE MAN"!!!!! He rocks!!!!!!
So to end this long, seemingly never-ending blog, I want to say, "Thank you from the bottom of my heart to those 2 women that let God use them to lift me up, give me renewed hope, and speak to me when I wouldn't shut up LOL". May God bless you abundantly.  It's really going to be ok.