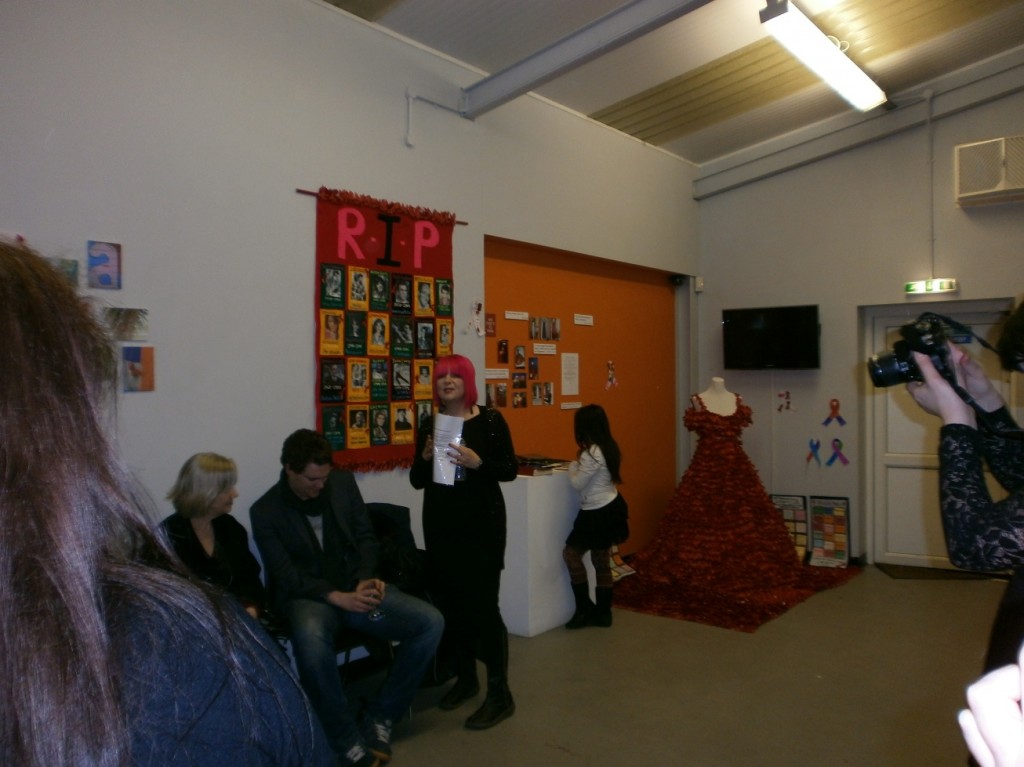 The Red Ribbon Dress had two great events last year. Firstly it was invited along to The Sussex Beacon Gala Celebrity Event and appeared in the window of Waterstone's Book Shop in Gower Street, London for World AIDS Day. Both events very different but all about Raising Awareness and getting Dedications for the Book.
This year seems to be moving really quickly. My Auntie told me many years ago that when you get older, time goes by so much quicker...and she's not wrong, it seems to be flying by sometimes so fast that it's hard for me to catch up with it and know what month we're in?
Back in March, a friend of mine was holding an event at the Community Centre in which she had set up The Artstop Cafe and was working alongside the Red Cross. They had organised a photo competition about HIV.  I was invited along to display the Dress/Carpet and Book and do a small talk on the Preview night and invite the guests to write dedications.
In the daytime, we had had a children's event and had them painting Red Ribbons on a massive Banner, had them icing small cakes with Red Ribbons.
Both events that day went really well. It was a really nice evening as many people from that community came along, and I had members of my Family that live in the Portsmouth area also come along to Support me. A friend of my friend offered to do a couple of songs especially for the evening.
Old and Young were at this evening event and I had some lovely dedications from the children and lots of interest about the subject of HIV/AIDS from various people.
I have just had another event this month: 'Mae The Awareness Be With You' in a very different location to the previous one, a bar in Portsmouth that is well known as a 'Gay bar' --I hate that term!!!  I went in to enquire one afternoon to see if there would be much interest as I wanted to get as many people in the Town where I currently live to get the chance of seeing and hearing about this project, but also being able to write a dedication or as many as they liked in respect of friends/family they may have lost to this condition?
The guy working the bar said for me to phone a little later that day as said he knew that they would be interested. It was really nice to have so much support and interest about this Project/Legacy of mine and makes me want to keep carrying on with it. It can be a little disheartening at times when people let you down and don't turn up for these events that I and the others around me put so much effort into!
A wonderful evening occurred, I spoke a little, and we had a wonderful singer and a brilliantly funny and talented Female impersonator.
I have more dedications to sort out for the book now.
The Plan is to tour the Dress around the UK so as many people as possible can see it and get involved. It's a huge project but one that is so close to my Heart and I am so passionate about it that I know I will do it.....