Wednesday, April 12, 2023 - 9:00 – 10:00am PT  |  10:00 – 11:00am MT  |  11:00am – 12:00pm CT  |  12:00 – 1:00pm ET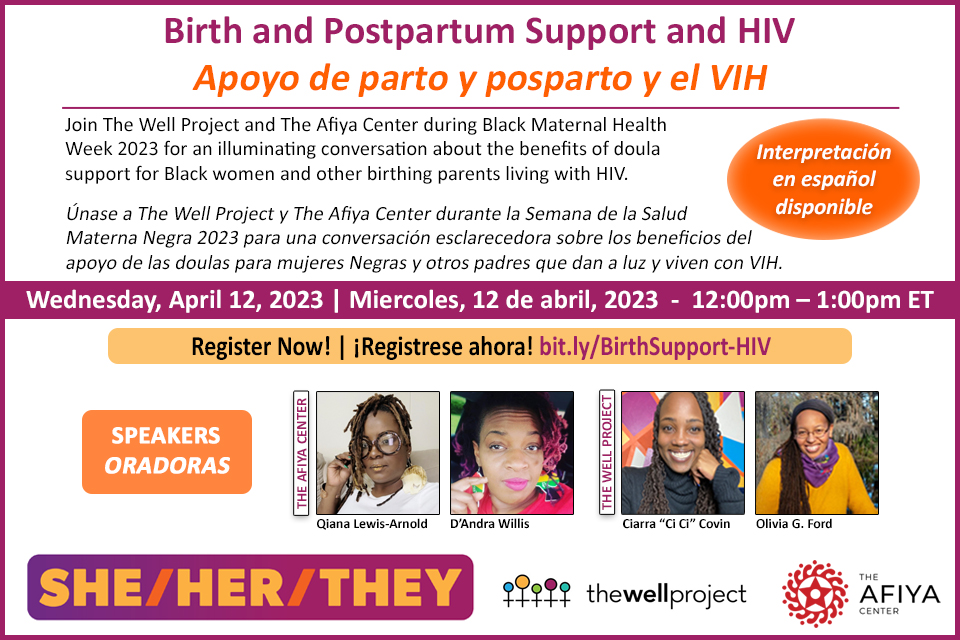 Giving birth, and the time surrounding that momentous occasion, is often among the most intense, confusing, and exciting periods in parents' lives. In the US, there is far too little attention paid or space made to support new parents during this time.
Mounting evidence shows improved health outcomes with support from doulas: trained professionals whose focus during and after birth is on the wellbeing and agency of birthing parents. This is particularly crucial for Black birthing people and their babies, who experience serious complications and death at shocking rates compared to the general birthing population.
What could it look like for birthing parents living with HIV, who are largely Black women, to have greater access to this kind of support? Join The Well Project and The Afiya Center during Black Maternal Health Week 2023 for an illuminating conversation about the benefits of doula support for Black women and other birthing parents living with HIV.
Speakers
Qiana Lewis-Arnold is a passionate birth and reproductive rights activist whose "Work" began at the mere age of 15, as she was called to be an integrative support system to family members about their reproductive rights. After relocating to Texas, she began training as a professional doula with DONA and Ancient Songs. Qiana is a certified Yoga instructor and Rootworker that uses this skill to offer revolutionary healing in her community.
Shortly after deciding to leave corporate America and be a full-time birth worker, she was offered a role as a Birth Justice Associate with The Afiya Center, a reproductive justice organization in North Texas. Qiana also serves as part of the Southern Roots Doula Collective and owns Free Spirit Doulas, a national full-spectrum doula network.
In 2023, she is now a founding member and current President of Texas Doula Association - a nonprofit created to oversee and guide those who are creating legislation and standards that directly impact Doulas in Texas.
Ciarra "Ci Ci" Covin is a survivor of HIV for more than a decade, diagnosed at the age of 20 in a small rural town in the southern region of the United States. She is both professionally and personally committed to advancing the dialogue around HIV and breastfeeding. As a woman living with HIV, Ci Ci was able to advocate for support from her providers to breastfeed her youngest child for seven months. In the role of program manager at The Well Project, Ci Ci has been able to leverage her voice and experience to advocate for parents living with HIV.
Olivia G. Ford (she/her; they/them) is the editorial director for The Well Project, and has been engaged with HIV-related media since 2007. She also trained as a doula for the first time in 2004 and has served as a perinatal health advocate with Birthmark Doula Collective. Her writing has appeared in Black AIDS Weekly, Positively Aware, POZ, Rewire, and TheBody/TheBodyPro, among other outlets.
D'Andra Willis is a passionate and dedicated full-spectrum doula and childbirth educator, committed to advocating for social justice and health equity for all. She is a trained doula with Southern Roots Doula Collective powered through The Afiya Center, where she offers a positive voice and support for her community. D'Andra's path as a support provider in birthing began long before she even knew what the word "doula" meant. Her desire to become a childbirth educator and doula arose after years of supporting friends and family. She believes that each person is the expert of their own experience and strives to empower individuals and families to advocate for their bodily autonomy throughout the prenatal, birth, and postpartum periods.
D'Andra's passion for birth work and commitment to social justice and health equity led her to embark on a journey to become a midwife. She is currently enrolling to become a Certified Birth Assistant and looks forward to continuing to serve her community in this new capacity.
Through her diverse background and experiences, D'Andra brings a unique perspective and unwavering dedication to her work as a doula, childbirth educator, and future midwife. She is truly a blessing to everyone she meets.
Objectives
Understand the importance of birth and postpartum support to improve experiences and outcomes
Get an overview of the role of doulas – who they are, what they do, where people find them
Understand the connection between support for Black birthing parents, birth justice, and reproductive j0ustice overall – especially in the context of the US Black maternal and infant health crisis
Learn how this kind of support can be beneficial for women and other birthing parents living with HIV
Register now: bit.ly/BirthSupport-HIV