July 12, & August 2, 2023, 6:00 - 7:30pm ET
August 18, 2023, 4:00 - 5:30pm ET
via Positive Women's Network – USA (PWN)
Join PWN for the 3rd annual Celebrate and Honor Black Women in the HIV Movement! This year we will honor Black women who stand on the shoulders of so many before them and are powerfully forging a path forward for themselves and so many to follow.
Celebrating and honoring Black women in the HIV movement is how we will end the HIV epidemic and move towards liberation for all of us. Black cis and trans women and nonbinary folks are among those most heavily impacted by the domestic and global HIV epidemic; continue to suffer some of the worst health outcomes among people living with HIV; and face multiple, compounding forms of oppression and state violence.
Black women have always led the way in innovating solutions for the HIV community but have not consistently been recognized, compensated or honored for their multitude of contributions.
Celebrating Black women is a year-round commitment for us. That's why this year, PWN launched Liberation Way, a series of events examining how the HIV community can best show up for Black liberation. Liberation Way, that runs May through Black August and culminates in a House Ball on August 18, 2023.
The next stop on Liberation Way, House of Renaissance: The Rebirth of a New Way – is coming up Wednesday June 21st at 6ET/5CT/4MT/3PT. Don't miss this incredible event! Register here.
Next Up:
House of Torch Snatchers: Celebrating the Trailblazers of the HIV Movement Today: 08/02/23 from 6:00-7:30PM ET Zoom Webinar
House Ball: Celebrating Our Trailblazers: 08/18/23 from 4:00-5:30PM ET Zoom Meeting
Previous: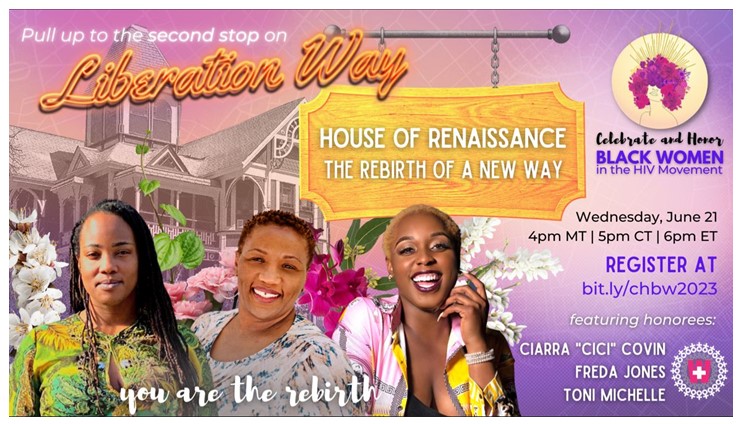 House of Renaissance: The Rebirth of a New Way: 06/21/23 from 6:00-7:30PM ET Zoom Webinar