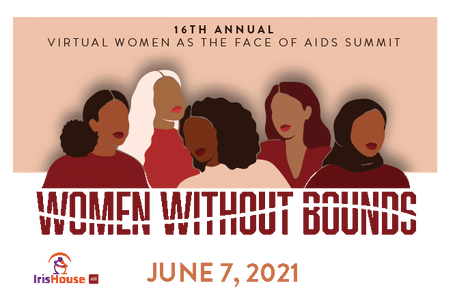 June 7, 2021
via Iris House
The Well Project is thrilled to have a strong presence at Iris House's virtual 16th Annual Women as the Face of AIDS Summit on June 7, 2021!! The 2021 Summit's theme is "Women Without Bounds" and will attempt to address the local, domestic and global implications of the virus and its impact.
The Well Project's executive director Krista Martel and program coordinator Ciarra Covin are members of the planning committee and we will be part of a number of sessions, including:
Breakout Session 1 (2:30 – 3:30 pm ET): "The Well Project: Building Global Advocacy and Support through Online Communities" will feature Krista Martel, along with Global Ambassadors/CAB members, Maria Mejia and Bose Olotu
Breakout Session 2 (3:45 – 4:45 pm ET): "Breastfeeding and HIV in the U.S. and Canada: Centering Women's Lived Experiences" will feature Krista Martel, Ciarra Covin, and Heather O'Connor, A Girl Like Me blogger and ICW-NA communications manager
Award Ceremony (2:00 pm – 2:15 pm ET): Bose will be honored with an award for her advocacy efforts, along with Dr. Oni Blackstock and Kim Nichols
Plenary panel (1:00 pm – 2:00 pm ET): "Women Without Bounds: Voices of Women Living with HIV from Around the World" will include Bose Olotu, Maria Mejia, and Katie Willingham (CAB member and AGLM blogger)
Please join us at this virtual meeting! Registration is open until June 1st. And check out the program for more information!