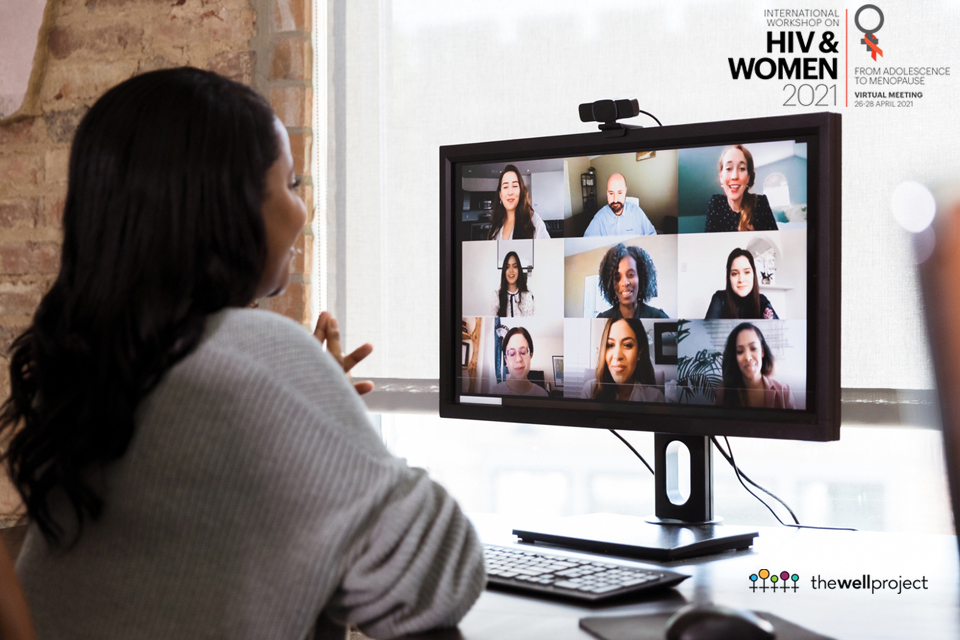 By Marissa Gonzalez and Olivia G. Ford
For three days in April, members of The Well Project's community participated in and presented at the International Workshop on HIV & Women 2021. This global gathering brought together HIV clinicians, researchers, and advocates with a shared concern for the representation of women living with and vulnerable to HIV in these arenas. Read on for summaries of several key sessions.
Table of Contents
U=U and Women
Stigma, discrimination, and other challenges to human rights interfere with the health and lives of people living with HIV, particularly women, before they can even achieve an undetectable viral load. Longtime advocate Kate Thomson of The Global Fund began her presentation, "Addressing Stigma and Discrimination to Advance U=U for Women," by grounding in evidence showing myriad ways these injustices manifest across the HIV care cascade. Concerns around lack of confidentiality, fear of disclosure, threats to social supports, the possibility of violence, and more keep people vulnerable to HIV from being tested for HIV, presenting to care once they know their HIV status, starting HIV treatment, and adhering to that treatment. These challenges are worse for young women, for whom services may be not only judgmental, but also not age appropriate.
Further, even when women are able to overcome these hurdles and access HIV care, research has shown that an estimated 40 percent of women are not being told about U=U by their care providers. Clearly World Health Organization (WHO) testing guidelines from late 2019 indicating that U=U must be part of the information people living with HIV are given at the time of their diagnosis are not being followed to a great enough degree.
Thomson herself commented that she had hoped the prevalence of U=U evidence and messaging would mean a dramatic reduction in stigma against communities affected by HIV, but that has not occurred. Discriminatory, violent conditions are still rampant. These barriers, and the harmful gender norms that often hold them in place, must be addressed and removed in order for U=U to be a reality for more women worldwide. Women and girls living with HIV, in all their diversity, must be leaders in these efforts; and it is essential that all activities be adequately funded in order to ensure movement of a needle that has stayed static for far too long. Thomson also detailed some exciting initiatives supported by The Global Fund to begin to address these systemic conditions.
Silvia Petretti of Positively UK also presented on U=U, highlighting what women living with HIV themselves have directly expressed as barriers to accessing U=U as a framework for their lives and health. These included health care providers controlling information access under the guise of "protection," or being uncomfortable talking with women about sex and pleasure. She quoted a woman who identified a key point: that U=U does not remove harmful attitudes or stigma against sexual behavior. "U=U might help us to overcome self-stigma and that has a knock-on effect = more people talking openly about it and challenging harmful attitudes," that respondent wrote. "That means future role of U=U work is to empower people with HIV to talk about more than just being uninfectious." In the session Q&A, Petretti noted that women need spaces to experience and explore their value as human beings regardless of anything – including their treatment status or viral load.
View the video of Kate Thomson's presentation
– OGF
Pregnancy and Infant Feeding
Limited research was certainly a driving theme behind "Breastfeeding & HIV in the US and Canada: Centering Women's Lived Experiences Into the Clinical, Research and Policy Discussion," presented by The Well Project's own Krista Martel on the second day of the conference, in the "HIV & Pregnancy" track. But what surpassed that was the importance of not only including, but allowing and equipping, women living with HIV to make an informed choice on breast/chestfeeding. There are health benefits to both mother and child directly connected to breastfeeding, just the same as there are risks (to both mother and child) to not breastfeeding. However, with restrictive guidelines and limited awareness in HIV clinical settings in high-resource areas, these factors are not taken into consideration. Birthing parents and their partners who wish to know more about breast/chestfeeding are often met with much resistance.
Martel shared information about a working group of experts convened by The Well Project and ICW-NA in October of 2020 to discuss opportunities and challenges, and call for inclusion, in efforts around breastfeeding. Some of the challenges highlighted included disregard for personal autonomy, lack of provider understanding, and inadequate resources available to providers. This resulted in an understanding that there needs to be additional research and not only an increase, but an improvement in provider education.
Ways to achieve inclusion and better education include the following:
More research
Policy reform engagement
Parental resources and peer-to-peer support
Provider education and tools
Understanding / respect for fundamental rights
Recognition and accounting of intersectional conditions
The way to achieve the above is by including pregnant women living with HIV in program research, policy development, and implementation.
View a video of Krista Martel's presentation
– MG
In the midst of the first wave of mandatory COVID-19 isolation in the United Kingdom, the 4M Mentor Mothers Network sprang into action to support the pregnant and parenting women living with HIV they serve – and bring nuance to some of the restrictive guidance for people living with HIV and birthing parents during that confusing time.
At the conference, Fungai Murau of the UK-based, African-women-led 4M presented on "Confinement: Women, HIV & Pregnancy During the 2020 COVID-19 Lockdown in the UK" – 4M's position paper produced in the fall of 2020 following those initial turbulent months. The paper was intended for an audience of women living with HIV, their families, health care professionals, and policy makers in a circular way, recognizing the interconnectedness of these roles and the fact that no one exists in a silo.
The report excerpted some of the relevant COVID-19-related guidelines in the UK. For instance, 4M members expressed concern that some early guidance from the British HIV Association would provide challenges to person-centered care – including extremely limited in-person prenatal visits and discouragement of breastfeeding among women living with HIV due to the regular viral load monitoring recommended alongside this approach. The paper also detailed the group's methods for supporting women during this time and some key intersectional concerns they saw coming up among their participants, as well as the existing unjust conditions prior to COVID-19 that the pandemic has exacerbated.
Finally, they issued a series of recommendations and needs, including:
Address persistent inequalities that have resulted in higher illness and death rates for Black and ethnic minority communities
Balance the sexual and reproductive health, rights, and needs of women in the perinatal period with COVID-19 prevention efforts
Meaningfully involve women in all areas of decision making
Ensure sustainable funding for programs that are of most relevance to women's lived realities and priorities, such as those generated by grassroots groups deeply connected with so-called "hard-to-reach" communities
Treat these concerns as a matter of urgency in order to address and improve the effects of the ongoing COVID-19 pandemic- and future pandemics to come
View the video of Fungai Murau's presentation.
– OGF
Social Protection and Mental Health
Presenter Shimu Khamlichi, PhD, of the Royal Free Hospital in London, United Kingdom, defined social protection as "preventing, managing and overcoming situations that adversely affect people's well being such as poverty, unemployment, disability and age." Her presentation, "Social Protection and Mental Health: Care Provider's Perspective" highlighted that there need to be policies and programs aimed to help vulnerable groups to become resilient ("bounce back") in response to crisis. Resilience in this presentation targeted four core areas: wellness, connections, finding purpose, and embracing healthy thoughts.
Research showed that high distress was caused by more demand within one's circumstances but fewer available resources to help cope. In focusing on mental health challenges among people living with HIV, the presentation targeted several areas, with a focus on transition points. Below are components that led to feelings of depression and anxiety:
Receiving an HIV diagnosis - Grief/ Adjustment
Living with HIV - Identity and managing sexual activity
Co-Morbid – Preexisting mental/physical health problems
Disclosure - Relationships/Family
Medication - Starting, changing, adhering and side effects
Major Life Decisions - work, marriage, pregnancy, housing, benefits, immigration, criminalization etc. – all of which can be complicated by HIV
Long Term - Pain, fatigue, illness, hospitalizations, and HIV-related cognitive impairments
In closing, Khamlichi expressed the importance of understanding people in their social context and how wider structural and societal arrangements impact health and well being. In any approach, providers must look at the problem, not the person, finding solutions and creating goals.
View a video of Shimu Khamlichi's presentation
– MG
PrEP and Women
Connie Celum, MD, MPH, of the University of Washington highlighted a total of three PrEP (pre-exposure prophylaxis) trials, none US-based, during the session "PrEP in Young African Women: Early Lessons Learned":
HPTN 082: screened for risk and motivation in taking PrEP
3P: focused on Prevention to specifically include Partners, PrEP and Payment
POWER: focused on developing cost-effective models in PrEP delivery
Each trial had a different goal, but what they all had in common was failure to reach 100 percent adherence in the participants who chose to take PrEP. While most had more than half of their participants continue their treatment for 12 months, they all found that many women started and stopped treatment due to their belief about their own risk. This perception was in large part connected to how they perceived their relationships – happy vs. unhappy. This led to researchers configuring strategies to support adherence.
While this also led to emphasizing that providers need to be prepared to discuss starting / stopping treatment, the presentation concluded with understanding that PrEP cannot be a one-size-fits-all approach. PrEP needs to be more than a pill, and there need to be diverse options to ensure choice in connection to adherence. Other options include injectables, the vaginal ring, implants, vaginal/rectal tablets and films.
– MG