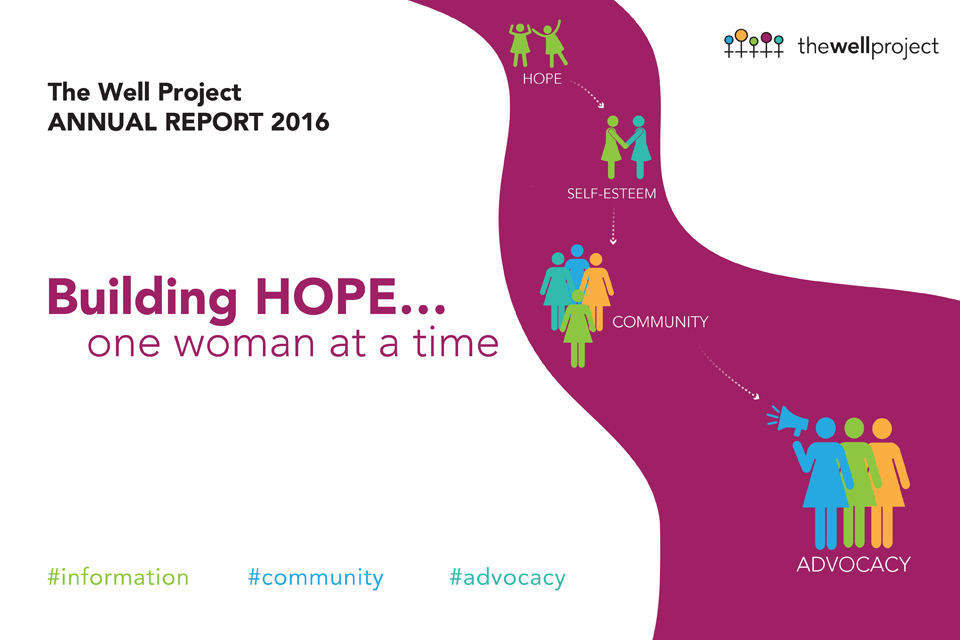 These are tumultuous times we are living in. Media headlines remind us of that all day, every day. 2016 was the year in which, in a backlash to years of progress, a platform for racial, gender, and sexual orientation discrimination was exposed and empowered, and much of that feels targeted directly at our community. If ever there was a time that we needed hope, it is now. And hope is what The Well Project brings to our users, every day. Our recent user survey demonstrated that 76 percent of women living with HIV (WLHIV) survey respondents felt more hopeful about the future because of The Well Project's resources. That is a fact of which we are extremely proud.
Building Hope…One Woman at a Time: The Well Project's 2016 Annual Report
(click here to download PDF)
You may ask how a web resource can bring hope to so many. First, reading about the experiences and resilience of WLHIV helps women realize they are not alone, and that others—like them—are not only living with HIV, but also thriving. Participating in The Well Project's supportive, empowered community has been proven to improve WLHIV's self-esteem and decrease self-stigma, enabling them to accept only respectful and caring behavior from loved ones. From there, we witness time and again WLHIV beginning to advocate for themselves on a multitude of levels. They also increasingly advocate for others living with HIV—thereby spreading the hope for a better future to others in their communities and beyond.
It's with great excitement that we share with you The Well Project's 2016 Annual Report: Building Hope…One Woman at a Time. The report describes our activities and accomplishments over the last year, highlights our mission and vision for the organization, and shares our hopes and plans for the future.
As we navigate challenging times, we look forward to continuing to foster hope for our remarkable growing community, decrease stigma, and advance progress towards ending the HIV epidemic. We are extremely grateful for everyone who played a role in making The Well Project a success this year and every year.
Together, we can change the course of the HIV epidemic…one woman at a time.