The Well Project uses technology to dramatically improve health outcomes and quality of life for women living with HIV (WLHIV) by focusing on three important areas: information access, community support, and advocacy. We do this by:
Writing and sharing accurate, useful, and timely information about HIV
Creating connection and support among women living with HIV
Developing and offering advocacy development and capacity programming
In order to make sure that The Well Project is as effective as it can be and that we continue to strengthen our programs, we periodically gather information through user surveys to help us understand how our resources and services are being used. Your Voice Counts: the 2016 User Survey looks at the impact The Well Project's online resources are having on our users' engagement with healthcare, HIV-related self-care, emotional well-being, personal relationships, and quality of life.
The results of our survey show that women living with HIV around the world continue to manage a variety of issues that can interfere with their health and well-being. The survey also shows that they depend on The Well Project to provide the credible, up-to-date information and empowerment tools they need to improve their engagement in care, self-care, and outlook on living with HIV.
Happily, the vast majority of WLHIV who use The Well Project resources are currently engaged in HIV care, taking ARVs, virally suppressed, and communicating well with their healthcare providers. Unhappily, most have also experienced stigma and discrimination inside and outside of the healthcare system, violence and trauma in their personal lives and communities, and mental health or behavioral issues that can hinder their access to HIV treatment.
Fully 70 percent of WLHIV who participated in the survey said that using The Well Project's resources helped them feel more knowledgeable about HIV. They also described how that knowledge affected their engagement in care.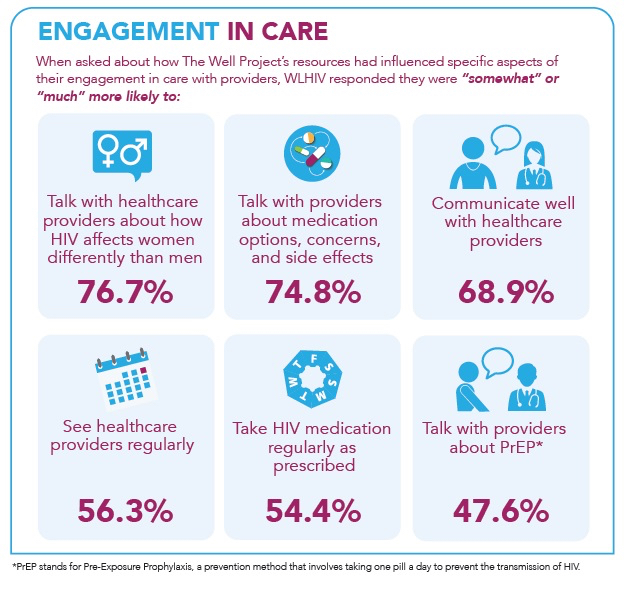 While engagement in care is a very important way to measure the health of WLHIV, we believe it is important to address the whole woman, and our resources are designed to do just that. As a result of this approach, we have seen WLHIV go through an evolution over and over again. First, upon discovering our online resources, they gain a sense of hope as they realize they are not alone, and that others—like them--are not only living with HIV, but also thriving.
Next, women become engaged with other women in our community, reading and commenting on blogs, becoming bloggers themselves, and participating in educational and advocacy webinars. This participation in a supportive, empowered community can improve their self-esteem and decrease self-stigma, enabling them to accept only respectful and caring behavior from loved ones.
From there is it a short step to advocating for themselves and eventually seeking ways to advocate for others living with HIV– sometimes locally, regionally, nationally, and even internationally. While this process can take place over months or even years, it speaks to the significant impact The Well Project is having on women living with HIV around the world.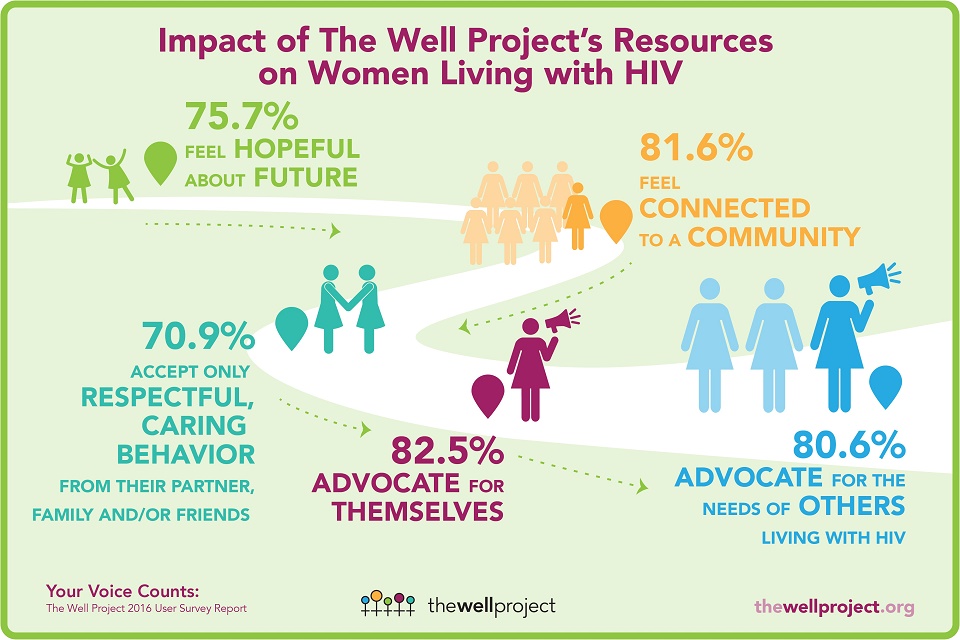 This survey report is only the latest in a long line of evidence showing women becoming empowered by The Well Project's information, community, and advocacy resources. More often than not, our users then use what they've learned to empower others with the knowledge, hope, and confidence they have gained. The 2016 user survey provides ample feedback on what The Well Project should continue doing and how the organization can further improve, in order to best meet the needs of our users.
We are thrilled to share these findings with you and we hope you'll take the opportunity to review what we think are fascinating insights into the impact our online resources are having, and the power of technology to fight HIV.