This project (See my blog about the
Red Ribbon Dress
) originally began in 2004/05 and was as a sort of 'Coming Out' piece about being HIV Positive and was made for my end of year show. The Original was sculptural and included Chicken wire mesh to create the skirt, a plaster cast of a mannequin's torso for the body and a T-Shirt printed with the words 'Gay, Straight, Doesn't Discriminate' emblazoned across the front. This piece was exhibited and moved around many times and became damaged. It had looked so grand when it was first shown but became bent and Ribbons fell off. Idecided to re-create it but this time, to make it totally out of fabric to stand the test of time. In 2011, I spoke about this project at the Launch of The London AIDS Memorial in London. And then began the endless days/nights of stitching ribbon, buying as much variations of red ribbon. My Friend from University, Shelley Lisa Balsam, had offered her services to make the template of the Dress. The template was resized from an original vintage pattern and had to be adjusted to my size.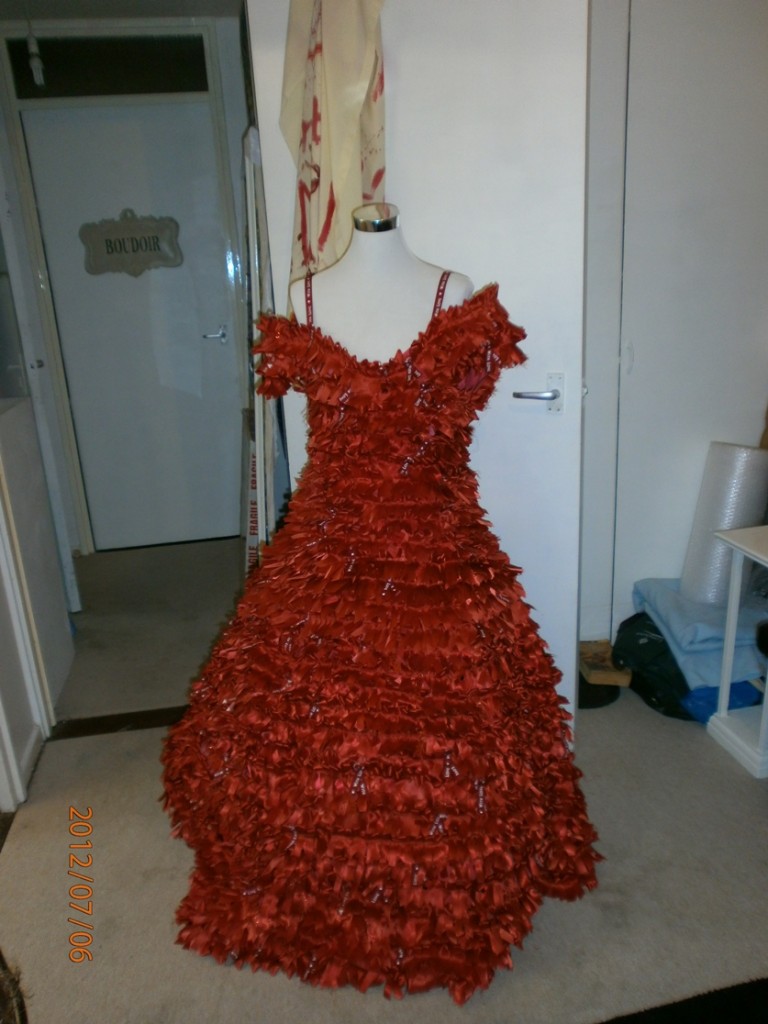 Once the template was made, and had to be made in a strong enough material that could hold the weight of all these Ribbons, I brought it home and dyed it with a couple of packs of washing machine dye. As it seemed to be continuously raining it took days to dry while it hung over the airer in my bathroom. It was huge and difficult to iron! The day had come when I started the mammoth task of stitching all of these ribbons. I spoke about it with Shelley to get her advice as I thought it's going to make more sense me stitching all these ribbons to long lengths of Ribbon and then attach, going from the bottom of the dress that had a circumference of approx 15ft and just make my way up the dress overlapping them as I went. It got heavier and more difficult to manoeuvre and it was extremely tiring that I had to have a few naps between lol. The Dress is now complete, as it is off the shoulder I added some of the Ribbon with the words 'With Love' as shoulder straps and made a sash/belt out of a length of Ribbon and used puffy fabric paint to create the words 'Never Forget' continuously.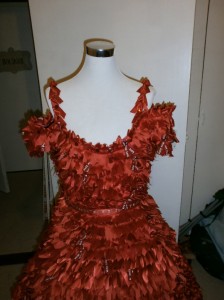 The Dress is going to make an appearance in the window of 'Waterstones' huge bookshop in Gower Street in London for WAD World AIDS Day 2012 on the 1
st
of December, and I'm hoping to get more dedications for each of the Ribbons. I already have a few as I have asked many to write a dedication/a name of maybe someone they have lost to HIV/AIDS and also for people they know with the disease or even for themselves. All these dedications/Names will be going into a book to accompany the Dress. The Book is an ongoing project and the dress has approx 6000 Ribbons. I hope to be able to maybe Tour the Dress around many Towns in the UK so People will get the Opportunity to see it and be able to dedicate for it? This Dress is to Never Forget all those that have been lost to this Ugly Virus and to remember everyone battling with it every day and to remind others that this disease is still out there and that anyone can be infected/affected as it doesn't discriminate!!!