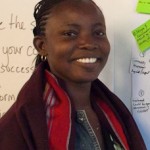 We look forward to connecting with you for Session 3 - Bean Cakes (Akara) On Point on Wednesday, May 6, 2020 12 pm – 1:00 pm ET! Global Ambassador Bose Olotu will show us how to make Akara, a common (and delicious!) vegetarian meal popular in West Africa and Brazil, and thought to have originated from the Yoruba tribe of Nigeria.
If you plan to make the Akara along with Bose, below please find the ingredients and equipment you will need, as well as the steps to prepare (approximately one hour) in advance of the session.
Click here for more information about the series
Click here to register for the series
Ingredients
2 cups dried pinto bean (or black-eyed peas)
1 medium yellow onion diced
1 clove garlic, minced
Salt and pepper to taste
1-2 tablespoons chili powder or curry powder (or another favorite spice) (you can also add a fresh chili pepper to blend with the beans)
1/4 cup water for blending
Vegetable oil or peanut oil (enough for deep frying)
Equipment needed
Large bowl for soaking beans
Colander
Blender
Whisk
Pan (deep enough for frying)
Tongs, fork
Plate, paper towel
Instructions
(if you plan to make bean cakes with Bose on May 6, we ask you to prepare steps 1-7 in advance of the session)
Soak the dried beans for about 60 minutes until beans are a little tender and you can dent it with your fingernail
Massage the beans to loosen/remove the skins from the beans
Put the beans into a large bowl and separate the skin from the beans by adding enough water and gently swirling the beans around so that the skin can float. Pour off the skins, into a colander. Repeat this process until the beans are clean and all the skins are removed.
Pour the clean beans (no skins) inside the blender, add the water and blend into a paste.
Pour the batter into a large bowl and whisk together. Hand whisk for about 3-4 minutes.
Blend the onion, garlic, and chili powder or curry and mix it with the bean paste.
Add the salt and pepper to taste (a little salt goes a long way) then mix everything together.
Preheat some oil in a pan (enough to deep fry the Akara). Drop heaping tablespoons of fritter batter into the hot oil, frying a couple at a time to avoid overcrowding. Turn once or twice with a fork in between for even browning. Fry the fritters for about 5 to 6 minutes, or until golden brown on all sides.
Remove Akara from the pan and drain on a paper towel-lined plate.
Check out a sneak peek from our practice session with Bose!