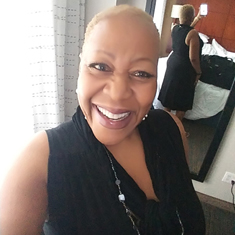 As I, reflect, I am honored and privileged for the opportunity to be alive today.
I am Grateful. This is the Here and Now. Sad to have known so many, that have not been granted this gift of aging. Grateful, Humbled, and Blessed Beyond. Often, I say, I am Dammm near 70 now! Yes, Yes, Yes and I have been living with HIV for almost half of my life. Two decades of those years, I had been living with thoughts of gloom, doom, and death in the back of my head. There were those dark times, when I would wish to die and get the miseries of my life over. In my HIV silence I did not have a support system at all. No friends, no family, no co-workers. What I did have was a nefarious medical provider. That is a story by itself; stay tuned as my truths are exposed. Little did I know, Jehovah God always had me covered and protected from evil. With certainty, I have been divinely guided thus far. I am Still Here! Truly Amazed, every time I awaken to the reality of a New Day of Life.
I never imagined living to see my child have children. I never fathomed seeing my grandbabies grow and mature into honorable decent human beings. I am so immensely proud of the family Jehovah God has granted me.
To read this blog in its entirety, click here.