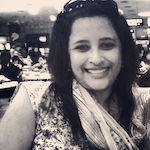 "What kind of a mother are you," screamed a lady, "who can't even take care of a baby...sleeping all the time...kaamchor (lazy asshole)...keeping a babysitter, cook and maid...you can't even handle household chores or a husband, not to even speak of mothering a baby."
"Look, I will pay for your medication as and when I can, or else find a job to help support yourself", said a man. "I have to spend money on bills, my parents' treatments, as well as my personal expenses."
"You need to adhere strictly to your medication, Jyoti", warned a family doctor. "The way you are taking it, neither on time, nor everyday, can put you at risk. Please give your health the top priority – or else you will succumb to the virus and go into a second line which will then be more expensive than the present one you are taking now."
All these voices rang in my ears...screaming mother-in-law, irresponsible husband and concerned doctor. I was putting my life at risk. If there was something I had to do, then it was only I who could get things done - instead of depending on others, irrespective of the consequences or the result.
To read this blog in its entirety, click here.