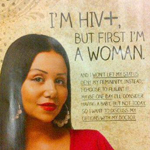 I want to start this blog by saying this: if you are taking Atripla, remember that everyone's body is different...I am talking about my own experience and this is not meant to scare anyone, but to make them more aware of a medication that is in Atripla called "Efivarenz".
I was very happy to get on Atripla. I was just coming off a 10-year regimen with Trizivir that I decided to change because it was enlarging my red blood cells and I loved that Atripla was a once a day pill! I was so excited, although I had been warned about the possible side effects like: vivid dreams, anxiety, depression and in some people, suicidal thoughts. I decided to get on it anyway against my ex-specialist's warning that he didn't think it was a good medicine for me. :( I wish I would have listened to him!
To read this blog in its entirety, click here.