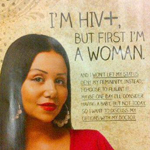 Many wonderful things are happening. My book is out From a Warrior's Passion and Pain, my marriage to Lisa, my change of medications, and being honored by Latino Commission on AIDS with The Dennis de Leon Voz de Compromiso Award.
Muchas cosas especiales me han pasado. Mi libro desde El dolor y la passion de una guerrera, mi matrimonio, cambio de medicamentos, y el gran honor que recibi de La comision Latina contra el SIDA el premio Dennis de Leon Voz de compromiso award.
To read this blog in its entirety and to watch the video blog, click here.