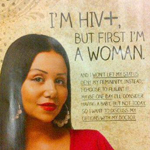 What an amazing opportunity I was given again by my baby The Well Project (A Girl Like Me)! It was so wonderful to be able to share with 200 HIV positive women from all over the US. In the 25 years that I have been living with HIV I never even dreamed that I would be in the same space with so many inspirational positive women. I was able to do something I really never do for myself and that is to vent with another human being, besides my wife Lisa and my mother <3, about my HIV and women's issues.
It was so incredible and I am so grateful to The Well Project for always making things happen for us and always thinking about their bloggers! That is why I will always be thankful to The Well Project and especially Krista and my sister bloggers!
I cried, I broke down! I spoke about many things I have kept inside and felt understood. My wife is always there for me and so is my mother, but they do not have the condition of HIV!!! It is important as women to have spaces where we can share and uplift each other!
To read this blog in its entirety, click here.