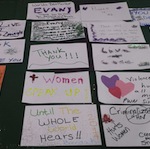 So many things to think and say. So many triumphs, struggles, accomplishments, pain, acceptance & misconceptions. I have been in a room full of women with all these issues whether they be hetero, gay, trans, or questioning, we have the same issues.
Listening to women who have been subjected to being a criminal because they are HIV positive, for having sex between two consenting adults becomes a crime. Intimacy shouldn't have to come with a notarized contract. Once again, not her box.
To read this blog in its entirety, click here.