August 19 - 20, 2021
via Iris House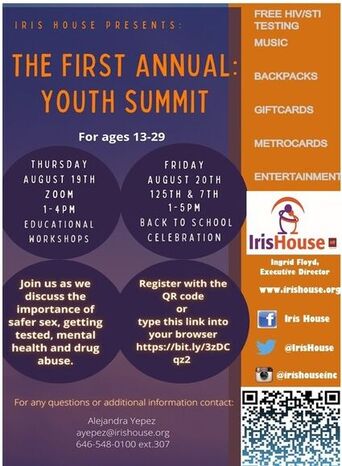 Join us on August 19th and 20th for the Iris House ​1st Youth Summit!!
Workshops and a Fun Summer Themed Health Fair
​A ton of nice giveaways for your return to school!
Thursday, August 19, 2021 Agenda
1:00pm-1:05pm
Welcome & Intro of workshops for the day -Crystal Mitchell
Group A
1:05pm-2:00pm: HIV 101
Speakers - Derrick Wallace & Jeremy Manzanet
1:05pm-2:00pm: Substance Misuse prevention
Speakers - Alejandra Yepez & Brandon Dye
2:05pm-2:30pm: Beauty & Wellness Presentation
2:45pm-3:00pm: Music & Poetry​
Group B
3:05pm-3:50pm: Mental Health​
Speaker - Channon Greenfield
3:05pm-3:50pm: Safer Sex
Speaker - Stephanie Perez
3:55-4:00pm: Closing Remarks
Speaker - Alejandra Yepez
Friday, August 20, 2021
We are hosting a Hawaiian Back-to-School party at 125th and 7th Avenue (1pm-5 pm), in which we are offering giveaways, backpacks, food, music and free HIV and STD tests.
Don't Forget We are Offering Giveaways in NJ Too!
Friday, August 20, 2021
Madison Ave Skate Park; Plainfield, NJ
​1PM - 5PM