June 2, 2023
3:00 pm ET | 12:00 pm PT
Register Now
The HIV and Infant Feeding Guidelines at Six Months: Perspectives from National Leaders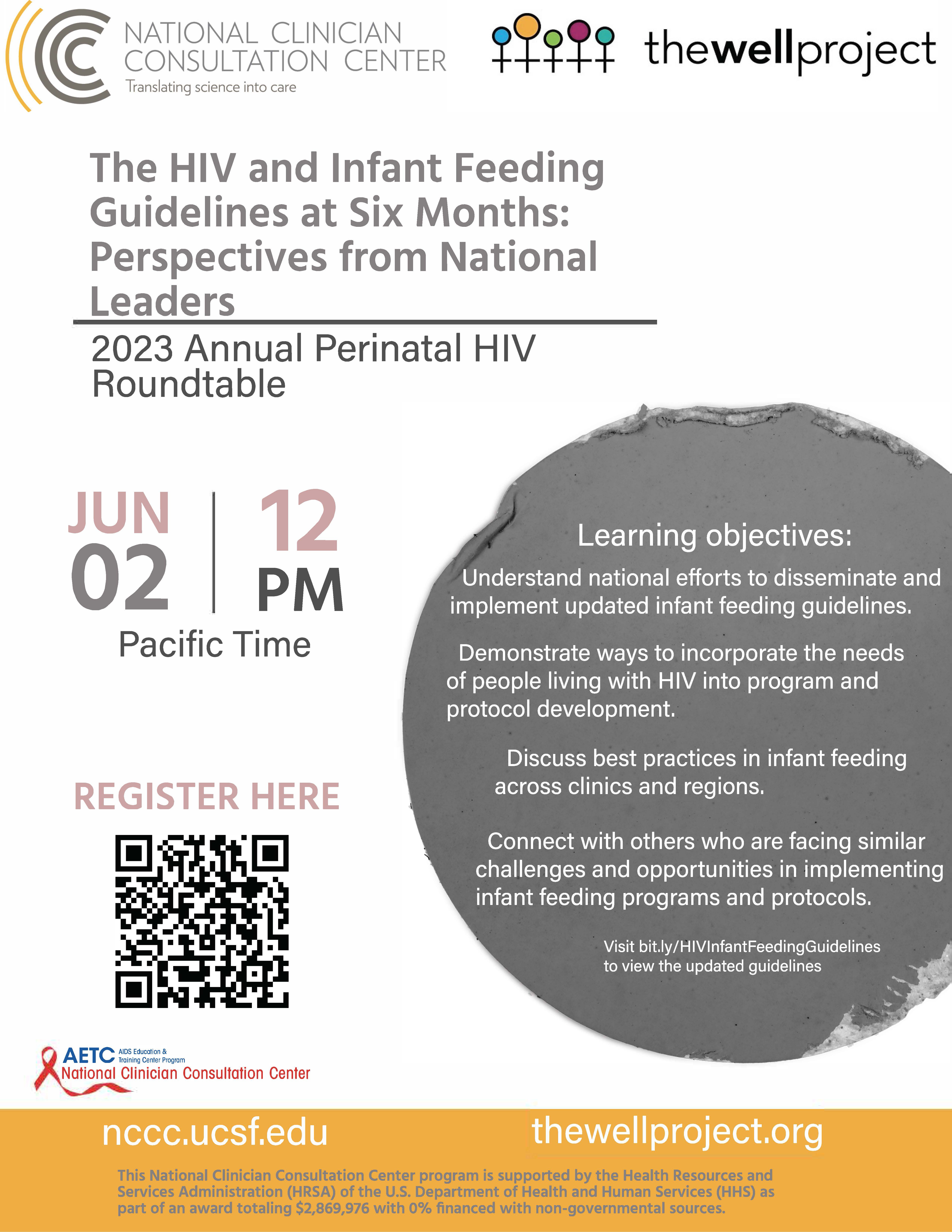 Please join The Well Project and the National Clinician Consultation Center as we co-host the 2023 Annual Perinatal HIV Roundtable where our esteemed panelists will discuss how their organizations plan to adjust to, address, and implement the new HIV and infant feeding guidance.
Learning Objectives
Understand national efforts to disseminate and implement updated infant feeding guidelines
Demonstrate ways to incorporate the needs of people living with HIV into program and protocol development
Discuss best practices in infant feeding across clinics and regions
Connect with others who are facing similar challenges and opportunities in implementing infant feeding programs and protocols
Panelists
Laura Cheever, MD, ScM, Associate Administrator for HIV/AIDS Bureau Health Resources and Services Administration, U.S. Department of Health and Human Services
Ciarra "Ci Ci" Covin, MS, Program Manager, The Well Project
Antoinette Jones, Co-Executive Director of Dandelions, Inc., National Field Organizer, Positive Women's Network
Judy Levison, MD, MPH, AAHIVS, Professor of Obstetrics and Gynecology at Baylor College of Medicine, Houston, Texas.
Leslie McGorman, Director of Public Policy, American Academy of HIV Medicine
Heather O'Connor, Program Coordinator, The Reunion Project
Natella Rakhmanina, MD, AAHIVS, PhD, Professor of Pediatrics at GWU's School of Medicine and Health Sciences, Director of the HIV Program at Children's National Hospital in Washington, DC
Visit bit.ly/HIVInfantFeedingGuidelines to view the updated guidelines.