Wednesday, June 15, 2022: 1:00 – 2:30pm ET | 10:00 – 11:30am PT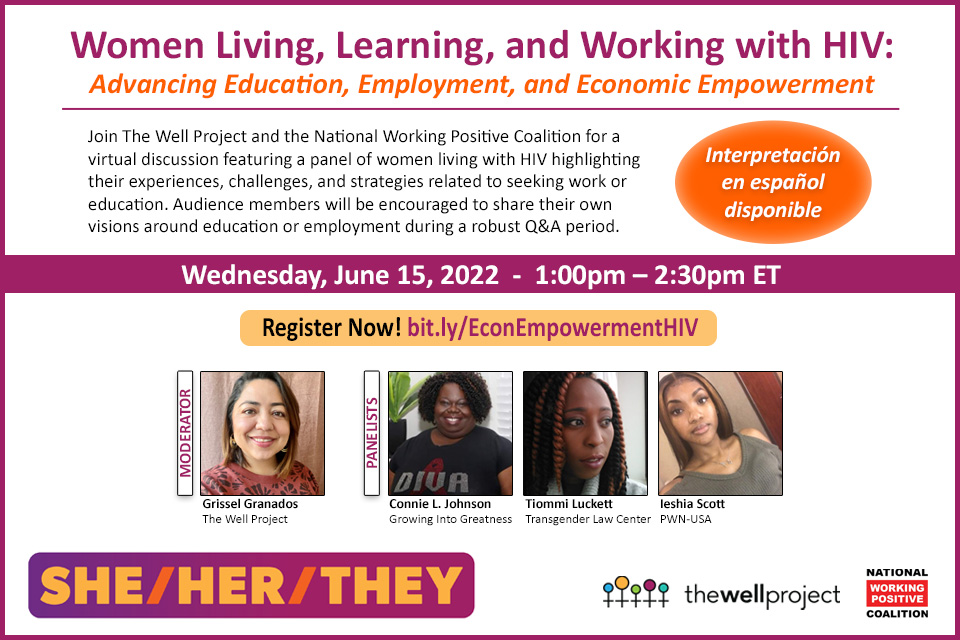 Every person living with HIV has the right to the tools and support they need to make well-informed decisions about education, employment, and other economic opportunities. Women living with HIV in the US tend to be disproportionately low-income; too few resources exist to support the educational and vocational needs of people living with HIV; and too little is known about the experiences of people living with HIV who are seeking employment or furthering their education.
In partnership with the National Working Positive Coalition, this session will feature a panel of women living with HIV highlighting their experiences related to work and education – including challenges they faced, strategies they used, and unmet needs they revealed. The webinar will also encourage audience members to share their own experiences and visions around education or employment during a robust Q&A period.
Panelists
Connie L. Johnson
Connie L. Johnson is an author, community advocate and transformational speaker. Connie uses her professional, academic and lived experiences to create solutions to social injustices that adversely affect historically marginalized communities. She is the founder of Growing Into Greatness, a grassroots, community-focused nonprofit organization that aims to develop whole, self-sustaining communities. Connie is the author of Beyond Measure, a collection of personal stories that chart the journeys of eight Kenyan mothers living with HIV/AIDS. As a long-term HIV/AIDS survivor and the eldest daughter of a single mother who succumbed to AIDS-related illness in 1995, Connie uses her voice to address HIV/AIDS-related stigma and advocate on behalf of women and girls around the globe. She holds a B.A. in Child and Family Studies from Columbia College in Columbia, SC and an M.A. in Social Justice and Community Development from Loyola University Chicago. She is currently writing her second book, a memoir titled Survivor's Song that is scheduled to be released later this year. Connie currently resides in her beloved hometown, Orangeburg, South Carolina.
Tiommi Luckett
Tiommi Luckett is a native of Arkansas and current resident of Little Rock. She identifies as a woman of trans experience of African descent. She is interested in conversations about restorative and transformative justice. She is an advocate for ending criminalization. As a Black woman of trans experience living with HIV in Arkansas, the potential for incarceration is ever-present. Tiommi believes that ending bailouts and pretrial detention, diverting resources to community for education, awareness, and sensitivity training can eliminate the continued murders of Black trans bodies everywhere.
Ieshia Scott
Ieshia Scott is a member of The Well Project's Community Advisory Board and Positive Women's Network – USA's Communications and Training Program Assistant. She is a public and motivational speaker, health educator, mentor, peer, and support group facilitator based in Broward County, Florida. Ieshia became interested in HIV advocacy to help people living with HIV overcome barriers, access services, and find support in others living with HIV after being outed in 2014 publicly on Twitter. It was through the support and opportunities made possible from that moment, Ieshia found passion from her lifelong secret. She went on to create and facilitate trainings and content for youth, young adults, and HIV service organizations. A UCF Knight, Ieshia received her Bachelor's of Science in Health Services Administration and is a current Nova Southeastern University c/o 2022 Graduate student in the Philanthropy and Nonprofit Management program.
Grissel Granados (moderator)
Grissel Granados has a Master's degree in Social Work and over a decade of experience managing HIV programming in a healthcare setting. She has participated in community planning at a local and national level, including the LA County Commission on HIV as well as Presidential Advisory Council on HIV/AIDS. Grissel believes that a gender and racial justice approach is the only way to make an impact on the HIV epidemic. She has been living with HIV since birth and she co-directed and co-produced the 2015 documentary titled We're Still Here, which depicts the stories of the first generation of people born with HIV in the 80s and 90s who are now adults.
Objectives
Understand the physical, psychological, social, and economic benefits of education and employment for people living with HIV
Understand the landscape and context in which US women living with HIV across the gender spectrum seek (or are discouraged from seeking) education and/or employment
Hear experiences from women living with HIV, how they have navigated participating in the workforce and/or pursued education, what supports made their pursuits possible, and what additional services were needed
Encourage and witness attendees' visions for their own education and employment
Miércoles, 15 de junio, 2022: 1:00 – 2:30pm ET | 10:00 – 11:30am PT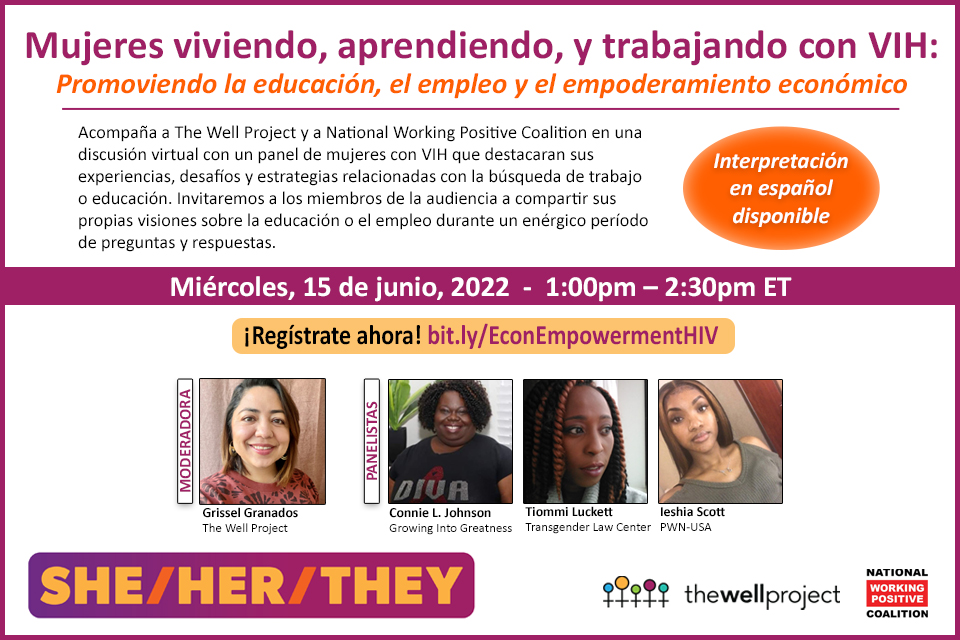 Acompaña a The Well Project y a National Working Positive Coalition en una discusión virtual con un panel de mujeres con VIH que destacaran sus experiencias, desafíos y estrategias relacionadas con la búsqueda de trabajo o educación. Invitaremos a los miembros de la audiencia a compartir sus propias visiones sobre la educación o el empleo durante un enérgico período de preguntas y respuestas.
Panelistas
Connie L. Johnson
Connie L. Johnson es autora, defensora de la comunidad y oradora transformacional. Connie utiliza sus experiencias profesionales, académicas y vividas para crear soluciones a las injusticias sociales que afectan negativamente a las comunidades históricamente marginadas. Es la fundadora de Growing Into Greatness (Crecer hacia la grandeza), una organización de base sin fines de lucro centrada en la comunidad que tiene como objetivo desarrollar comunidades íntegras y autosuficientes. Connie es la autora de Beyond Measure (Más allá de la medida), una colección de historias personales que trazan los viajes de ocho madres kenianas viviendo con VIH. Como superviviente del VIH/SIDA desde hace mucho tiempo y como hija mayor de una madre soltera que sucumbió a la enfermedad relacionada con el sida en 1995, Connie utiliza su voz para abordar el estigma relacionado con el VIH/SIDA y abogar en nombre de las mujeres y las niñas de todo el mundo. Tiene una licenciatura en Estudios sobre la Infancia y la Familia de Columbia College en Columbia, SC, y un máster en Justicia Social y Desarrollo Comunitario de la Universidad Loyola de Chicago. Actualmente está escribiendo su segundo libro, unas memorias tituladas Survivor's Song (La canción del superviviente), cuya publicación está prevista para finales de este año. Connie reside en su querida ciudad natal, Orangeburg, Carolina del Sur.
Tiommi Luckett
Tiommi Luckett es nativa de Arkansas y actual residente de Little Rock. Se identifica como una mujer de experiencia trans de ascendencia africana. Le interesan las conversaciones sobre la justicia restaurativa y transformadora. Aboga por acabar con la criminalización. Como mujer negra de experiencia trans viviendo con VIH en Arkansas, el potencial de encarcelamiento está siempre presente. Tiommi cree que acabar con las fianzas y la detención preventiva, desviando los recursos a la comunidad para la educación, la concienciación y la capacitación en materia de sensibilidad puede eliminar los continuos asesinatos de los cuerpos trans negros en todas partes.
Ieshia Scott
Ieshia Scott es miembro de la Junta Consultiva Comunitaria de The Well Project y Asistente del Programa de Comunicaciones y Capacitación de Positive Women's Network - USA. Es una oradora pública y motivacional, educadora en salud, mentora, compañera y facilitadora de grupos de apoyo con sede en el condado de Broward, Florida. Ieshia se interesó en la abogacía del VIH para ayudar a las personas viviendo con VIH a superar las barreras, a acceder a servicios y a encontrar apoyo en otras personas viviendo con VIH, después de alguien divulgó su estatus públicamente en 2014 en Twitter. Fue a través del apoyo y las oportunidades que se hicieron posibles a partir de ese momento, que Ieshia encontró su pasión gracias a ese secreto de toda la vida. Pasó a facilitar entrenamientos y crear contenido para jóvenes, adultos jóvenes y organizaciones de servicios para el VIH. Una caballera de la UCF, Ieshia recibió su licenciatura en Administración de Servicios de Salud y actualmente es estudiante de posgrado de la Universidad Nova Southeastern clase de 2022 en el programa de Filantropía y Gestión de Organizaciones No Lucrativas.
Grissel Granados (moderator)
Grissel Granados tiene un máster en Trabajo Social y más de una década de experiencia en la gestión de programas de VIH en un entorno sanitario. Ha participado en la planificación comunitaria a nivel local y nacional, incluyendo la Comisión sobre el VIH del Condado de Los Ángeles, así como el Consejo Asesor Presidencial sobre el VIH/SIDA. Grissel cree que un enfoque en la justicia de género y racial es la única manera de tener un impacto en la epidemia del VIH. Vive con VIH desde su nacimiento y codirigió y coprodujo el documental de 2015 titulado We're Still Here (Seguimos aquí), que muestra las historias de la primera generación de personas nacidas con VIH en los años 80 y 90 que ahora son adultos.