via National AIDS Memorial and ViiV Healthcare
In May of 2019, the HIV/AIDS world lost its most promising poet, advocate, author, singer and young person living with AIDS, Mary Bowman. Mary was 30 years old. Born with HIV, she lived out her experiences of growing up and living with HIV (and losing a mother to AIDS) through her art. As a young, out woman of color, she was a dynamic, vital voice for the next generation of individuals living with HIV—proud, willing to speak of her own challenges with not just her own health needs (mental health, social support) —but also a fierce advocate for other young people with HIV for whom a voice was lacking. For Mary, the arts gave her the platform and voice to channel her creative energy, her passion, her truth.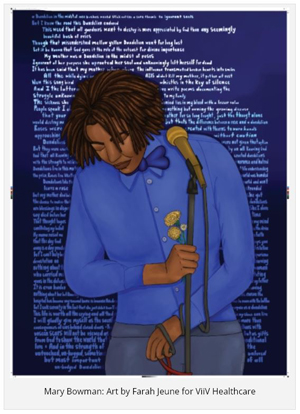 Mary has been an ambassador for the U.S. Department of Health's Office of Women's Health for its Women and Girls HIV/AIDS Awareness Day, has lent her voice to National Women & Girls HIV/AIDS Awareness Day and National Black HIV/AIDS Awareness Day PSAs, has worked at an HIV/AIDS organization focused on women, and has performed at the XIX International AIDS Conference, AIDSWatch (receiving a Positive Leadership Award from the advocacy initiative in 2015), and DIVAS Simply Singing!, among other events and conferences. She has also facilitated support groups for youth living with HIV and has spoken on numerous panels.
ViiV Healthcare proudly supports arts and culture programs that engage and inspire individuals and communities in the fight against HIV/AIDS, and recognizes the power of culture to break down stigma and isolation. Mary Bowman was an icon of hope and resilience, and recently performed at the 2018 ViiV Healthcare Youth and Community Summit where she inspired leaders across the movement.
To honor Mary's legacy and support other accomplished young artivists like her, ViiV Healthcare and the National AIDS Memorial have partnered to create the Mary Bowman Arts in Activism Award. This $5,000 award is intended to support one young artivist (27 years of age or younger) each year who exemplifies Mary's passion for the arts as the vehicle for their own HIV/AIDS community activism and expression. In general, artivism harnesses the critical imagination to design events and strategies that provoke new questions and new meaning in pursuit of more respectful ways of being. As an example, with respect to HIV/AIDS, such artistic statements are frequently borne from a variety of perspectives in terms of gender, sexuality, age, class, ethnicity, and nationality, and wield artistic expression as a tool for combating stigma. Stigma, and all it entails—shame, isolation, embarrassment, exclusion, shunning—remains among the most formidable barriers to fighting the epidemic.
To learn more and to apply, click here.