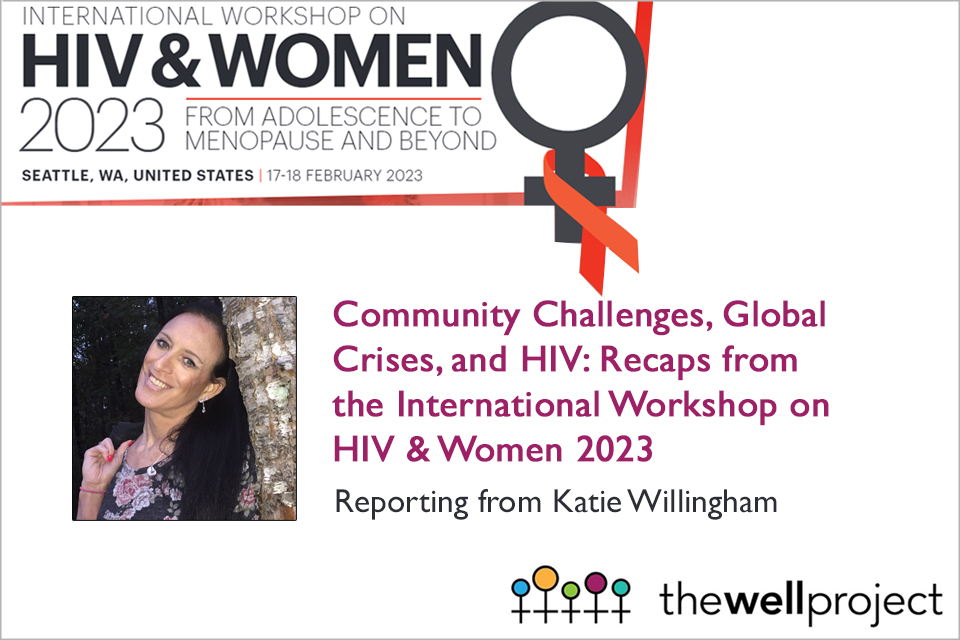 By Katie Willingham
The International Workshop on HIV & Women and the Conference on Retroviruses and Opportunistic Infections (CROI 2023, celebrating its 30th year) – took place back-to-back in February 2023 in Seattle, Washington. This was the first in-person gathering for both conferences since the COVID-19 pandemic began, and members of The Well Project's community were on hand (in some cases virtually). Read this author's perspectives and check out all The Well Project's coverage of these fascinating research meetings.
Table of Contents
Climate Change, Food Insecurity, and "Ecofeminism"
Drying climates, gendered suffering, and HIV are linked for women in resource-limited countries, suggested Virginia Kuulei Berndt, PhD, in her presentation during the session "Impact of Global Crisis on Access to HIV Prevention, Treatment and Care for Women." Berndt, a professor at Texas A&M International University in Laredo, has a background in sociology and conducts quantitative, cross-national research looking at the effects of disasters and environment, social vulnerability, and inequalities on women living with HIV.
How does the environment impact women's health? To describe this phenomenon, Berndt used the term ecofeminism. Ecofeminism is not about a mysterious, symbolic connection between women and nature, but rather shared structural, patriarchal oppression between the two. Just as nature is conquerable, so too are women also oppressed, creating social structures and expectations where women are more dependent on environment. Yet, that environment they need is compromised and destroyed. Also, women are restricted from obtaining resources in many countries (such as land inheritance or land ownership). Though women tend to be the environmental stewards, they are less likely to be in a position to help their environment (such as legislators or other positions of authority in government).
Berndt concluded that there is a need for more examination of the environment, disasters, and women's health. Droughts are becoming more frequent and intense; thus, women's HIV burden stands to worsen. But disasters are not created equally, so we need to understand their effects using qualitative research. She says we've only just begun!
COVID's Effect on Birthing Parents and Babies
Pregnant women living with HIV (WLWH) were uniquely affected during the COVID-19 pandemic. But how? Marisa Dorling, BSc, a medical student at the University of British Columbia, and colleagues looked into this with their study, "Impact of the COVID-19 Pandemic on the Pregnancies of Women Living with HIV in British Columbia, Canada" (known as "BC").
In some communities that carry a heavy weight of HIV cases, loss of in-person medical and obstetrical care associated with the pandemic seemed to lead to increased low birthweight and even death in newborns. Marginalized populations experienced barriers to abortion care and testing for sexually transmitted infections at especially high rates.
HIV treatment changes and challenges also had impacts on pregnant WLWH – from supply chain-related shortages to policy changes shifting the usual procedures for HIV treatment enrollment.
The study investigated how the pandemic impacted prenatal HIV care of WLWH in BC, and assessed the rate of vertical HIV transmission during that period. They found an important – and highly clinically significant – rise in infants born with HIV in this region. There was also a statistically significant rise in neonatal intensive care admissions, as well as preterm births. It is unclear what is specifically driving these increases, and substance use among those studied may complicate finding the "true" driver.
Violence, HIV, and Substance Use Resources
"An Exploration of Geographic Access to Substance Use Treatment Programs, Violence Against Women, and HIV Risk Behaviors" was a study presented by Noelle M. St. Vil, PhD, MSW, LMSW, of the University at Buffalo School of Social Work. Violence against women (VAW) is experienced by an estimated 736 million women around the world; and 37.9 million people worldwide are living with HIV. The two are connected in that women with a history of violence against them are more likely than those without that history to report engaging in activities that increase their chance of acquiring HIV.
Studies have found characteristics associated with increased vulnerability to VAW and reasons for HIV prevention – including substance use. It has also been documented that participation in substance use treatment is associated with decreased violence related to substance use as well as decreased behaviors through which HIV could be transmitted. Further, people need to be able to get to where the treatment is in order for it to work – increasing evidence shows that lack of geographic access to substance use treatment presents a significant barrier to receiving treatment.
This session piqued my interest because I am a woman living with HIV in a rural community. I have experienced violence in a relationship myself, and have used substances to cope, and I live in a community with limited resources, so I thought I could relate with it.
Fortunately, I never needed a treatment center. It would've been tough around here finding a treatment center that wasn't faith based. But I can understand the strain of living in a violent relationship and how it can affect your health – mentally, emotionally and physically.
This study sought to examine:
The relationship between access to substance use treatment programs and VAW risk
The relationship between access to substance use treatment programs and HIV vulnerability
The relationship between access to substance use treatment programs and VAW among participants with and without HIV vulnerability
Researchers used data from the Women's HIV SeroIncidence Study, which looked at HIV cases among women in areas with already high rates of HIV and poverty. There were 1,910 participants in this part of the analysis, all women between the ages of 18 and 44 in six northeast and southeast US regions. Eighty-five percent identified as Black; 67 percent reported not having a partner; 64 percent were unemployed; 24 percent reported binge drinking at least weekly; and 22 percent said they used drugs weekly.
Significant findings included:
VAW decreased as geographic access to substance use treatment programs increased
Specifically, emotional abuse decreased – and physical abuse decreased (although not significantly) – along with the increase in geographic access to substance use treatment
For those with HIV vulnerability, likelihood of experiencing VAW decreased as geographic access to substance use treatment programs increased (no significant differences for participants without HIV vulnerability)
These findings show that there is an association between geographic access to substance use treatment centers were associated with VAW and HIV outcomes. This study is among the first to look at these relationships, and highlights the importance of policies to increase ease of availability of substance use programs, in part to combat VAW. Now, future studies should look at the receipt, frequency and/or participation of substance use programs. More research is crucial in this area overall, St. Vil concluded.
That was the research as best I could report it. I originally took it nearly word for word from their slides because I didn't want to put something into my own words and be wrong. I'll let you decipher what you will from the facts of the study as best as I can present those to you.
But here's what I'll say about the matter: When you live in a violent situation, your first concern isn't always about taking medication unless it's going to numb you. You're often not concerned with your own health because you're preoccupied with living in fear and uncertainty. Sometimes, even the suggestion of seeking help can be dangerous in a violent relationship.
But why does violence decrease when there is access to program resources as this study suggests? In my experience, the only thing that ends violence is to get away from it. Having access to resources provides options, education, and support, and that gives one empowerment to change their situation. That's my conclusion of this study. I'm probably wrong lol – but that's why I summarized the research and let you decide for yourself what you think, as informed as possible and without coercion.
So what do you think?
---
Read all coverage from The Well Project at the International Workshop on HIV & Women and CROI 2023!