Compiled by Olivia G. Ford, Consulting Editor, The Well Project
Thanks to proof from several reliable studies, we now know beyond any doubt that people with undetectable viral loads cannot sexually transmit HIV (Undetectable Equals Untransmittable, or U=U). But there are many unanswered questions about other modes of transmission, such as breastfeeding.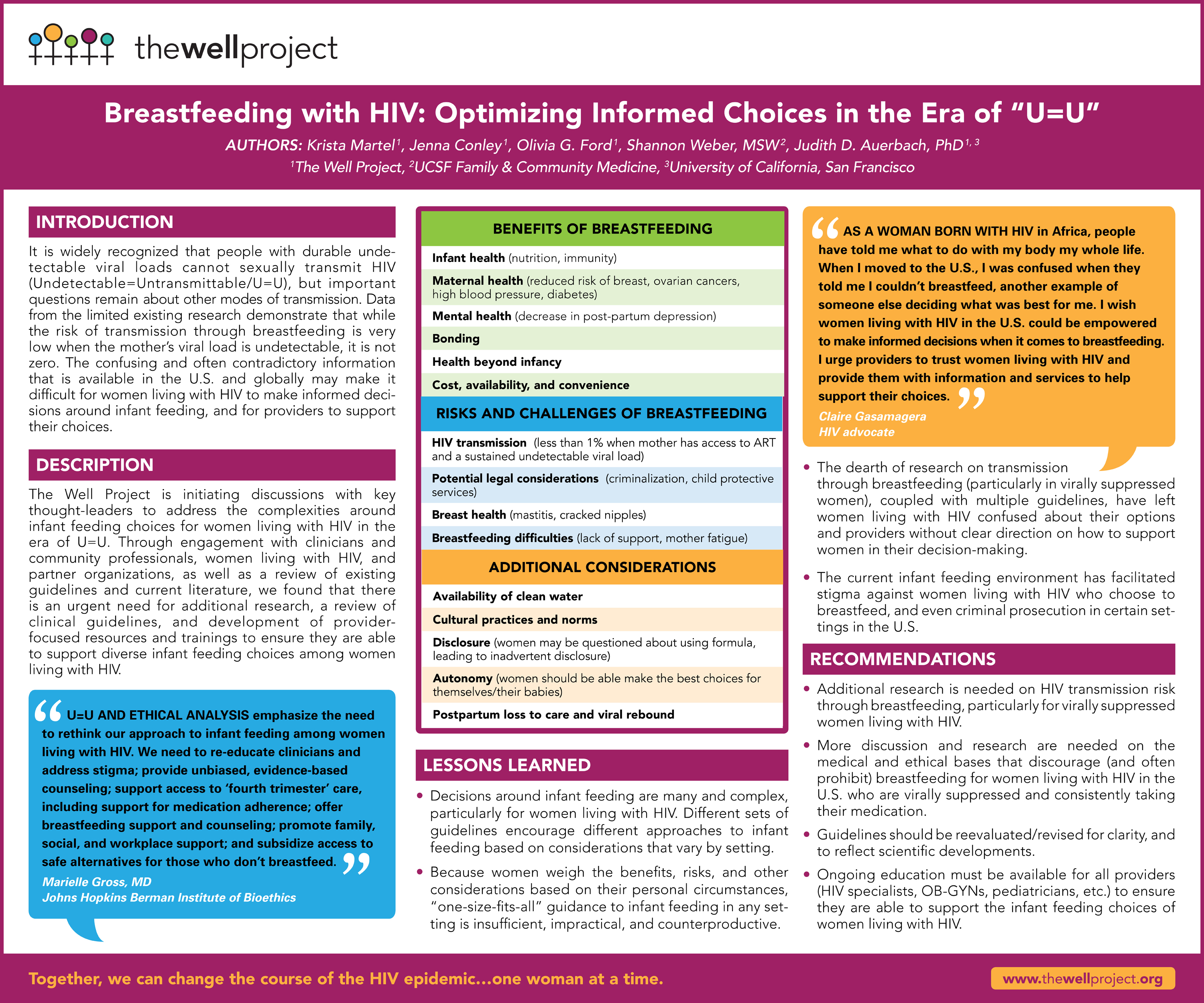 Limited existing research shows that when the mother's viral load is undetectable, the risk of transmission through breastfeeding is very low, though it is not zero. Our communities need more research, more discussion, and clearer guidelines on breastfeeding so that women living with HIV can make more informed decisions around infant feeding, and providers can support their choices. 
The Well Project and several of our closest partners are working to bring this need to the attention of engaged, knowledgeable HIV specialist providers. One way of doing so was by presenting a poster on our work promoting these discussions at the International Association of Providers of AIDS Care (IAPAC)'s 14th International Conference on HIV Treatment and Prevention Adherence (#Adherence2019). The gathering convened in Miami, Florida, June 17 - 19, 2019. Our poster was a call to action for providers to focus attention and resources on this important area of parents' and babies' experience.
During the poster exhibition on the opening afternoon of the conference, our poster was visited by a stream of professionals whose passion for this topic matched our own. We recorded some of their perspectives to share with our readers. The first two quotes are drawn directly from our poster; what follows are thoughts and insights from members of our community —including poster co-author Shannon Weber's observations on the event and the issue, which close the piece.
Why do you think it is important to support women living with HIV in making informed decisions about infant feeding?
Marielle Gross, MD, Johns Hopkins Berman Institute of Bioethics, Maryland (quote from the poster)
"U=U and ethical analysis emphasize the need to rethink our approach to infant feeding among women living with HIV. We need to re-educate clinicians and address stigma; provide unbiased, evidence-based counseling; support access to "fourth trimester" care, including support for medication adherence; offer breastfeeding support and counseling; promote family, social, and workplace support; and subsidize access to safe alternatives for those who don't breastfeed."
Claire Gasamagera, HIV advocate, Michigan (quote from the poster)
"As a woman born with HIV in Africa, people have told me what to do with my body my whole life. When I moved to the US, I was confused when they told me I couldn't breastfeed, another example of someone else deciding what was best for me. I wish women living with HIV in the US could be empowered to make informed decisions when it comes to breastfeeding. I urge providers to trust women living with HIV and provide them with information and services to help support their choices."
Emily Tuthill, assistant professor, School of Nursing, University of California - San Francisco
"I do mostly work with maternal child health around pregnancy and postpartum with women living with HIV, and how better to support this transitional period. I look a lot at mental health, food insecurity, and different determinants that impact infant feeding.
In the US-based context, we're really working around this question about what is the experience for women living with HIV around breastfeeding. The recommendations are that they should avoid breastfeeding, yet given globalization, and migration into the States, and also just the education around the benefits of breast milk, this conversation is becoming more at the forefront of women and providers. Providers are recommended to promote no breastfeeding and exclusive formula feeding, yet they are finding that many of their patients are coming in asking the question of whether it's possible, and how do they do it. So there's this real conflict going on. And since a lot of my work is global, the work that I've done in Kenya and South Africa has really been around promoting exclusive breastfeeding, and how can we support women to exclusively breastfeed -- so it's kind of the opposite.
How can we provide an environment where we can have this discussion, and start really working on a patient-provider relationship that is supported by guidelines that can accommodate it? We're really facing these big questions now, in a new world of better HIV treatment and prevention."
Sannisha Dale, assistant professor, Department of Psychology, Health Division, University of Miami, Florida
"One thing that comes to mind is really around the cultural place that breastfeeding takes. So it's not just a woman's experience in terms of her and an infant — and especially in many countries where it's a collectivistic kind of family orientation, more of an extended-family orientation. The idea, or the assumption, that a woman would be breastfeeding her baby and that's the natural way that they bond, but also in terms of nutrition, is not just something that is a private event to her. I think a big part of that is also the piece then around disclosure, if a woman is not engaging in [breastfeeding]. And so looking at how U=U, and also empowering women around the possibility of being able to breastfeed safely and well, are important parts of her decision then to selectively disclose. They're all tied together in so many ways."
Jen McMillen Smith, social worker, Metro Health System, Ohio
"I facilitate support groups for people living with HIV. One of my groups is for young people, another one is for women, and I have a lot of women living with HIV, especially young women, who are pregnant and/or having babies, and they are asking me: If I am undetectable, and undetectable equals untransmittable, why am I being told that I can't breastfeed my baby? So I was really interested to hear what you all had to say about that, to see if there is more of a conversation that we can have with people living with HIV about the pros and the cons of things."
Ashley Richardson, prevention specialist, CAN Community Health, Florida
"As we talk about U=U, we're only talking about sexual contact; we never talk about breastfeeding, and there are going to be questions that come up and have come up about: What is it like for a person that may be breastfeeding? What is the likelihood of them giving HIV to their child if they are undetectable?
As a person that does sexual health education, the last thing I want to do is stand up there and I don't know what I'm talking about because the research is not available, or maybe the research is not being done as it should.
We know that a mother can have a child without transmitting HIV, but we need to be more thorough when we're having that discussion, because now you have people that may say: Well, how is that done? What is the process like? What is the research to back up that a mother can't pass HIV along to her child? And then the same with breastfeeding: What can we tell people when these questions come up about what is the likelihood of passing it to a child through breastfeeding, and how can that be prevented going forward? The topic is not discussed enough, and the research is either not being done or it's not available to us so that we can have those conversations when they come up."
Linda van der Knapp, nurse specialist, infectious diseases/immunology, Erasmus MC, Netherlands
"I work in a children's hospital, and this is actually the topic that we are discussing in the Netherlands right now: because patients with HIV believe that it is OK to breastfeed, but doctors are a bit more reluctant.
Officially, we have a new guideline, which will be effective in about a month's time. [The guideline is] still that we don't recommend it, but if a woman wants to breastfeed, then we follow a protocol. What we're looking for is partners in Europe so we can collect more data about safety [of breastfeeding when the mother is living with HIV].
I think in a few years' time, breastfeeding is going to be more acceptable [for women living with HIV] -- and also officially in the guidelines. But it will take time."
Gena Grant, Department of Pediatric Infectious Diseases, University of Miami, Florida
"I know in the United States, breastfeeding is not [offered as] an option for a lot of the women. Our particular area is very diverse with the cultures here, so it's a problem when mothers want to breastfeed their babies. We also know that in [some other] countries -- if I go to Haiti or if I go to Cuba or if I go to Africa -- they are using breastfeeding as an option for the women, because that is what they have.
I really do agree with having this information more available for discussion, especially when U=U is concerned. As a person, you can be informed more, to know that you do have a choice. If you see this information and you want to [consider breastfeeding], it is definitely a discussion that you need to have with your provider, to weigh out the risks and the benefits."
Shannon Weber, MSW, director, PleasePrEPMe; founding task force member, Prevention Access Campaign (poster co-author)
"What a powerful experience to be a part of these challenging and nuanced conversations about infant feeding options for women living with HIV. I am amazed by the willingness of people from a variety of backgrounds to show up and engage in a topic that may not be directly related to their day-to-day life, but one that matters deeply to women living with HIV. From long-time perinatal HIV providers, to fellow advocates for wide implementation of U=U policies, to leadership from youth programs—we had a chance to talk to so many who were thoughtfully engaged, willing to change their mind, and committed to actionable steps moving forward.
In an era where women's reproductive rights and bodily autonomy are publicly debated on a nearly daily basis, it is a powerful opportunity for the HIV community to bring an intersectional lens to the infant feeding conversation; to examine our biases and privileges; to acknowledge where and how women have been left behind; and to reimagine a way forward that supports women living with HIV in their infant feeding choices.
As next steps, we know that tools are needed to support providers in having informed-choice conversations with women living with HIV, and models and protocols need to be disseminated to share best practices for operationalizing this at the clinic and program level. Additional research is also needed to understand the absolute risk and clinically sound ways to mitigate potential risks, and guidelines and laws need modernization to reverse the HIV criminalization and threat of child protective service involvement."
Quick links to related fact sheets by The Well Project