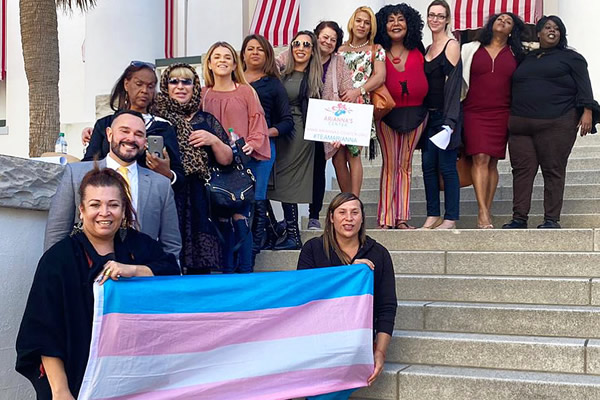 Arianna's Center staff and supporters attend their organization's lobby day at the Florida State Capitol on Jan. 28, 2020. (Photo courtesy of Tony Lima)
February 25, 2020 – Washington Blade.
by Michael K. Lavers
The founder of a South Florida organization that serves transgender women says her goal remains to change her clients' lives "in a good way."
Arianna's Center CEO Arianna Lint during an interview with the Washington Blade last month at the National LGBTQ Task Force's annual Creating Change conference in Dallas said her organization is "the first resource for transgender" people in Florida who are in U.S. Immigration and Customs Enforcement custody and once they are released.
Lint said a combination of grants and private donations allows Arianna's Center to purchase bus tickets to Florida for trans women after ICE releases them from their custody. Arianna's Center also provides them with housing, monthly bus passes and access to free health care and English classes so "they can continue their lives."
"We have to provide everything," said Lint. "We don't pay them, but we give them transportation … we put them in school. We try to find them stable housing. We find them a free doctor." Continue reading on Washington Blade...