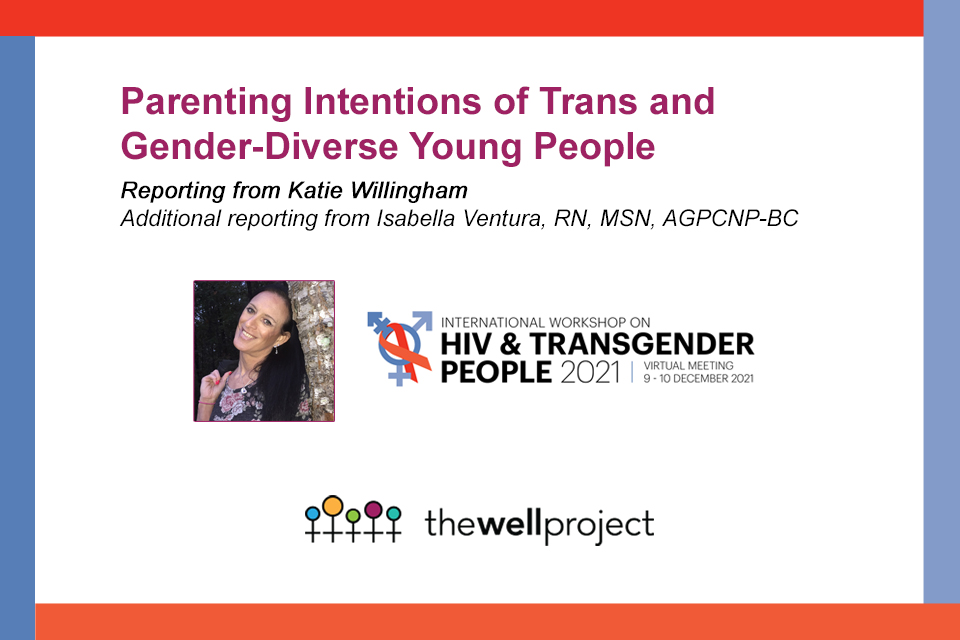 By Katie Willingham
The International Workshop on HIV and Transgender People strives to reduce gaps in knowledge related to people of transgender experience by encouraging information exchange among professionals across disciplines, from medicine to community work and beyond, to improve quality of life for transgender people living with or vulnerable to acquiring HIV. The Well Project medical editor Isabella Ventura, RN, MSN, AGPCNP-BC, and community advisory board member Katie Willingham, attended the virtual gathering in December 2021 and reported on compelling takeaways.
Isabella Ventura, RN, MSN, AGPCNP-BC, also contributed reporting to this piece.
How does the desire to parent someday (or not) intersect with the gender affirmation journeys of gender-diverse young people? And how does "the rest of the world" fit into that desire? These were two key questions explored by Jenifer McGuire, PhD, MPH, of the University of Minnesota, in a presentation entitled "Future Possible Parenting Identity and Relationship Goals as They Intersect with Gender Affirmation Processes." (View a video of this presentation on YouTube)
McGuire presented research outcomes on the reproductive health considerations of transgender and gender-diverse adolescents and young adults. They spoke about parenthood, challenges and barriers that many people of transgender experience face when trying to become parents (including in the decision-making process; e.g., the role of one's own family in developing views of family roles, and how they create family).
For their study they interviewed transgender and non-binary young people aged 15 to 29 from the US, Canada and Ireland. McGuire reported that while many participants reported wanting to be parents, most participants did not try to pursue fertility preservation. They also noted that many transgender women expressed a desire to give birth as an affirmation of their womanhood. On the other hand, transgender men who become pregnant may experience gender dysphoria (distress a person feels when there is a mismatch between their gender and the sex-related aspect of their body) during pregnancy. McGuire emphasized the importance of fertility counseling and fertility preservation for trans and gender-diverse individuals who desire to become parents.
Research questions to be answered were:
How do young people's parental or non-parental identity intersect with their gender affirmation process?
How do social interactions such as family and romantic relationships and cisnormative (assuming cisgender identity is "normal" and preferred over other gender identities) ideologies contribute to their future parenting or non-parenting identity?
The results they found came down to five major points:
Exploration – considering whether there is a desire to have children and/or searching for alternative ways to have children
Commitment – assessing how committed they are to the decision to become a parent or not
Cisnormative expectations – what it would be like to parent in the presence of cisgender societal norms
Family expectations – pressure or expectations felt from family to have children
Relationship considerations – effects of children on relationships, or whether they are in a relationship where they might be interested in coparenting
McGuire observed that participants in the study who wanted to become parents went through a process of meaning-making around the question of what parenting could look like for them, specifically. That included considering what parenting looks like in general society and what it would take in relation to their gender affirmation in particular. For instance, they considered what their relationship would be to society's gendered parental roles and expectations, as well as their families' expectations for them to become parents. There were also body considerations, particularly for transgender men, as well as timing considerations between parenting and transitioning. Cisnormativity and minority stress (enduring stigma from being part of a marginalized community) were constant issues in thinking about these processes.
The realm of parenting is dominated by cis and hetero normativity, which often leaves people of transgender experience feeling (and treated) like outsiders. Interest in parenting in this study took many forms, from biological to adoption and more. For some transgender people, gender and parenting may intertwine as social constructs – as in, "either I'm a parent or my affirmation process will shift based on my thinking about my parenting," as McGuire put it. But interest in parenting in some form was still common.
What I learned from this session is that many people of transgender experience are interested in parenting, and some even feel they need it as an affirmation of their gender – but may not feel welcome or accepted as potential parents. I'm glad I had my children before my transition because society would not have made it easy or welcoming for me to become a parent since. There's still much work that needs to be done to address the stark inequities in parenting for the transgender community.
More from The Well Project on the International Workshop on HIV and Transgender People 2021