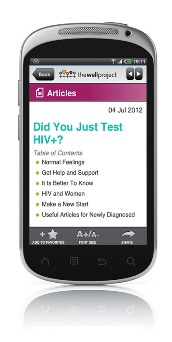 September 5, 2012 - Nellysford, VA.  The Well Project, the preeminent resource for information about women and HIV, today announced the release of its first mobile application, optimized for both Apple's iOS and Google's Android platforms. The Well Project mobile app makes its award-winning content more globally accessible, regardless of reliable internet access. The Well Project mobile app includes features ranging from treatment information to social issues, as well as posts from A Girl Like Me, The Well Project's blog, which highlights the first-hand experiences of women living with HIV from around the world. The Well Project is launching this mobile app in an effort to better serve their growing global audience, many of whom increasingly rely on their mobile phones or tablets for information gathering. This is the first step in a multi-tiered global initiative aiming to provide an online space where women in even the hardest-to-reach areas will be able to find the treatment information and support they seek in their own languages, coupled with the ability to share their experiences with other women living with HIV.
"In developing our mobile application, we are working to dramatically increase our reach, especially to women who may not have access to traditional computers but instead rely on mobile technology to access the Internet," said Dawn Averitt Bridge, founder and chair of the board of The Well Project. "We have utilized novel technologies to increase the availability of current, accurate and relevant information about HIV for women around the world. Our ultimate goal is to be able to offer every woman looking for information about HIV/AIDS on the Internet, the culturally relevant information she needs to survive and thrive in her own native language."
Since 2002, The Well Project has developed programs to increase awareness about HIV/AIDS, expand treatment research, promote better standards of care, educate women on how to manage living with HIV, provide a support community to HIV-positive women, and increase the participation of women in clinical trials. The Well Project has directly served more than 9 million people who have in turn used the information to serve an estimated 30 million men and women with AIDS globally. More than 70 percent of The Well Project's 1.3 million annual visitors are from outside of the United States.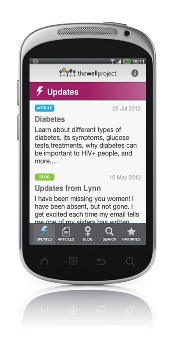 "As an activist, as a social health worker, as a peer educator and as a training counselor, it is vital that I have access to quality information resources," said Abosede Oladayo, an HIV-positive woman and community health worker in Nigeria. "My mission is to provide the women I serve with the tools they need to make the many decisions they face every day. I can only do that if I feel secure that the information I have is the most current, most up-to-date and most relevant."
The Well Project has long been recognized as one of the most innovative organizations providing access to HIV/AIDS information for women, receiving a number of awards, including: Stevie Award for Best New Website of the Year, InfoWorld 100 Award for Most Innovative Technology Project, Information Nation Award and two ComputerWorld Honors awards. To develop the mobile app, The Well Project worked hand in hand with long-time technology partner, Armedia, a leading provider of technology solutions.
"We are thrilled to launch the mobile application for The Well Project and to make our educational resources and A Girl Like Me blog for women and HIV more broadly available," said Krista Martel, director of online services for The Well Project. "As we've seen The Well Project shift from a primarily U.S.-based resource to a global one, we needed to reevaluate how to better tailor our information and its delivery. The mobile app is only the first in a number of steps that we are taking to ensure that we better serve the global community of women living with HIV. We look forward to collaborating with global partners to make our online resources more culturally appropriate and available in multiple languages."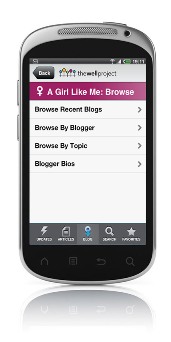 To access The Well Project mobile app:
For iOS (iPhone, iPad): Go to App Store or iTunes on device or computer and search "thewellproject," download it directly to device or computer or go to: http://itunes.apple.com/app/the-well-project/id539222324?mt=8
For Android: Go to Google Play or Android Market online or on your device and search "thewellproject."
About The Well Project
The Well Project is a nonprofit organization that bridges research, resources and relationships in an effort to change the course of the HIV/AIDS pandemic through a unique and comprehensive focus on women. The Well Project addresses three critical gaps in the HIV/AIDS arena: information access, treatment research and community support. The Well Project's offerings include web portals (available in English and Spanish) that offer information on approximately 130 topics relevant to women's lives; the Women's Research Initiative on HIV/AIDS, an expert, transdisciplinary think tank focusing on "more, better and faster" research in women; and the A Girl Like Me blog, providing women living with HIV globally with the platform to share experiences and connect in a safe environment. The Well Project is continually working to develop new resources to educate, nurture and support the community of women living with HIV, their caregivers and their health care providers. Together, we can change the tide of the HIV epidemic…one woman at a time.
For more information, please visit www.thewellproject.org.