Did you know that our blog, A Girl Like Me, a safe space for women living with HIV to share experiences and build community, has become a platform to identify emerging leaders? 
Most of The Well Project's Community Advisory Board, presenters, and scholarship recipients have been identified through their work with A Girl Like Me. With your help, we will expand this strong network of women leaders who are living with HIV. Why does this work matter? Community leaders inspire others living with HIV to end their own self-stigma and value their worth. Community leaders advocate for the needs of their community and impact policy and research. Community leaders galvanize others to become leaders themselves. It is imperative to continue to increase the number and diversity of community leaders so that every voice is represented across all efforts to address the HIV epidemic.
Read some of their stories below and consider making a donation here: https://www.thewellproject.org/you-can-help
Abosede Olotu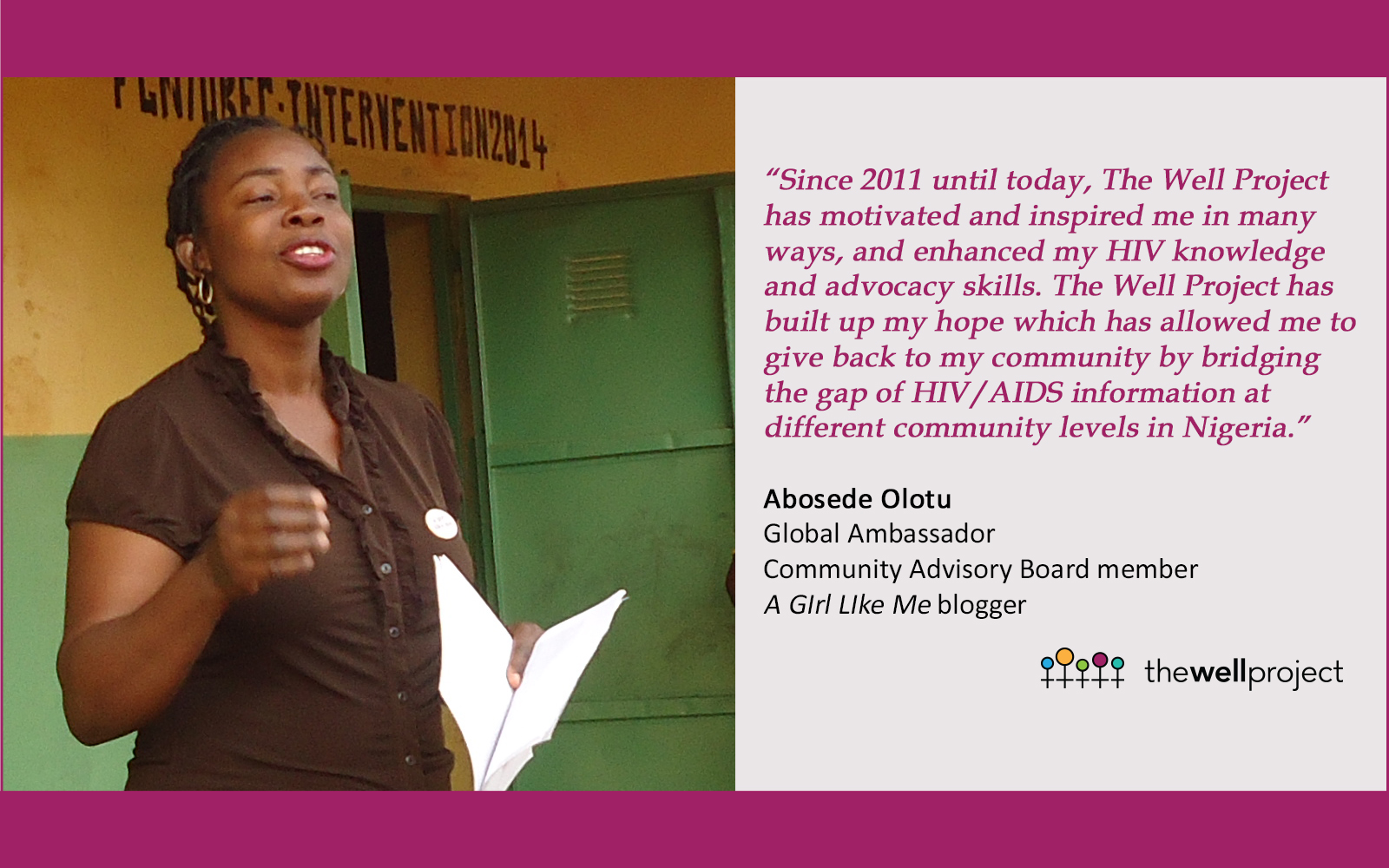 "Since 2011 until today, The Well Project has motivated and inspired me in many ways, and enhanced my HIV knowledge and advocacy skills. The Well Project not only motivates me, but also my family, who are also beneficiaries of The Well Project. With the support and continuous encouragement of The Well Project, I have been able to attend International Conferences on HIV/AIDS and gain countless experiences from those events. Thank you again and again for touching my life and encouraging me in ways you may never know. The Well Project has built up my hope which has allowed me to give back to my community by bridging the gap of HIV/AIDS information at different community levels in Nigeria. As a Community Advisory Board member, Global Ambassador, blogger, advocate and activist, I was able to leave yesterday behind, because Hope always brings a brighter tomorrow."
Arianna Lint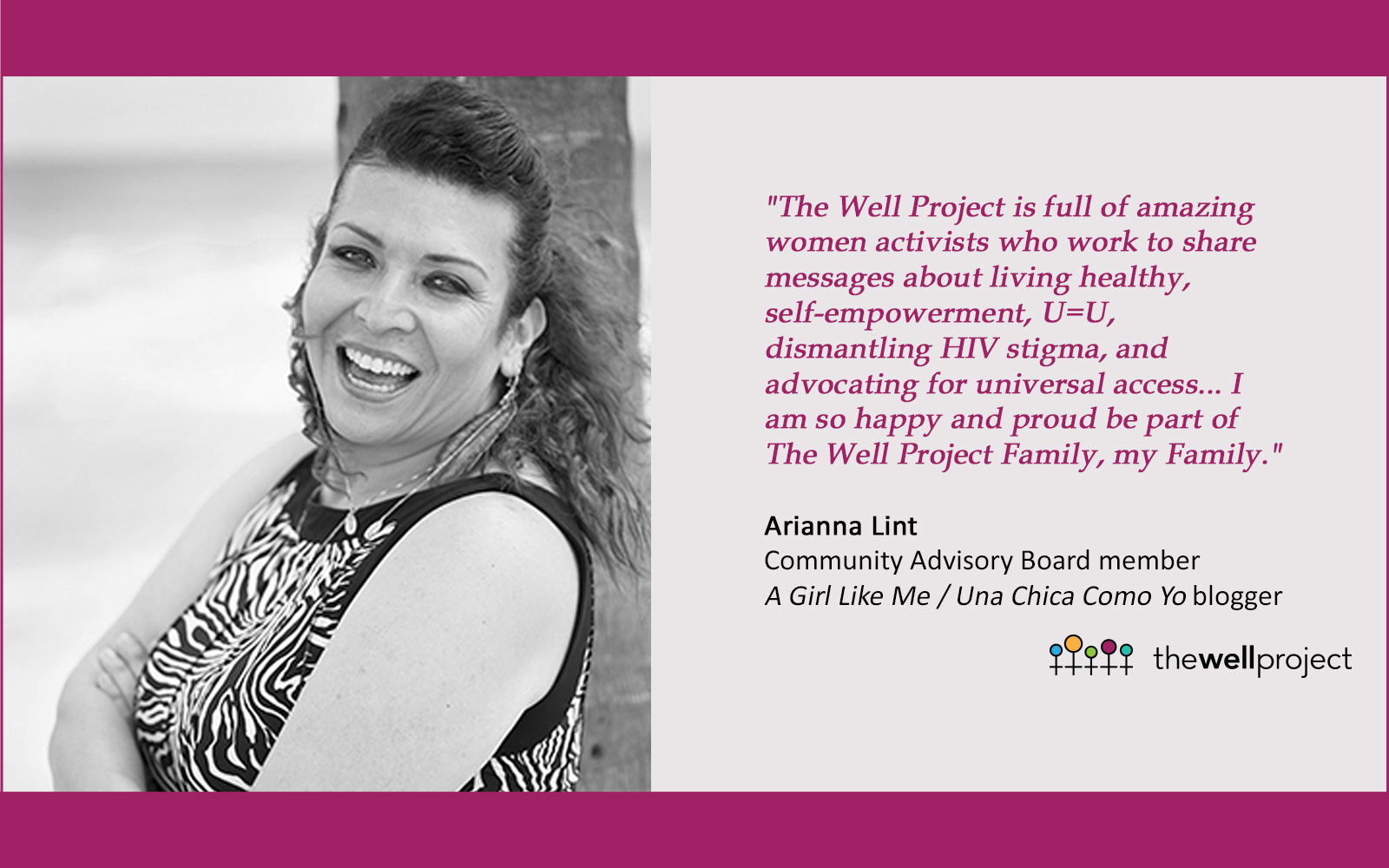 "The Well Project is full of amazing women activists who work to share messages about living healthy, self-empowerment, U=U, dismantling HIV stigma, and advocating for universal access. When they reached out to me, I said right away, 'YES!' As a proud Translatina Transgender Woman living in the South and undetectable for many years, I truly believe that hope, support, love, and educating others are the best tools to educate and create awareness for Transgender care in the HIV arena. Thank you to The Well Project for helping me to spread this message in many cities and provide dreams and hope to other Translatina women living with HIV. I am so happy and proud be part of The Well Project Family, my Family."
Aryah Lester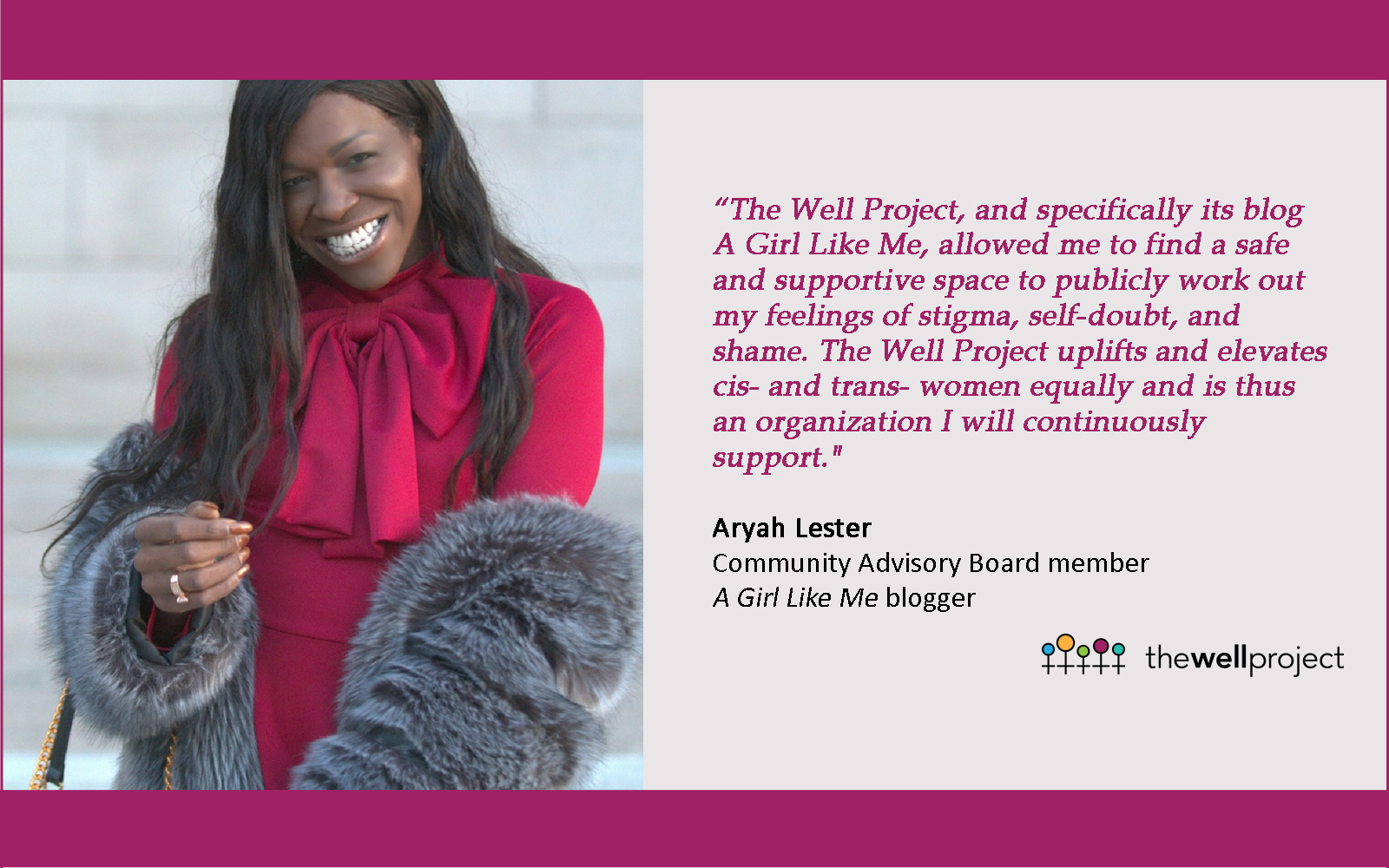 "As a woman of trans experience working in the HIV and prevention field for years, it was hard for me to come to terms with my diagnosis via sexual assault. The Well Project, and specifically its blog A Girl Like Me, allowed me to find a safe and supportive space to publicly work out my feelings of stigma, self-doubt, and shame. The Well Project uplifts and elevates cis- and trans- women equally and is thus an organization I will continuously support."
Ci Ci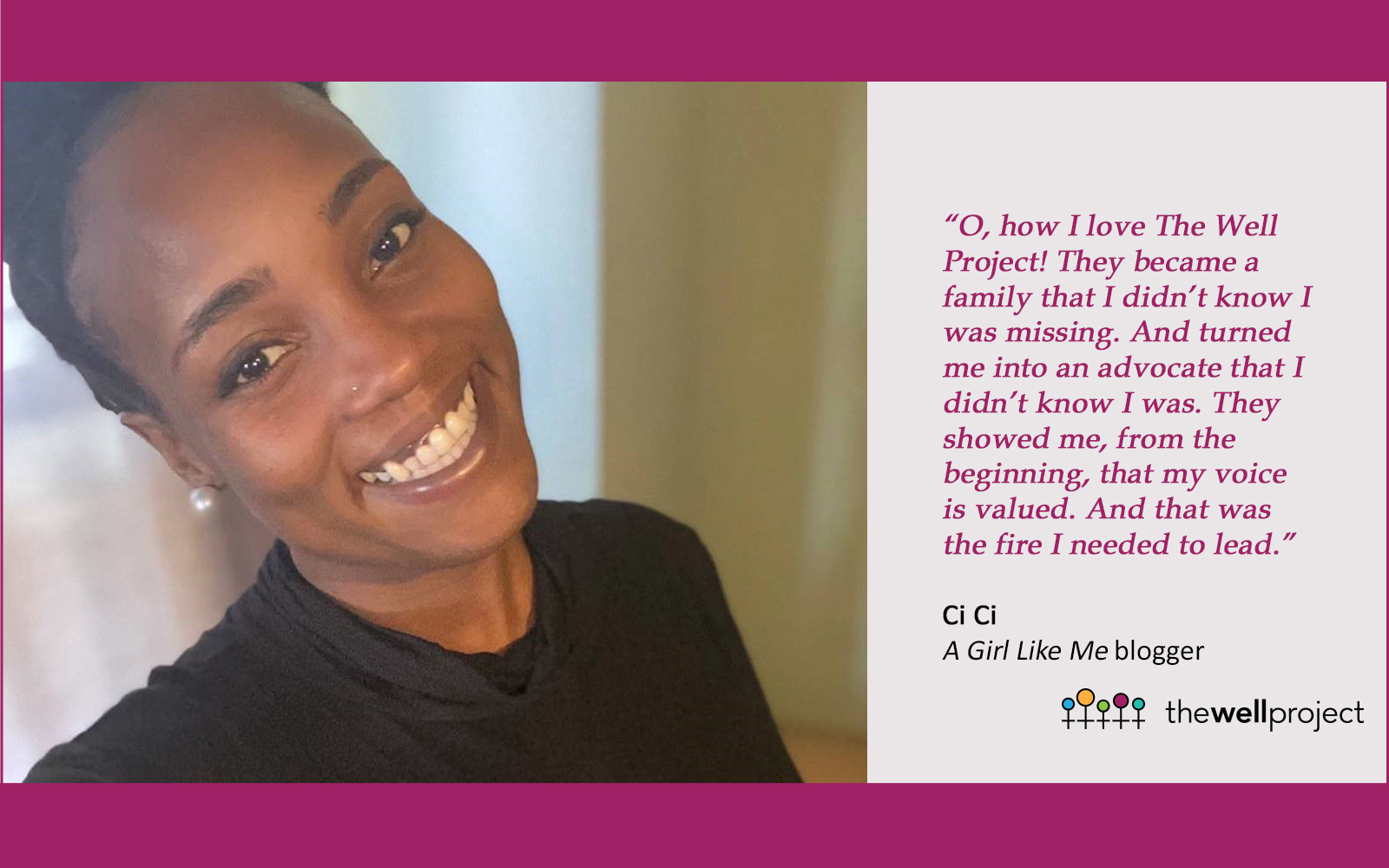 "O, how I love The Well Project! They became a family that I didn't know I was missing. And turned me into an advocate that I didn't know I was. They showed me, from the beginning, that my voice is valued. And that was the fire I needed to lead."
Janine Brignola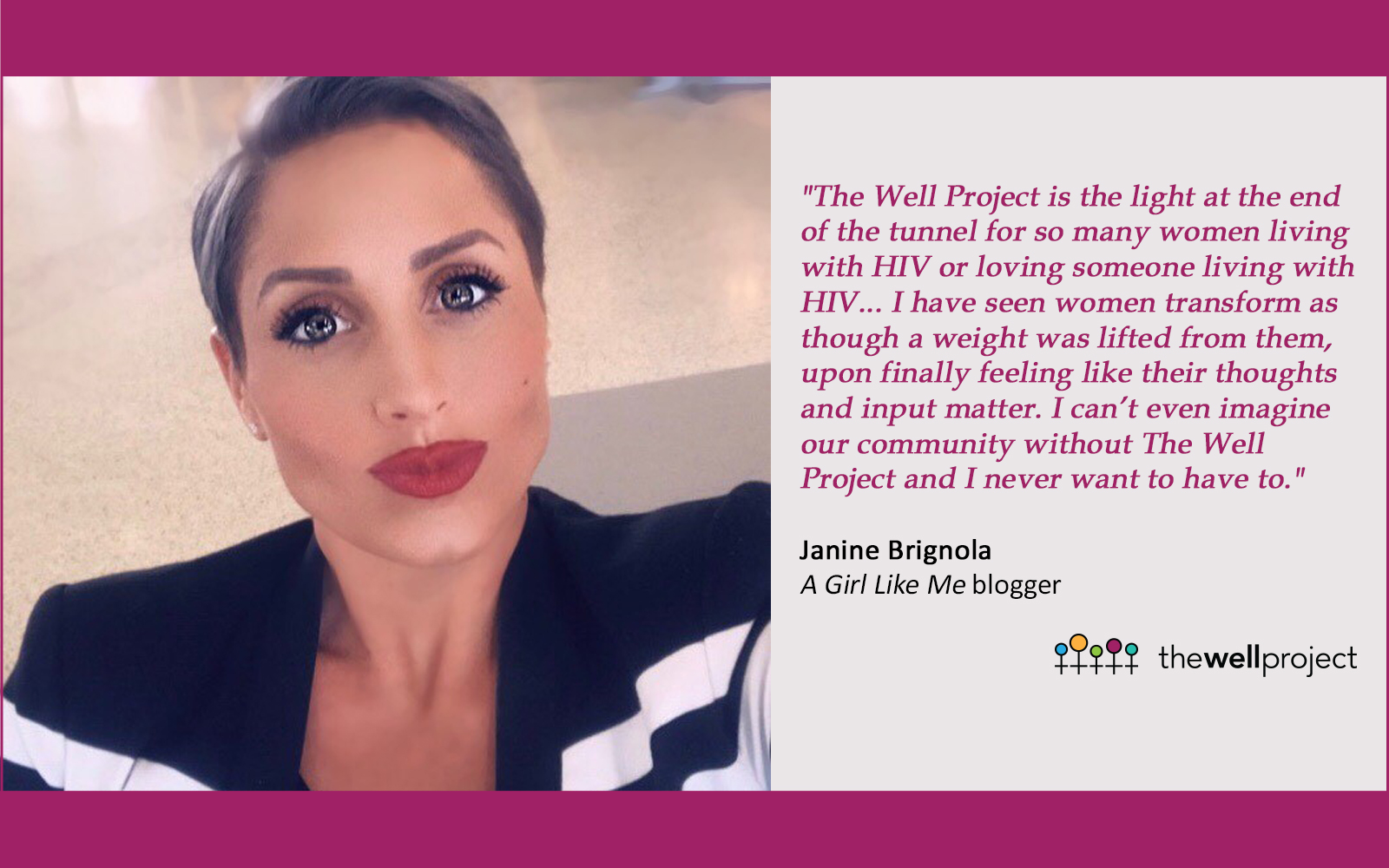 "The Well Project allows voice where many demand silence. Voice for women, voice for healing, voice for knowledge. They are a beacon for women globally, giving those of us who are told to quietly suffer in silence a space to share, to learn, to help so many others and ourselves with our stories. I have seen and experienced the life-changing impact of having this space. I can't even imagine our community not having a place like this to learn and to have true and sincere community and fellowship. The Well Project is the light at the end of the tunnel for so many women living with HIV or loving someone living with HIV. I have seen firsthand the spark in a sister's eye when they learn THIS is a space for WOMEN living with HIV. I have seen women transform as though a weight was lifted from them, upon finally feeling like their thoughts and input matter. I can't even imagine our community without The Well Project and I never want to have to."
Jyoti Dhawale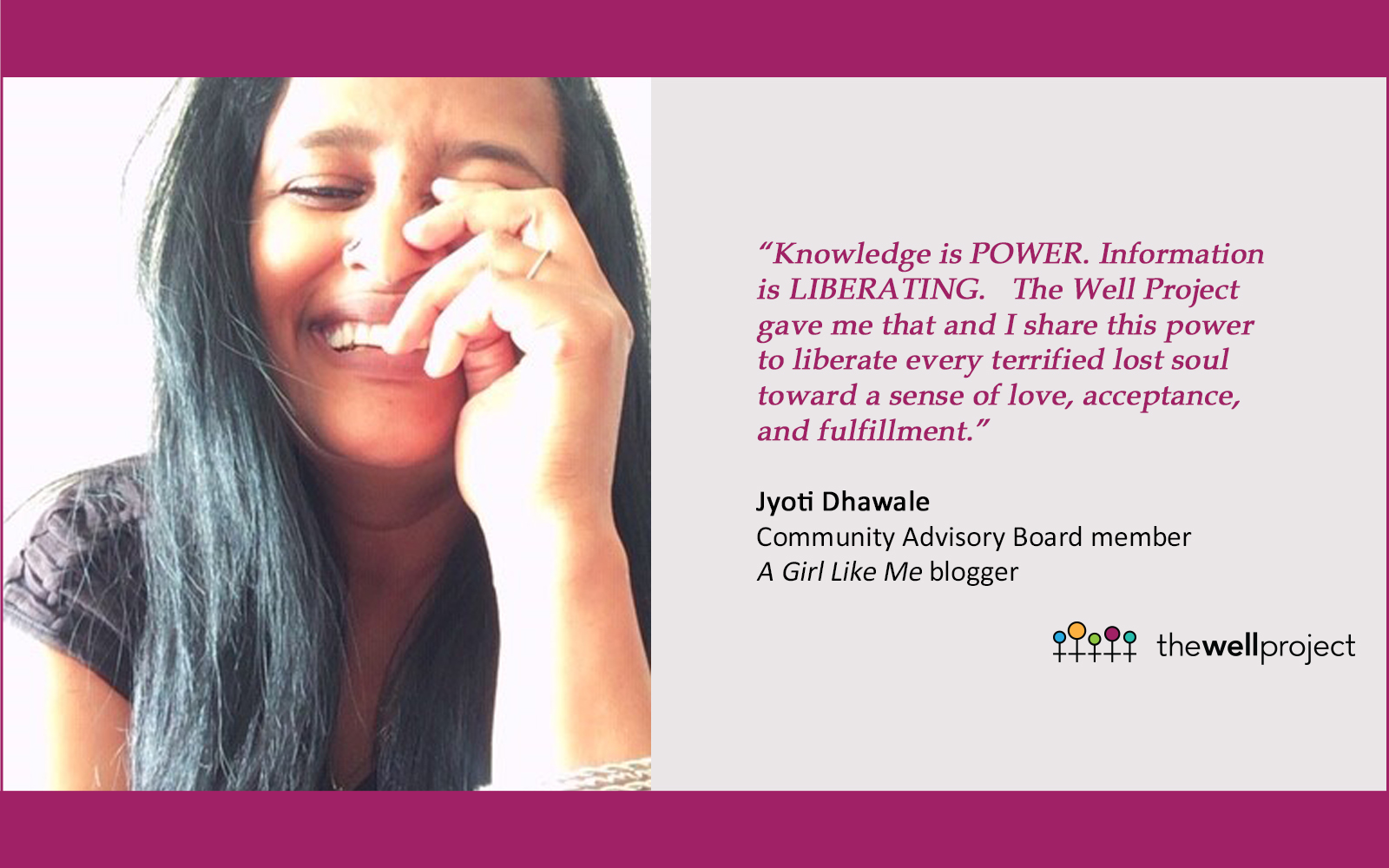 "Knowledge is POWER. Information is LIBERATING. The Well Project gave me that and I share this power to liberate every terrified lost soul toward a sense of love, acceptance, and fulfilment."
Kate Starr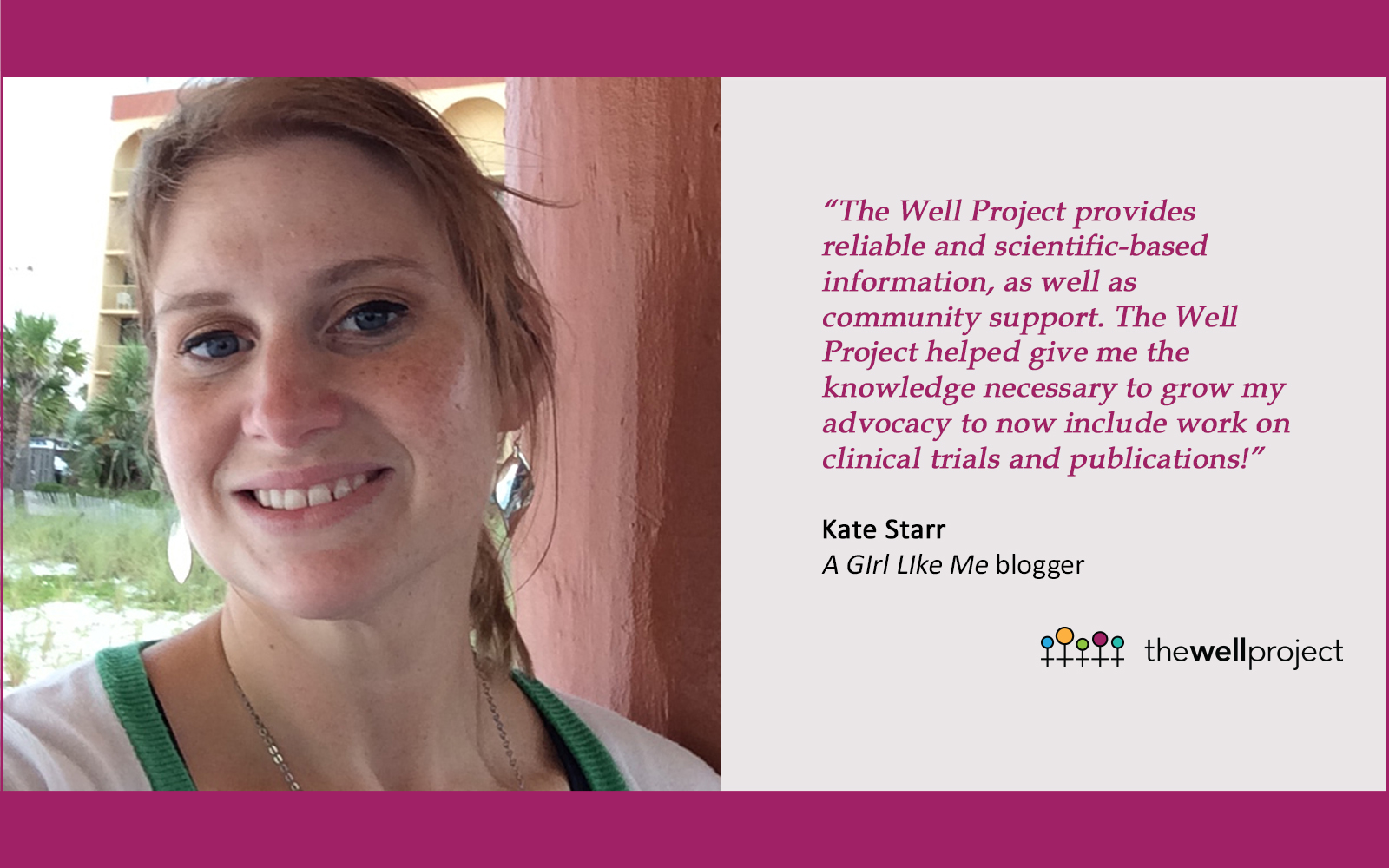 "I found The Well Project about 10 years ago, while searching for online resources for women living with HIV. The Well Project provides reliable and scientific-based information, as well as community support. The Well Project helped give me the knowledge necessary to grow my advocacy to now include work on clinical trials and publications!"
Katie Willingham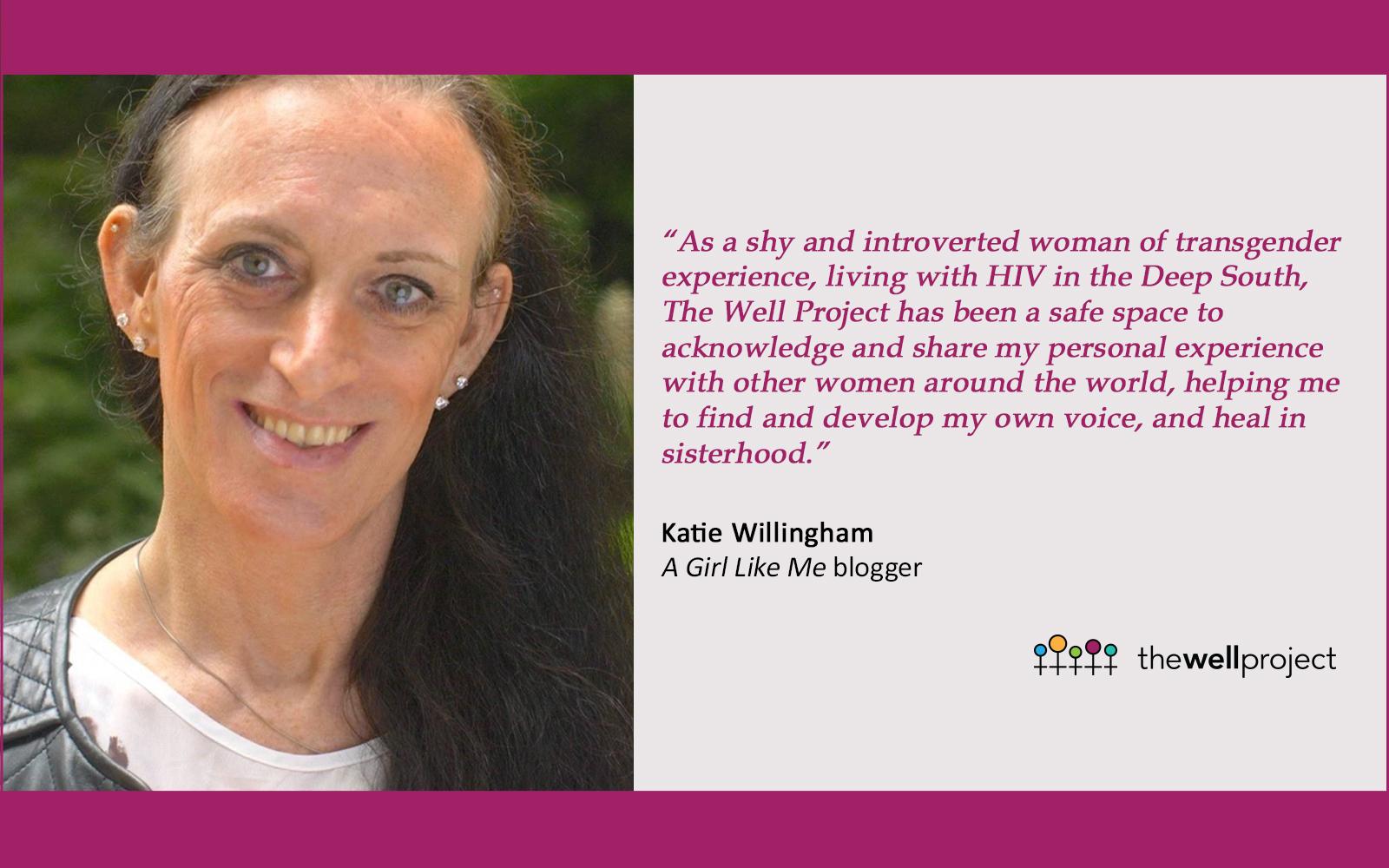 "As a shy and introverted woman of transgender experience, living with HIV in the Deep South, The Well Project has been a safe space to acknowledge and share my personal experience with other women around the world, helping me to find and develop my own voice, and heal in sisterhood. The Well Project offers valuable resources such as fact sheets (also in Spanish), training webinars, networking, and opportunities to grow through experience and mentorship. I love this organization, I'm grateful for this organization, and I will always support this organization; The Well Project is family."
LaWanda Wilkerson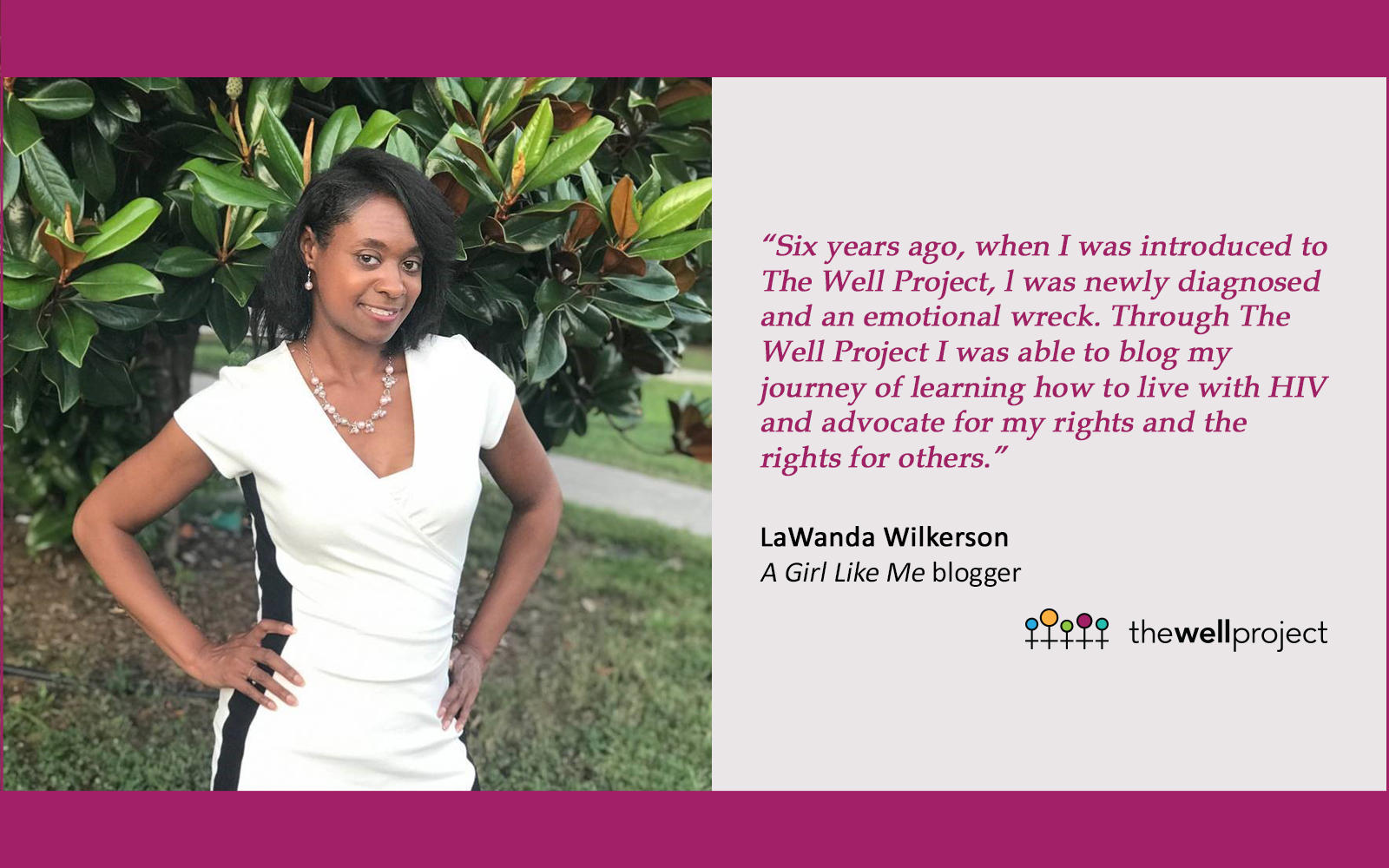 "Six years ago, when I was introduced to The Well Project, l was newly diagnosed and an emotional wreck. Through The Well Project I was able to blog my journey of learning how to live with HIV and advocate for my rights and the rights for others. The Well Project also gave me the opportunity to work on Building H.O.P.E., which is huge, especially living in rural North Carolina where I have been able to educate and chip away at the stigma that people associate with HIV. I am forever grateful to my The Well Project family."
Maria Mejia
"My name is Maria Mejía and I am a 31-year survivor of HIV/AIDS. I have come a long way and have been fighting for a long time! The Well Project is everything to me as a woman living with HIV. They have made me a proud Global Ambassador and Community Advisory Board member, representing them all over the globe. I am a bilingual blogger and they have always listened to us about the importance of MIPA and include us in everything! They have given me the opportunity to reach the masses nationally and internationally and have made me independent through work! We are not a token to them and I am so proud of the expansion to Latin America with all the information that we have in English, Spanish...and now in Hindi as well! Most importantly, I have been able to mentor and recruit other women that were living in silence--including transwomen--many of whom have grown into huge advocates and activists all over the world. Thank you, The Well Project, for creating such a beautiful sisterhood."
Tiommi Jenae Luckett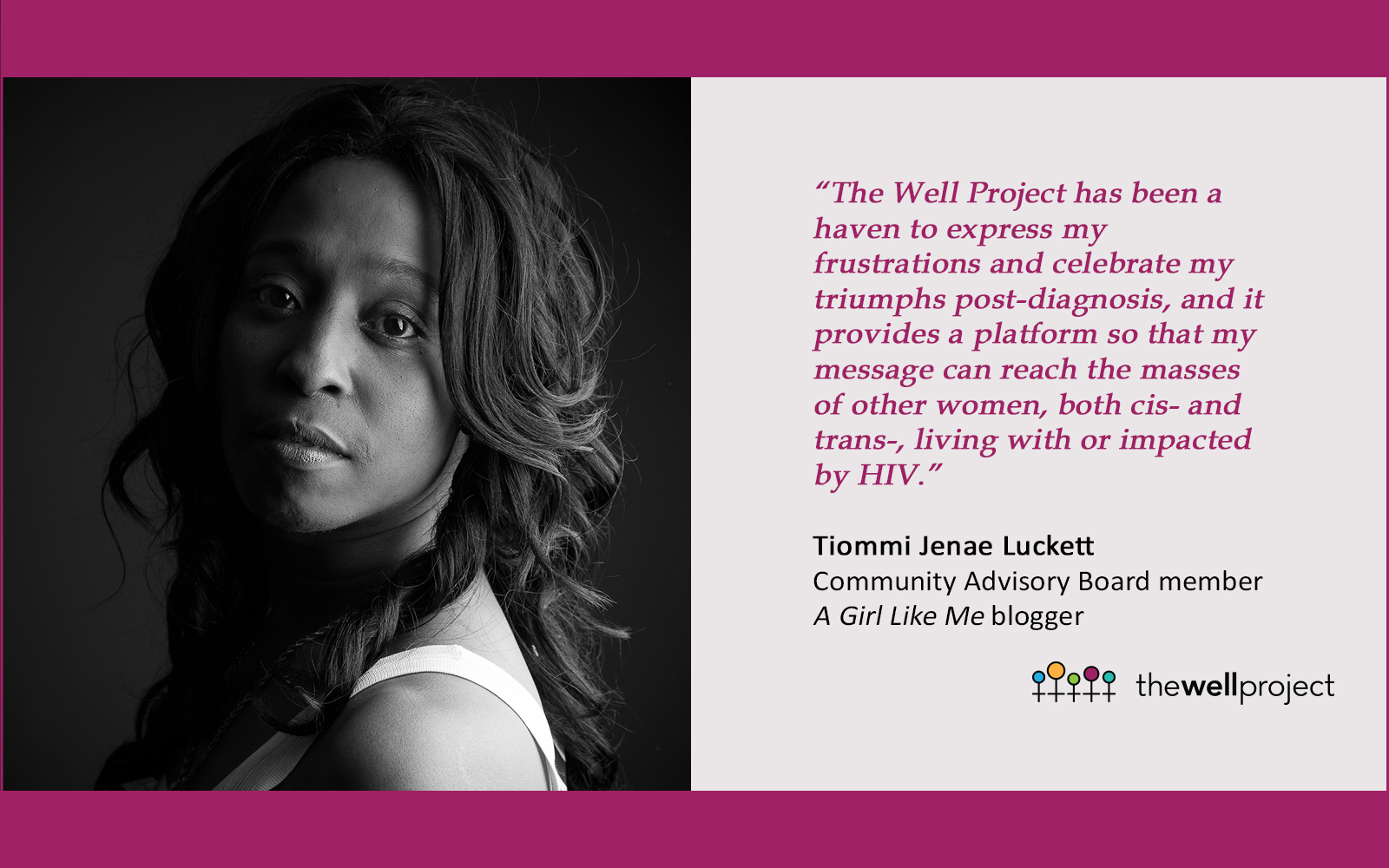 "Learning about my diagnosis was the scariest moment for me. I just knew that no one would understand what I was going through as a Black woman of trans experience in Arkansas. I was correct until I learned of The Well Project. The Well Project has been a haven to express my frustrations and celebrate my triumphs post-diagnosis, and it provides a platform so that my message can reach the masses of other women, both cis- and trans-, living with or impacted by HIV."