One thing everyone can agree upon is that 2020 has been an extremely challenging year. And while it is important to recognize the struggle, we don't want to miss the opportunity to acknowledge our community's resilience and ability to uplift each other during such difficult times.
While The Well Project has long known the power of a virtual community, the COVID-19 pandemic and resulting lockdowns demonstrated just how valuable it is. Several of our Community Advisory Board (CAB) members generously shared how The Well Project's community has positively impacted them during these challenging times. 
While we know many are suffering during these difficult times, we are requesting support from those who are able to do so, so that we can continue to provide responsive programming during these times. Today, community connection and leadership are more important than ever! Please consider making a donation today.
Gina Brown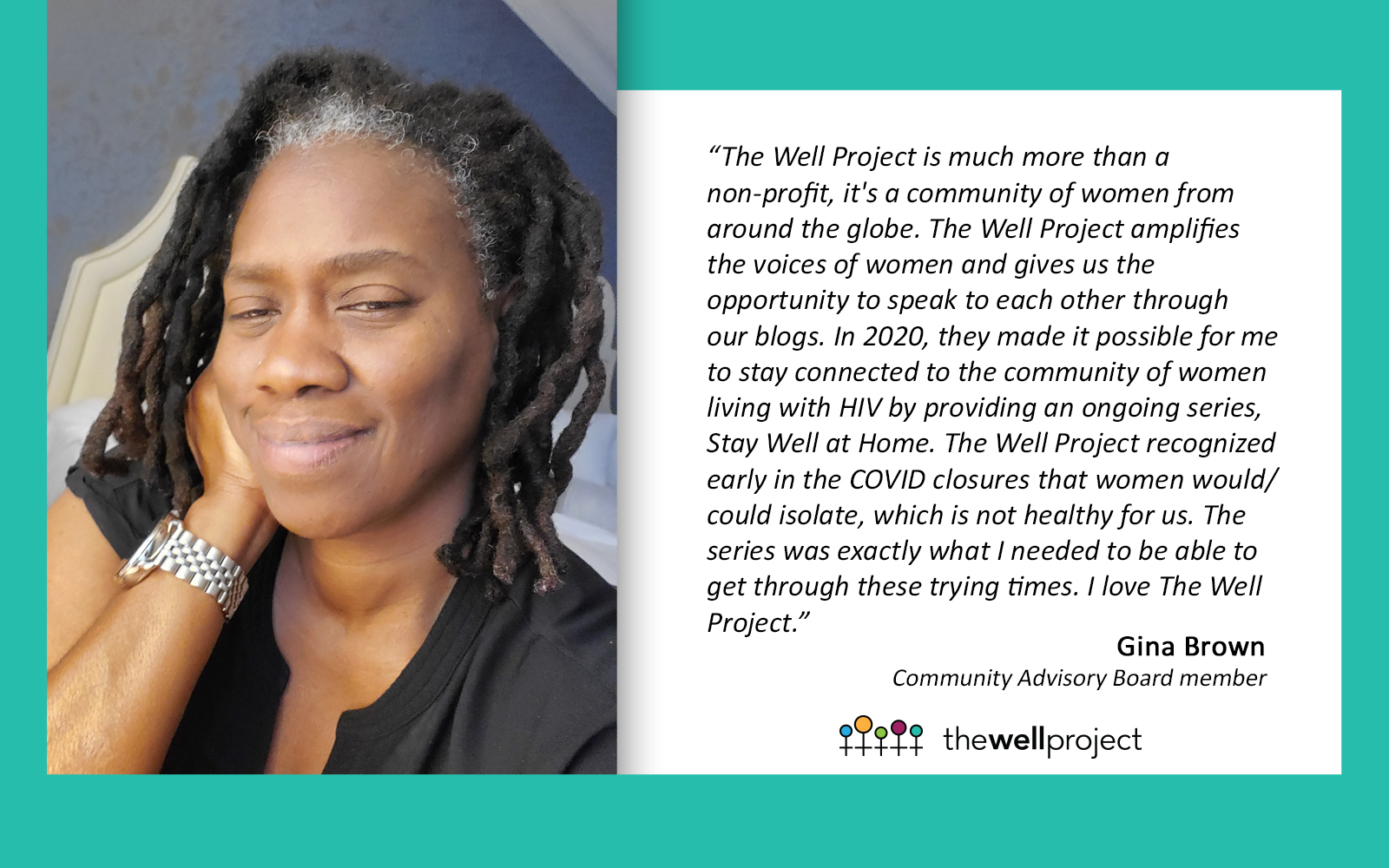 "The Well Project is much more than a non-profit, it's a community of women from around the globe. The Well Project amplifies the voices of women and gives us the opportunity to speak to each other through our blogs. In 2020, they made it possible for me to stay connected to the community of women living with HIV by providing an ongoing series, Stay Well at Home.The Well Project recognized early in the COVID closures that women would/could isolate, which is not healthy for us. The series was exactly what I needed to be able to get through these trying times. I love The Well Project." - Gina Brown, Community Advisory Board member
Ciarra Covin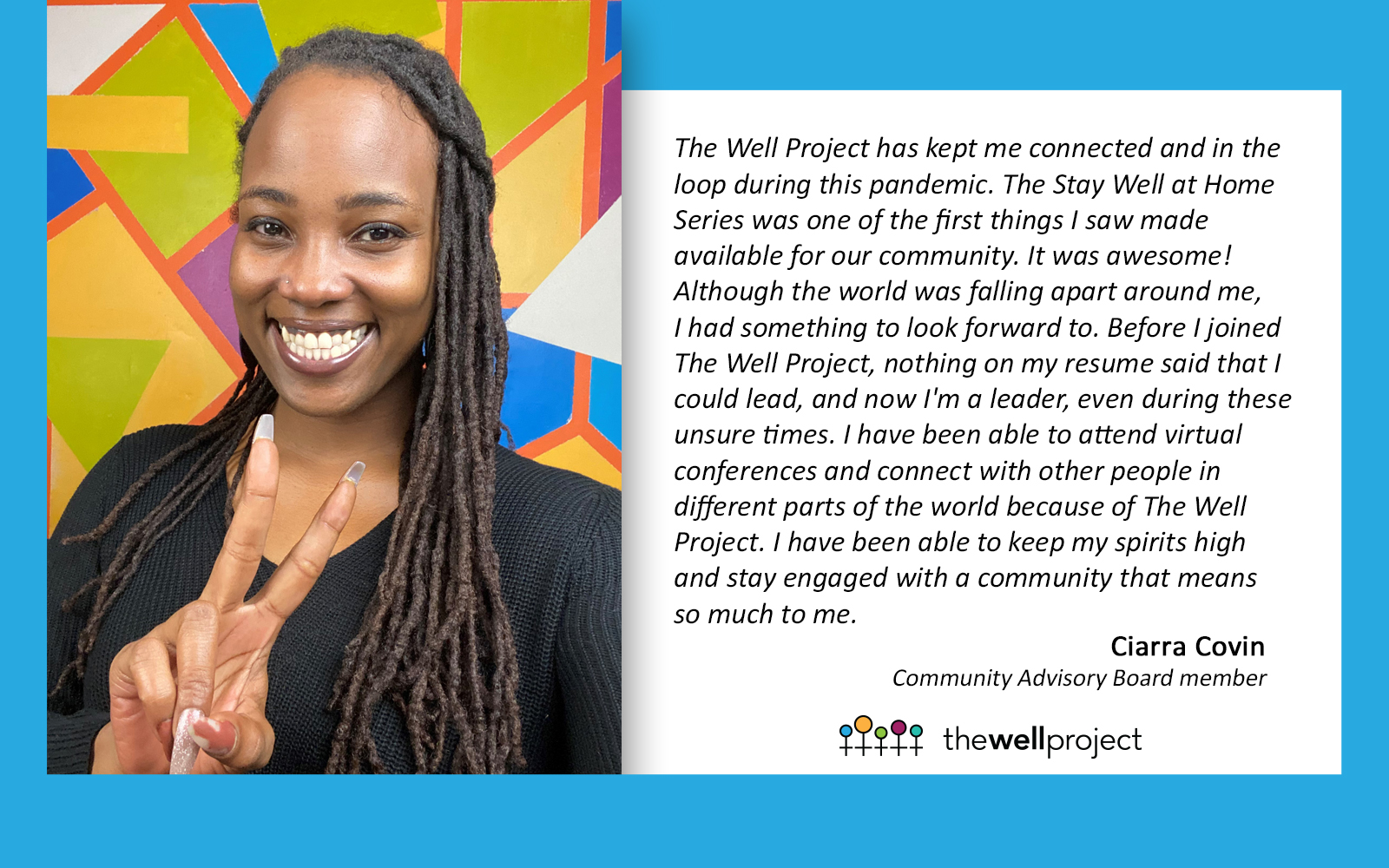 "The Well Project has kept me connected and in the loop during this pandemic. The Stay Well at Home Series was one of the first things I saw made available for our community. It was awesome! Although the world was falling apart around me, I had something to look forward to. Before I joined The Well Project, nothing on my resume said that I could lead, and now I'm a leader, even during these unsure times. I have been able to attend virtual conferences and connect with other people in different parts of the world because of The Well Project. I have been able to keep my spirits high and stay engaged with a community that means so much to me." - Ciarra Covin, Community Advisory Board member
Jyoti Dhawale
"The Well Project's online resources have been a boon for those trying to cope with lockdown, especially the Stay Well at Home series, which helped beat the lockdown stress and fatigue. Not only this, but The Well Project's webpage has been a big help for many when it comes to counselling/seeking advice, because it is FREE and also because it is always up-to-date." - Jyoti Dhawale, Community Advisory Board member
Maria Mejia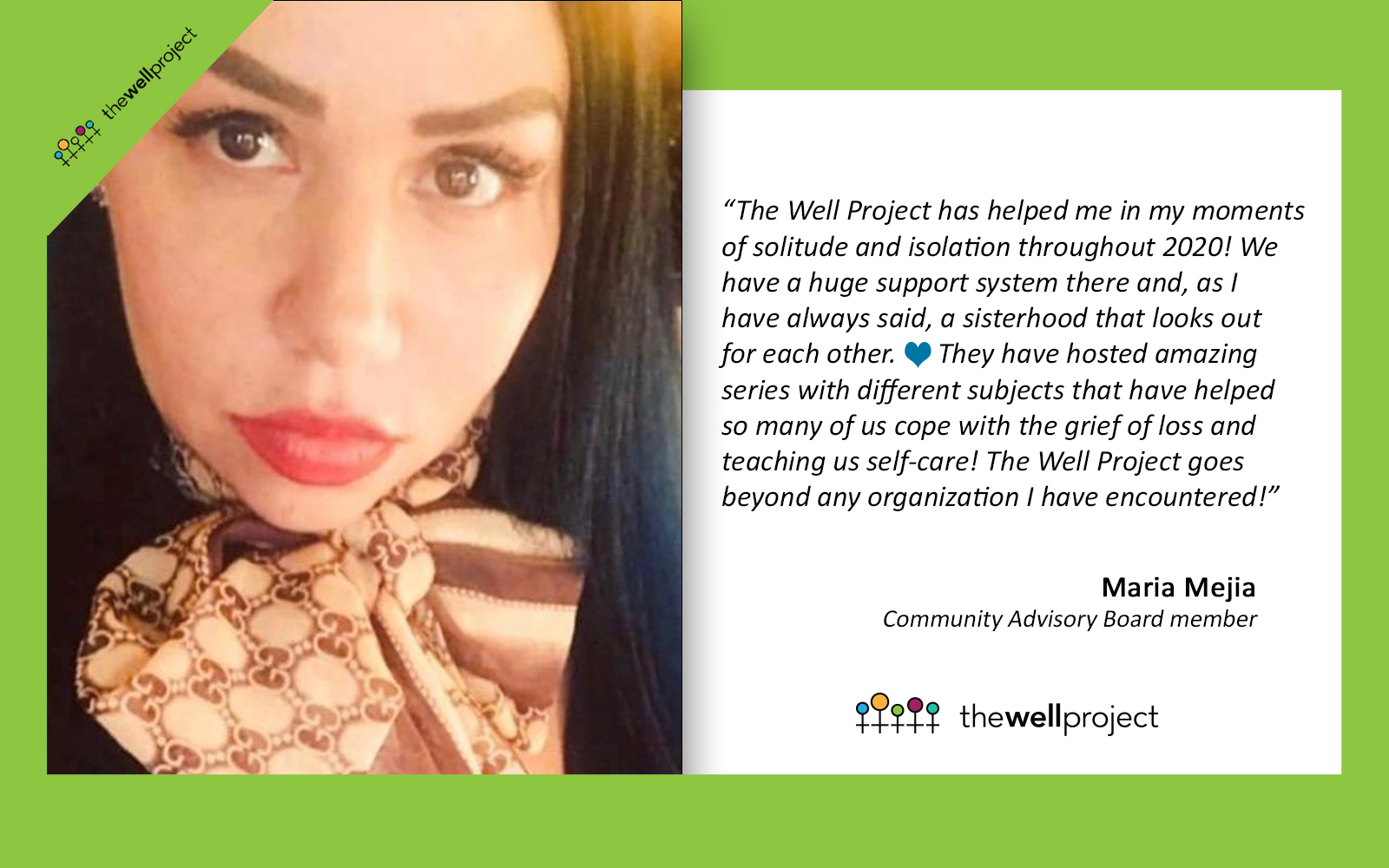 "The Well Project has helped me in my moments of solitude and isolation throughout 2020! We have a huge support system there and, as I have always said, a sisterhood that looks out for each other. They have hosted amazing series with different subjects that have helped so many of us cope with the grief of loss and teaching us self-care! The Well Project goes beyond any organization I have encountered!" Maria Mejia, Global Ambassador and Community Advisory Board member
Abosede Olotu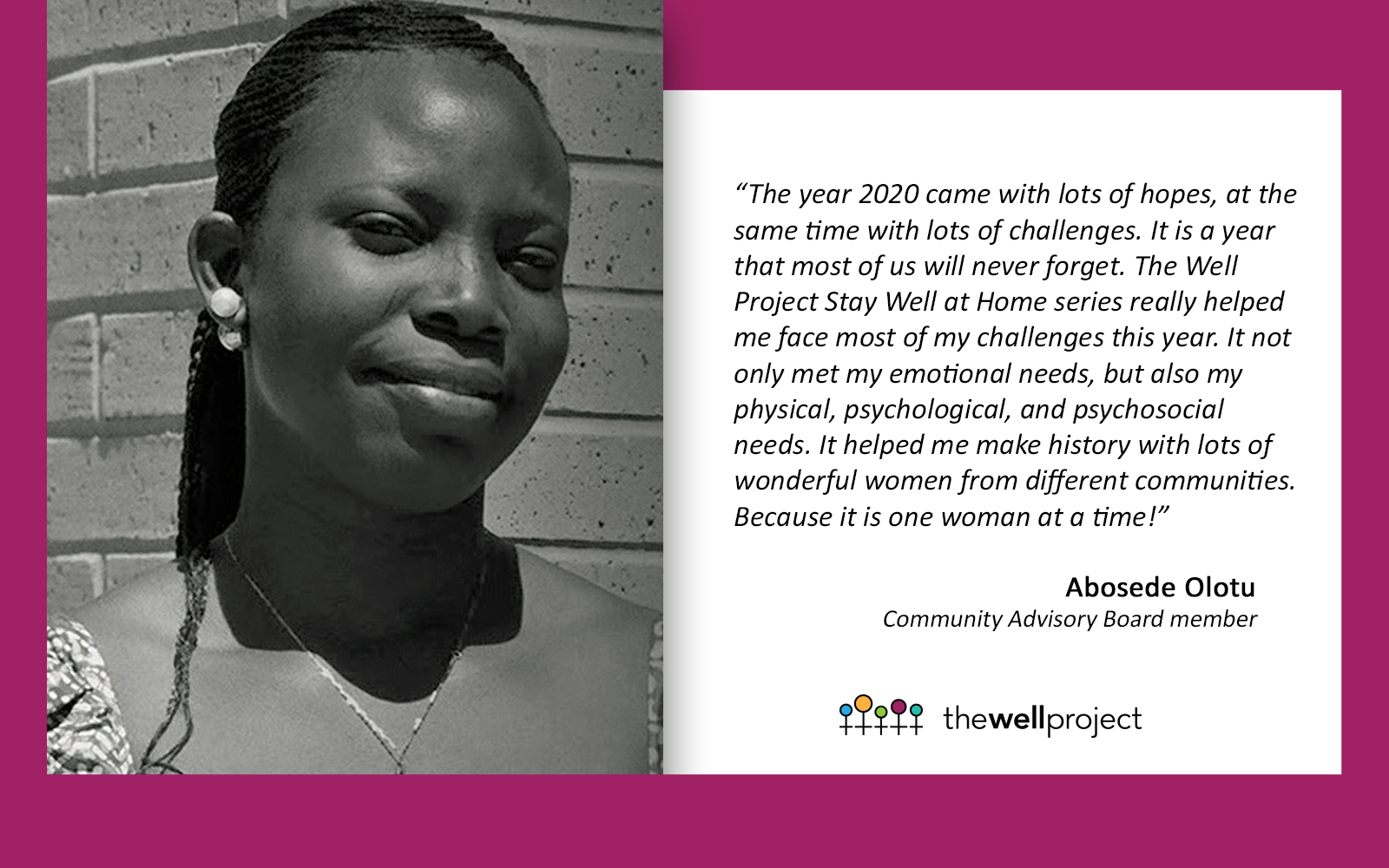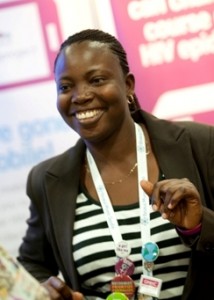 "The year 2020 came with lots of hopes, at the same time with lots of challenges. It is a year that most of us will never forget. The Well Project Stay Well at Home series really helped me face most of my challenges this year. It not only met my emotional needs, but also my physical, psychological, and psychosocial needs. It helped me make history with lots of wonderful women from different communities. Because it is one woman at a time!" - Abosede Olotu, Global Ambassador and Community Advisory Board member
Ieshia Scott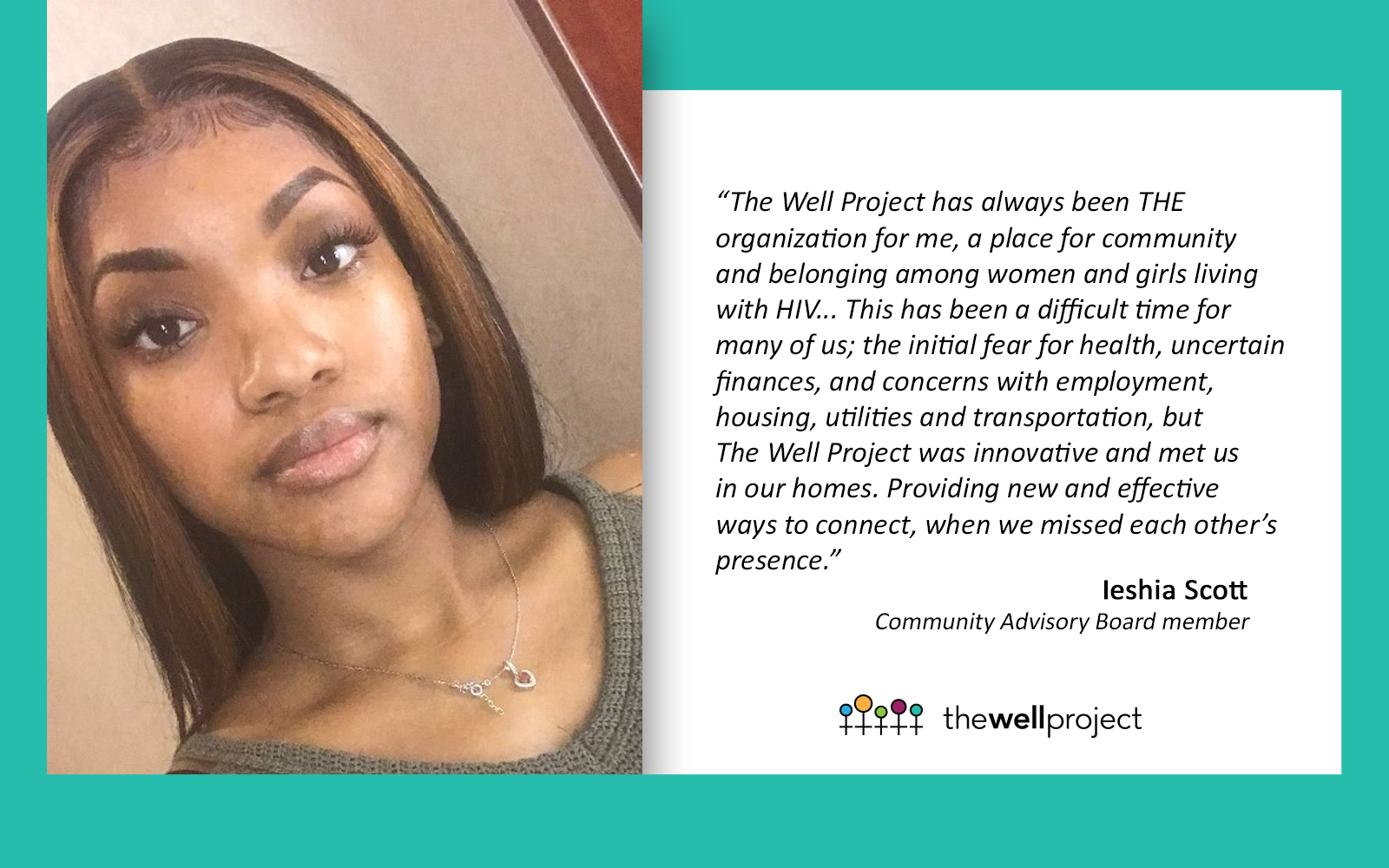 "The Well Project has always been THE organization for me, a place for community and belonging among women and girls living with HIV. As a Community Advisory Board (CAB) member who has found myself struggling emotionally, and trying to remain afloat financially, The Well Project's response to the COVID pandemic has reminded me why I initially decided to partner with this organization. The Well Project cares, not just about its CAB, but about all the women in its community. Leadership has set an example of solidarity that has helped to keep many women surrounded in love, sisterhood, and support while living through two pandemics. This has been a difficult time for many of us; the initial fear for health, uncertain finances, and concerns with employment, housing, utilities and transportation, but The Well Project was innovative and met us in our homes. Providing new and effective ways to connect, when we missed each other's presence. Providing opportunities for CAB members to still serve in a meaningful way. I can't thank leadership enough for their commitment." - Ieshia Scott, Community Advisory Board member
Masonia Traylor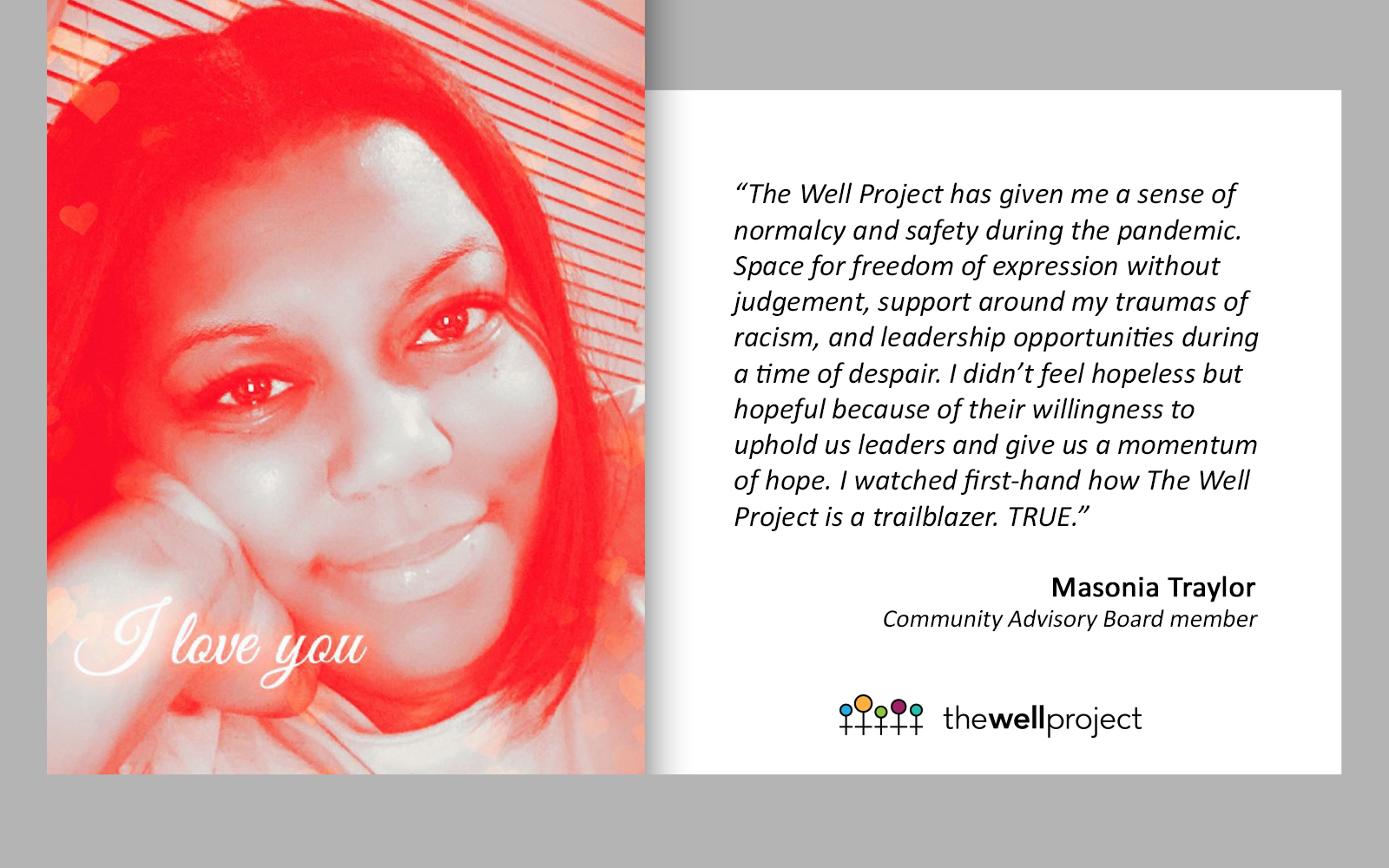 "The Well Project has given me a sense of normalcy and safety during the pandemic. Space for freedom of expression without judgement, support around my traumas of racism, and leadership opportunities during a time of despair. I didn't feel hopeless but hopeful because of their willingness to uphold us leaders and give us a momentum of hope. I watched first-hand how The Well Project is a trailblazer. TRUE." - Masonia Traylor, Community Advisory Board member
Katie Willingham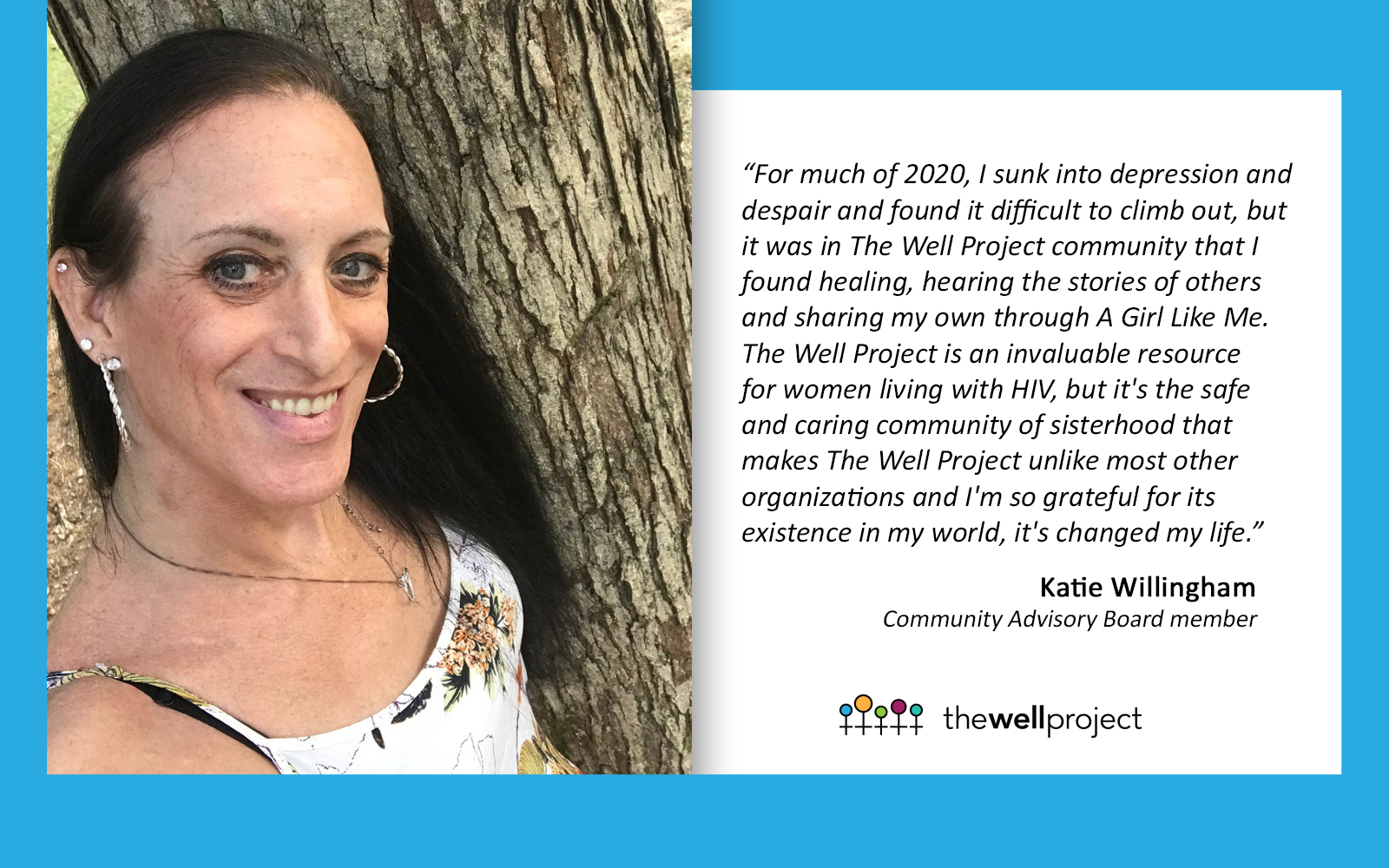 "2020 has been a horrible year for me, with starkly divided communities pervasive down to the family level, social, cultural, and economic unrest across the country, and the raging Covid-19 pandemic claiming more souls than all of America's wars combined is not least on the list. For much of 2020, I sunk into depression and despair and found it difficult to climb out, but it was in The Well Project community that I found healing, hearing the stories of others and sharing my own through A Girl Like Me. The Well Project is an invaluable resource for women living with HIV, but it's the safe and caring community of sisterhood that makes The Well Project unlike most other organizations and I'm so grateful for its existence in my world, it's changed my life." - Katie Willingham, Community Advisory Board member