Print
Save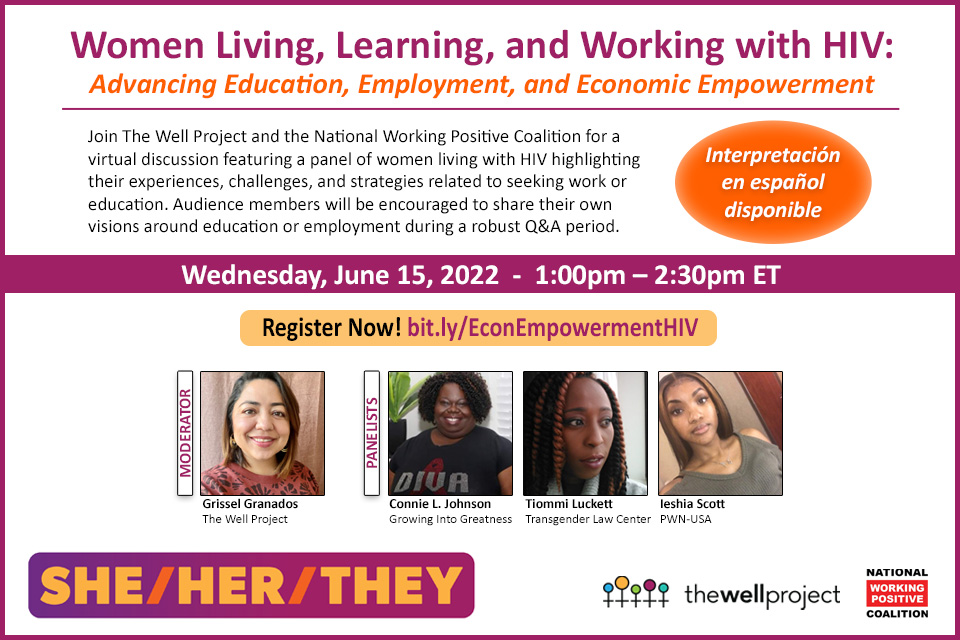 Every person living with HIV has the right to the tools and support they need to make well-informed decisions about education, employment, and other economic opportunities. In partnership with the National Working Positive Coalition, The Well Project presented "Women Living, Learning, and Working with HIV: Advancing Education, Employment, and Economic Empowerment."
The session featured a panel of women living with HIV highlighting their experiences related to work and education – including challenges they faced, strategies they used, and unmet needs they revealed.
Speakers:
Grissel Granados, The Well Project (moderator)
Connie L. Johnson, Growing into Greatness
Tiommi Luckett, Transgender Law Center
Ieshia Scott, Positive Women's Network – USA
Olivia G. Ford, The Well Project (introduction)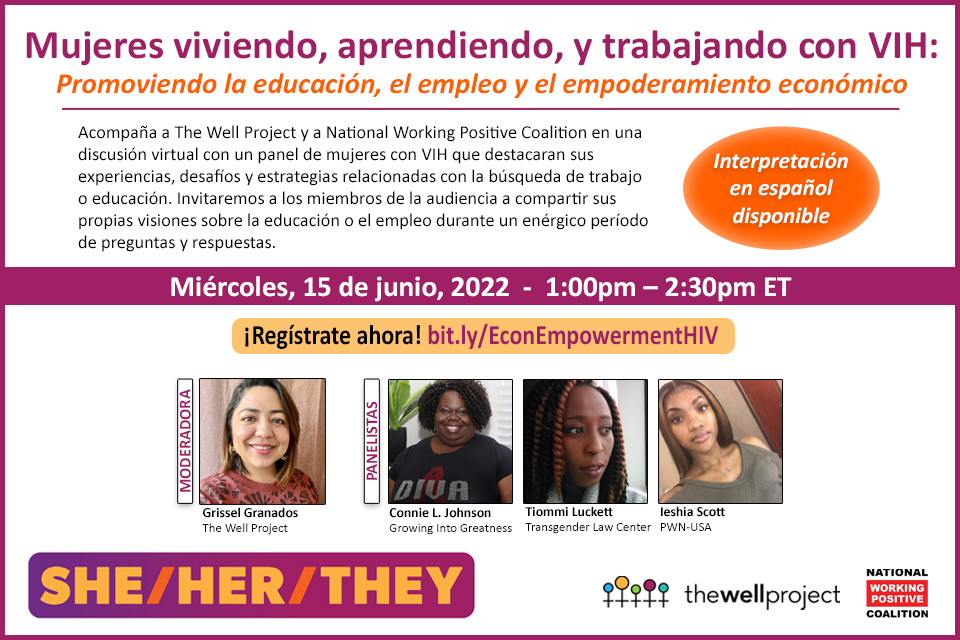 Todas las personas que viven con VIH tienen el derecho a las herramientas y al apoyo que necesitan para tomar decisiones bien informadas sobre la educación, el empleo y otras oportunidades económicas. En colaboración con la National Working Positive Coalition, The Well Project presento "Mujeres viviendo, aprendiendo, y trabajando con VIH: Promoviendo la educación, el empleo y el empoderamiento económico."
Esta sesión contó con un panel de mujeres viviendo con VIH que describieron sus experiencias relacionadas con el trabajo y la educación, incluyendo los retos a los que se enfrentaron, las estrategias que utilizaron y revelaron sus necesidades no cubiertas en su trayectoria.
Presentadoras:
Grissel Granados, The Well Project (moderadora)
Connie L. Johnson, Growing into Greatness
Tiommi Luckett, Transgender Law Center
Ieshia Scott, Positive Women's Network – USA
Olivia G. Ford, The Well Project (introducción)
Webinar Recording and Slides / Grabación (audio en inglés) y diapositivas del seminario web
Download the slides / Descargue las diapositivas
More About This Topic from The Well Project / Más sobre este tema de The Well Project: