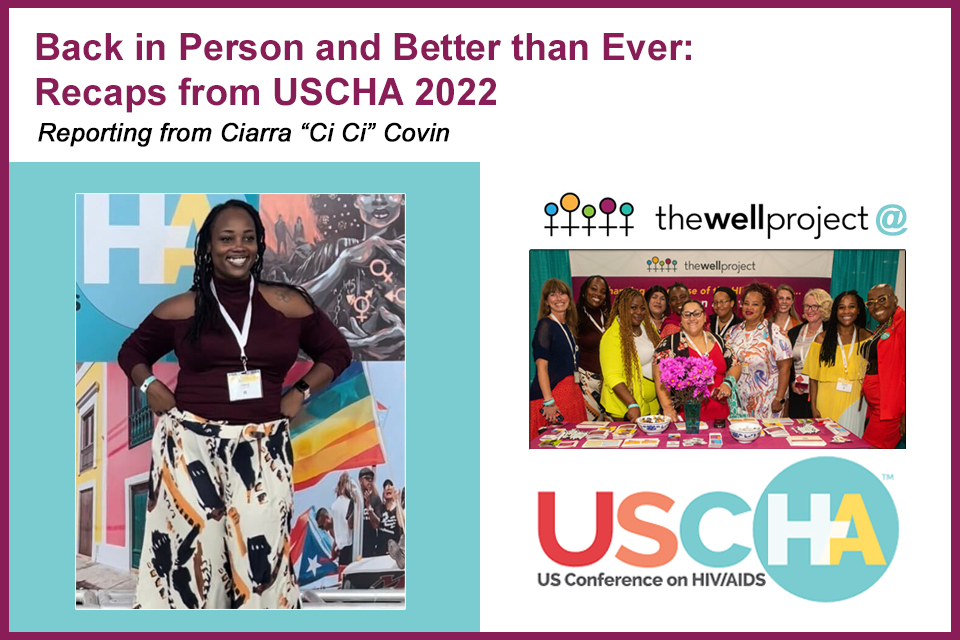 By Ciarra "Ci Ci" Covin
The 26th annual United States Conference on HIV/AIDS (USCHA 2022) convened in San Juan, Puerto Rico, October 8 – 11, 2022 – in person for the first time in three years. Members of The Well Project's community wrote recap articles sharing their unique perspectives on conference sessions and events of interest to our communities. Read on and check out more of The Well Project's coverage of this momentous gathering.
The first US Conference on HIV/AIDS that I attended was in 2019, as a new community advisory board member at The Well Project. I was also new to the world of HIV advocacy, which seemed so much bigger than the reach that I previously had at local Boys and Girls Clubs and small-town events. As we all know, COVID forced this conference to take place online for 2020 and 2021. While the workshops and presentations were powerful, there is just something about being able to lean over and touch community that I missed. That is the part that I was yearning for.
Well, in October 2022, in San Juan, Puerto Rico, I had the opportunity to walk through those doors to the convention center and immediately be greeted by those I longed to share space with for so long. I struggled a little bit at first because I didn't want to just show up on an island that had recently faced destruction from another hurricane, but after speaking to some of the locals in the taxi from the airport, I knew I had made the right decision. This feeling was validated as I was welcomed by people that understood the mission and the purpose. People who weren't going to judge that part of my life. AND I get to experience this all in the new role of program manager at The Well Project. Wow, so much had changed, and SO quickly!
I remember that first panel discussion that I got to participate in in 2019. On this panel it was The Well Project's executive director, Krista Martel; this genius of a provider – Marielle Gross out of Johns Hopkins; another advocate and mom named Claire Gasamagera; and we talked about breastfeeding and HIV and what this meant under the U=U umbrella. This panel was the first time that I ever heard a provider talk about the potential benefits that breastfeeding could offer me and any of my future kids, even with my positive HIV status. I cried and fondly remember making the decision to consider having more than my one child one day – but certainly after I could find another provider who thought like Marielle. It seemed so distant and so far. But fast forward three years and not only have I had the chance to work with Marielle a few more times, I have found more and more providers like her AND had the chance to successfully birth and breastfeed my baby girl. So yea, USCHA is kinda special to me. Life changing for real.
My favorite part of being with community is the opportunity hear and see the amazing work that is being done by people all over the country. And I got to do this exact thing during the "Breast & Chest Feeding Guidelines: Race, Gender, and Criminalization" session put on by the International Community of Women Living with HIV – North America. During this session, Heather O'Connor, a dear friend of mine, spoke about her experience with feeding both of her children from her body. Martha Cameron gave context on why breast/chestfeeding while living with HIV in the United States is a criminal justice issue, and Kamaria Laffrey of SERO Project provided the audience with ways that they can become involved in their local communities to advocate for the decriminalization of HIV. It made me feel extremely proud to know as I sat in the audience that The Well Project has been a part of this work and that I am a part of The Well Project. And here, at USCHA 2022, the conversation was continuing. Yes! We are making progress! Never mind the fact that a woman found me after the presentation to tell me that she had decided to work with her provider to feed her child successfully for five months after some of my videos that she had watched all the way on the west coast of the country. Talk about validation! Whew!
I spent some time at The Well Project's exhibit booth where we had all types of educational materials (and candy! lol) to share with the people who stopped by. Pamphlets, postcards, stickers, pens, and conversation. It's something about that conversation piece, the connection that is made with another human during the exhibit hall experience, that cannot be duplicated. USCHA 2022 filled my spirit here. I walked around and talked to different organizations. I stood in line for a frozen coffee. I experienced Puerto Rican desserts. I felt safe and hopeful. I think a lot of that had to do with the fact that Ribbon's booth was across from ours. And if you know anything about the energy of Linda Scruggs, then you know why I would feel that way!
I am probably really biased but The Well Project's "Let's Talk about Sex" session was, by far, one of the best highlights from the conference. Picture this: 9am Monday morning. Conference is almost over. The room is freezing. And three out of four panelists are struggling to speak because their voices had escaped sometime during the weekend – me being one of them. But the room continues to fill until there are people standing up by the door and people sitting on the floor. Powerful. To share that time with Kim, Porchia, Krista, and Aryah is unforgettable. We talked about sex and pleasure and women living with HIV. The room clapped and laughed and cried. Immediately after, a gay white man visited the table to let us know that although this was a conversation centered by Black women, he could relate to so much of what was said. As if that wasn't enough, an older white woman wept as she told us how the session not only changed her own life but also how she would go home and work with her clients. Talk about awestruck.
The past three years feel like an eternity. I have attended a few conferences. Sat on a few more panels. But none have been able to light my fire the way USCHA does. I hope this feeling never goes away. Or at least carries me over until the next time that I am able to see you all again. Thank you NMAC. Thank you Puerto Rico. You have been everything to me!