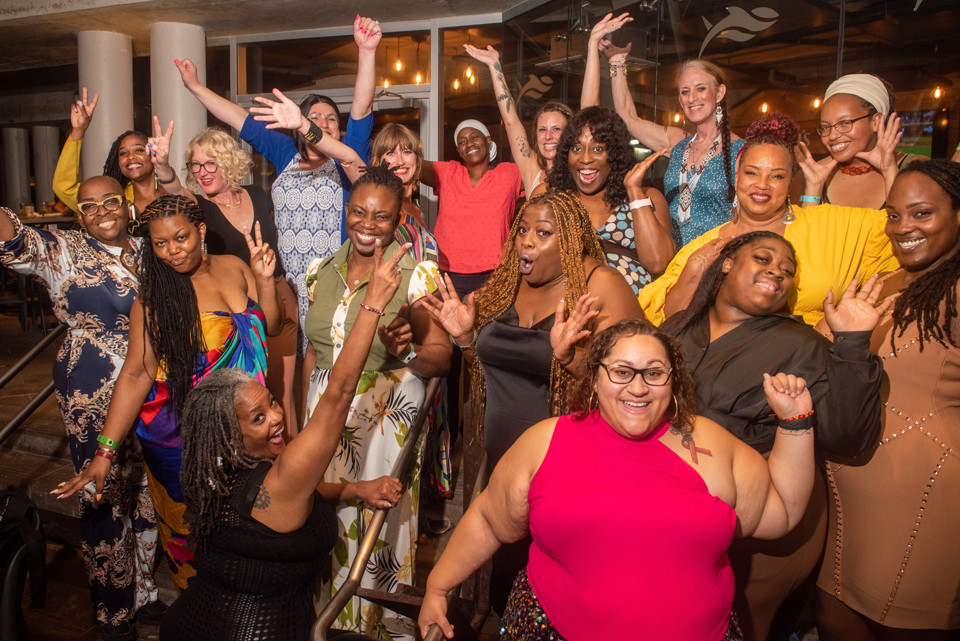 By Olivia G. Ford
Table of Contents
More than a dozen members of The Well Project's staff team, community advisory board (CAB), and board of directors were on the ground at the 26th annual US Conference on HIV/AIDS in San Juan, Puerto Rico, October 8 – 11, 2022. This was the first in-person USCHA gathering since 2019, before the COVID-19 pandemic; and the first time the US's largest HIV community meeting has been hosted by its island neighbor.
Members of The Well Project's circle presented workshops and panels, spoke with attendees through our booth in the exhibit hall, and had a long-overdue opportunity to spend time in one another's company. In honor of our 20th anniversary year, we made sure that as many members of The Well Project's team as possible could be together during this time.
Setting the Scene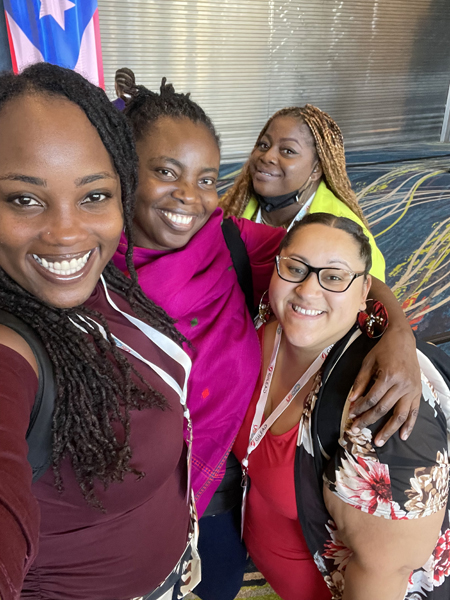 USCHA 2022 brought together several thousand advocates from around the country. Even as COVID-19 remained a reality, with face masks encouraged and hand sanitizer abundant, so many of us were more than ready to connect beyond social media and Zoom screens. "There is just something about being able to lean over and touch community that I missed," wrote The Well Project's program manager Ciarra "Ci Ci" Covin in her recap of the conference; "That is the part that I was yearning for."
Exuberant members of our team took shifts at our booth anytime the exhibit hall was open, acquainting visitors with the history and work of The Well Project, passing out pamphlets and signing nearly 100 new subscribers up for our newsletter (sign up today if you haven't already!).
Sharing Knowledge
Luchando Por Nuestras Vidas – Fighting for Our Lives – was the USCHA 2022 theme. The aim of holding the meeting in Puerto Rico was in part to center and emphasize the impact of HIV on the island and among Latinx communities broadly. Many sessions, including main-stage plenaries during the conference, were conducted primarily in Spanish, with English translation.
Numerous sessions brought important focus to HIV-related concerns in Latinx communities throughout the US and territories, from sex workers at the border to Mexico, as in a session co-presented by The Well Project's newest CAB member, Samantha Montemayor Morales, titled "Empoderando Trabajadoras Sexuales en la frontera: del Sur de Texas" – to the blend of personal stories and pageantry that comprised Love in Gravity, which CAB co-chair Marissa Gonzalez wrote about in her reflections on the gathering. "The heart of the show was groups of actors performing mini-skits that told profound and beautiful stories of Latinx individuals navigating life with HIV," Marissa explained, calling the presentation "a force that undeniably pulled you into its world, and what a beautiful world it was."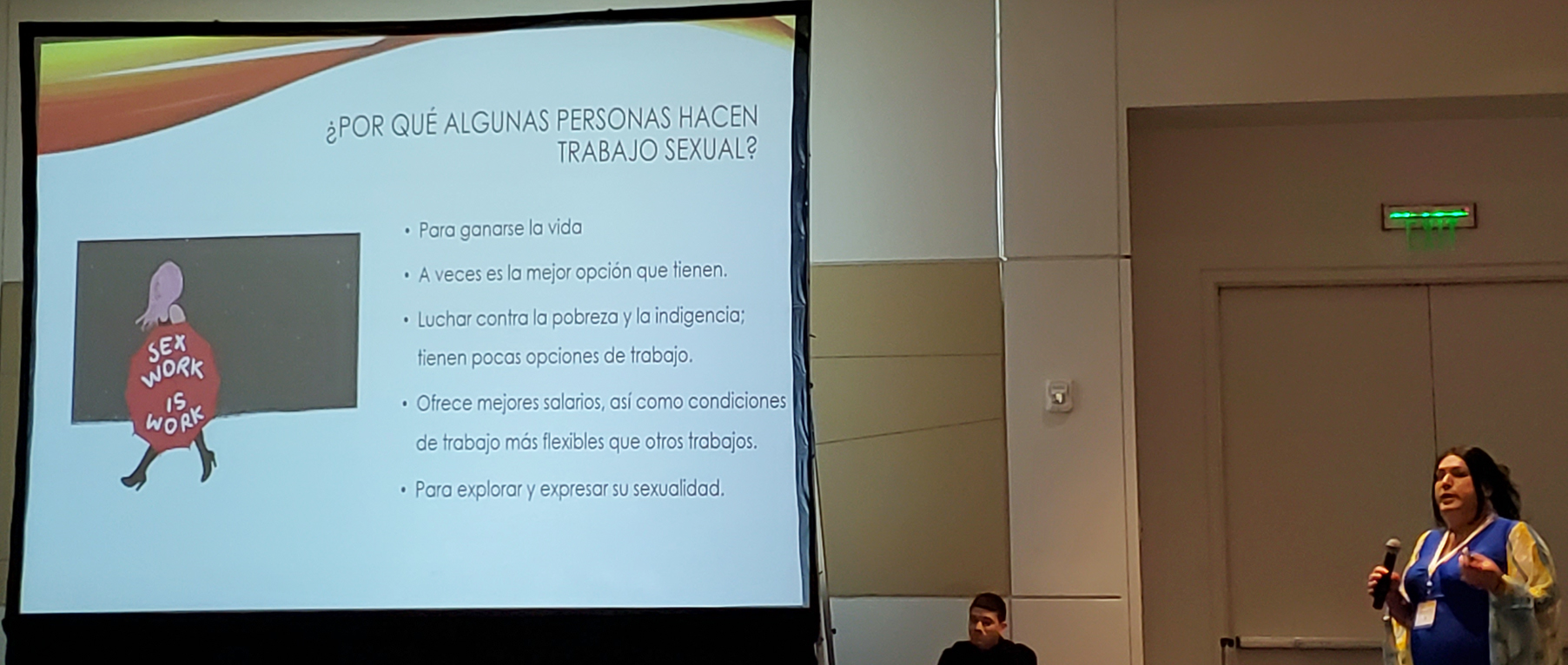 The Well Project presented two panel-based sessions:
"Let's Talk About...Sexual and Reproductive Health for Women with HIV"
The workshop addressed the need for optimized HIV care to incorporate appropriate, relevant, and holistic sexual and reproductive healthcare for women living with HIV. The session began by highlighting several key recommendations from the Women's Research Initiative on HIV/AIDS' 2021 convening, which sought to identify best practices, gaps, and barriers in research and policy at the intersection of HIV and women's sexual and reproductive health. The true highlight was the frank, funny, vulnerable voices of Ci Ci, CAB member Kim Canady, CAB co-chair Porchia Dees, and board member Aryah Lester of Transgender Strategy Center sharing their experiences navigating sex, pleasure, and self-regard.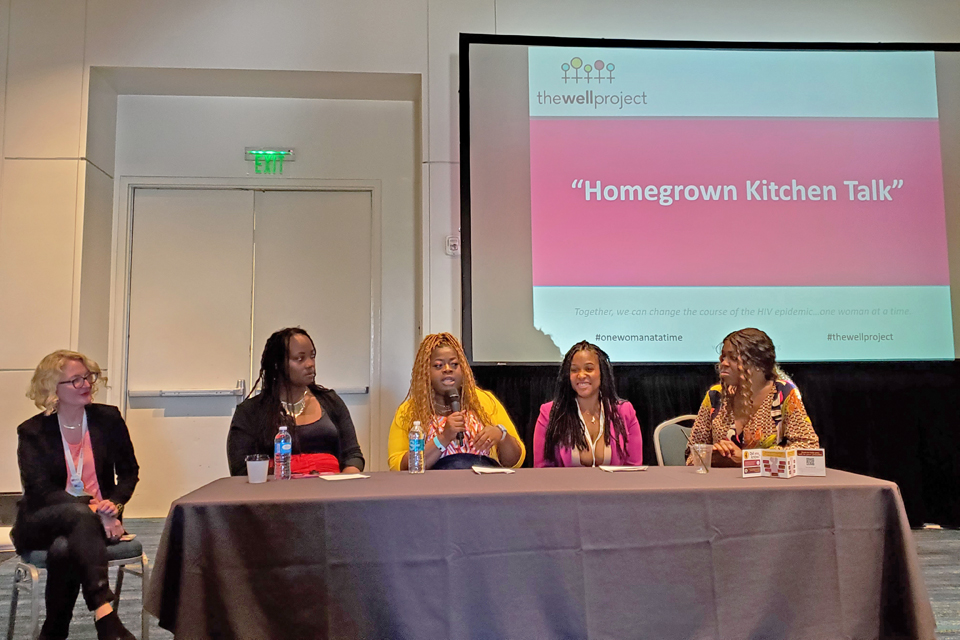 Bose Olotu, The Well Project's longtime community advisory board member and global ambassador – who lives in Nigeria but was able to join us at USCHA 2022 due to the conference coinciding with a long visit to the US – wrote a powerful, painful, hopeful account of her experience attending this workshop:
"The discussion touched me physically and emotionally. Sex and pleasure!?! This is one thing I have been so ashamed of talking to anyone about for many years now. Kim and the rest of the team on the panel shared intriguing experiences regarding how sex could be very pleasuring for us as women of African descent, including women of trans experience. As a Black African woman, I don't have any privilege to negotiate sex – not even with my husband. We are presumed to be a sex object to our partner. ...
For the first time I am ready to learn how to find my pleasure spot as a woman. It is my fundamental sexual right." – Bose Olotu
Ci Ci and Kim also shared their points of view as presenters at the session:
"The room clapped and laughed and cried. … An older white woman wept as she told us how the session not only changed her own life but also how she would go home and work with her clients." – Ci Ci Covin
"The topic of sex and pleasure IS my light and I now get a chance to talk about it unapologetically. Being able to represent The Well Project and present on pleasure and HIV was mind blowing. … At the disrespectful hour of 9 AM, in a below freezing room, it was PACKED!!!! People were sitting on the floor!!!! That speaks volumes on how much this conversation was needed at this conference." – Kim Canady
"Mental Health of People with Vertically Acquired HIV"
This session, fully authored and presented by women born with HIV, provided an overview of existing research data and case studies, as well as powerful lived experiences. The Well Project deputy director Grissel Granados and CAB member Ieshia Scott co-developed the workshop with Kim and Porchia, who presented at the conference. As Kim wrote of the experience:
"I would be lying if I didn't say that this workshop was hard for me from start to finish. I actually almost didn't present or contribute to it due to all of the pain that was attached to this subject. … But for me, I got a wave of joy knowing that I'm 35 years old and I'm still here. Being able to stand next to Porchia and show how all four of us defied the odds and that we all obtained college degrees, all that I felt was triumph." – Kim Canady
Download a PDF of the slides from the presentation
Other Topics of Concern
In addition to Samantha's workshop on sex work, mentioned above, The Well Project team members spoke on still more vital topics at sessions organized by other organizations: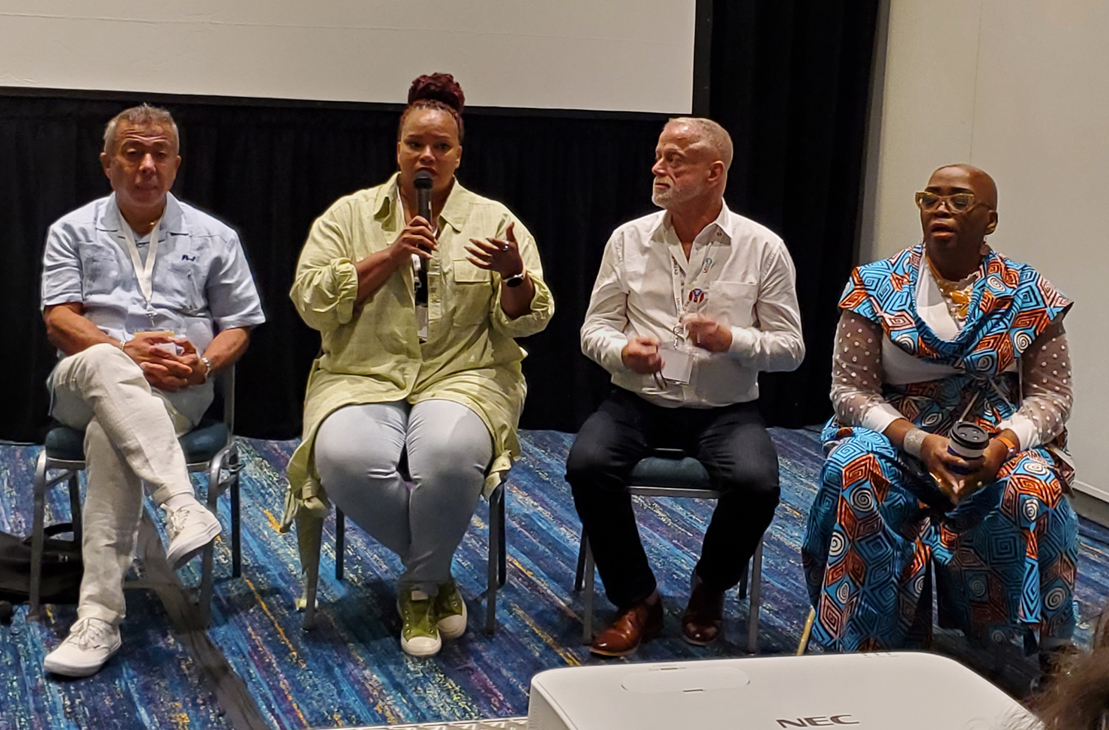 Aging and long-term HIV survival – The Well Project's stakeholder liaison Bridgette Picou and board of directors' co-chair Linda Scruggs participated in a panel assembled by The Reunion Project and titled "HIV Long-Term Survivorship: 50s, 60s and Beyond!" This dynamic group discussed sex and intimacy, navigating healthcare, self-monitoring chronic conditions, and other lifestyle issues through the lens of living long lives with HIV
Race and racism – Wearing her "hat" of founding member of the HIV Racial Justice Now! Coalition (HRJN), The Well Project editorial director Olivia G. Ford co-presented "From Promise to Practice: Operationalizing Racial Justice in HIV" with HRJN's coalition manager, providing attendees with tools to identify and address barriers to achieving racial justice in community institutions
Support for Puerto Rico
Just weeks before the conference, Puerto Rico had suffered devastating effects from Hurricane Fiona –and many parts of the island are continuing to rebuild. While San Juan was beautiful and open for business, much of the rest of the island still did not have power when USCHA 2022 began. Some of the local grassroots organizations to learn about and support in the ongoing aftermath of the storm include:
Taller Salud: community-based feminist organization dedicated to improving women's access to healthcare, which spearheaded a disaster response in the wake of Hurricane Fiona
Brigada Solidaria del Oeste: mutual aid group providing basic needs, specifically food through a community kitchen and pantry, and training volunteers to support people affected by the storm
Casa Pueblo: community self-management organization focused in the mountain area and working to increase access to solar power and sustainable energy
More from The Well Project on the US Conference on HIV/AIDS 2022
Several CAB and staff members wrote about the conference and the information shared there. Read more of their takeaways in the following articles and blog entries.
Recap Articles
Sun and Rain in Vertical Lives by Kim Canady
Back in Person and Better than Ever by Ciarra "Ci Ci" Covin
Feeling the Complex Feels by Marissa Gonzalez
Exploring Advocacy, Pleasure, and Past Trauma by Bose Olotu
Relationships with Faith by Bridgette Picou
Blogs
Welcome Back to USCHA by Kimberly Canady
Our Community - Our Sisterhood at USCHA 2022 by Marissa Gonzalez
USCHA 2022 by Destiny Smith
2022 USCHA by Katie Willingham