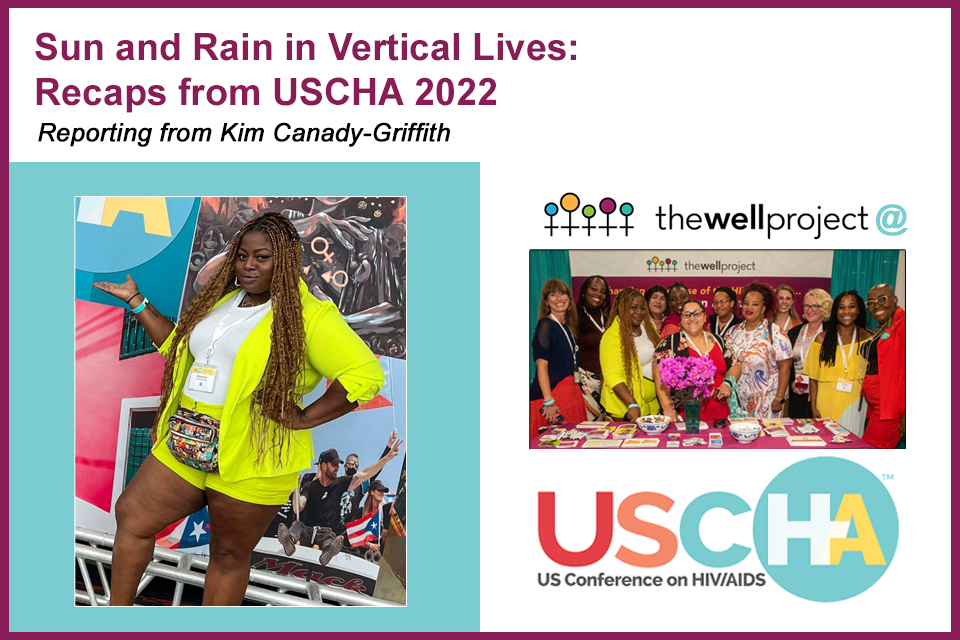 By Kim Canady-Griffith
The 26th annual United States Conference on HIV/AIDS (USCHA 2022) convened in San Juan, Puerto Rico, October 8 – 11, 2022 – in person for the first time in three years. Members of The Well Project's community wrote recap articles sharing their unique perspectives on conference sessions and events of interest to our communities. Read on and check out more of The Well Project's coverage of this momentous gathering.
"Over and over you can be sure
There will be sorrow but you will endure
Where there's a flower there's the sun and the rain
Oh and it's wonderful they're both one in the same"
So I know you are probably reading this like, Why is she quoting this old song "Joy and Pain" by Maze and Frankie Beverly? How old is this chick? And what does it have to do with USCHA? Well this song in particular reminds me about the joy and pain I felt about USCHA – and I'm not that old, just have an old spirit.
Pain
I had the pleasure of facilitating at the conference not once, not twice, but three times, and boy was I mentally, physically, spiritually and emotionally drained – but fulfilled. One of the workshops I had the pleasure to present on was "Mental Health of People with Vertically Acquired HIV" with Porchia Dees (in person), Grissel Granados, and Ieshia Scott(co-authors). All four of us are women living with HIV who were either born with HIV or acquired it at or close after birth. With our workshop we wanted people to leave out knowing that, firstly, verticals (as people with perinatally acquired HIV often call ourselves) still exist today and we all didn't die ages ago. Secondly, we wanted to educate our peers of the long-term effects of being lifetime survivors.
I would be lying if I didn't say that this workshop was hard for me from start to finish. I actually almost didn't present or contribute to it due to all of the pain that was attached to this subject. I knew that we would be diving deep into a subject that I am just now tapping into in therapy and was scared that opening that metaphoric box too wide was going to make me an angry mess. Thankfully, therapy HELPS and I was wrong!
Joy
Presenting the stats that our life expectancy in 1996 was the age of 7 and in 2006 was the age of 18 would push anyone over the edge. But for me, I got a wave of joy knowing that I'm 35 years old and I'm still here. Being able to stand next to Porchia and show how all four of us defied the odds and that we all obtained college degrees, all that I felt was triumph. Having a chance to relive the moments that saved us as children when hope was gone – support groups, camps, or even receiving a wish from Make-a-Wish Foundation – and being able to share this with everyone was an experience that I will always remember.
Currently in the US there are over 12,000 verticals walking around, living, existing in this world. All we want is to be seen, feel loved, and be heard. I hope that our workshop gave a voice to the voiceless but also showed that "where there's a flower, there's the sun and the rain."