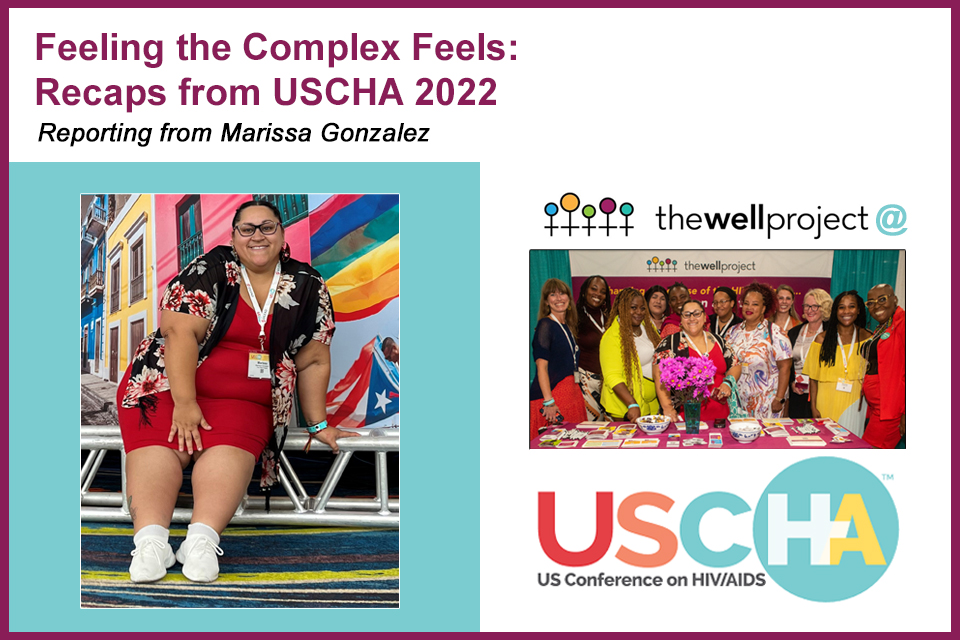 By Marissa Gonzalez
The 26th annual United States Conference on HIV/AIDS (USCHA 2022) convened in San Juan, Puerto Rico, October 8 – 11, 2022 – in person for the first time in three years. Members of The Well Project's community wrote recap articles sharing their unique perspectives on conference sessions and events of interest to our communities. Read on and check out more of The Well Project's coverage of this momentous gathering.
The Pain and Beauty of Love in Gravity
I had previously heard of Love in Gravity, but I had never really taken time to dive into what it entailed. I just knew it was a podcast, and it is in partnership with ViiV Healthcare. What an honor it is to say that, on the beautiful island of Puerto Rico, I saw that podcast brought to life right before my eyes!
Walking into the plenary ballroom I felt like I was transported to a Broadway show. Now I've never been to one, but it's what I imagine it to be like. The theatrical lights in red framing the metal stand as if red ribbons were a border to the stage; the singing; and my my my, the strong performances!
The heart of the show was groups of actors performing mini-skits that told profound and beautiful stories of Latinx individuals navigating life with HIV. Each one encompassed a different time and space on the journey of living with HIV. These skits focused on narrations of love, sex, shame, disclosure, and quite a bit in between. There was something in the program that just about all could relate to.
As I was transported into these skits, my life after diagnosis flashed before me. The toxic relationship that led to becoming HIV+, the suicide attempt just days later, telling my mother of this new thing living within me, and learning to navigate love and sex after an HIV diagnosis. Six years compacted into just a few hours.
One thing was clear: The creators understood the assignment! They put on a performance where raw emotions were felt and for just a moment in time, if you are not living with HIV, you felt like you were in the shoes of someone who is. Shoes like mine...
HIV is an ugly yet beautiful disease, and that was embodied throughout this plenary: reminding us of all the negatives that HIV may come with, but somehow also leaving us feeling beautiful, loved, seen, and empowered.
Gravity is defined as "the force that attracts a body toward the center of the earth, or toward any other physical body having mass." The Love in Gravity plenary did just that. It was a force that undeniably pulled you into its world, and what a beautiful world it was. 
From Disappointment to Inspiration! "Brave Talks: Barbershop Edition"
Let me start with a backstory. On my own journey of trying to revive my curls, I met the "Curly Hair Queen of Southwest Florida." Fast-forward five years and she is one of my bestest friends! Having her as a best friend not only exposed me to more of the hair world and the creativity that lived within, but it allowed me to formulate strong connections with other industry leaders, especially given my community connections as president of a local youth coalition. Having been a licensed nail tech myself, I have always had a profound love and respect for the beauty industry. Hopefully this little back story helps you imagine my excitement when I'm going through the USCHA agenda and see the word "Barbershop"! It was honestly the session I felt most connected to, simply based on title.
Having been diagnosed with HIV in 2016 and being public with my status just two years later, I've been able to partner with salons and barbershops to provide free condoms, testing, and education info sessions. While doing this work, someone well respected in the industry told me a beloved family member passed when they were young from AIDS-related complications. This again made clear that HIV lived in the homes of many respected individuals, but was still such a taboo topic.
Seeing that there would be a two-hour session focused on salons and barbershops filled me with such excitement and vision. I knew I would be equipped with tools to bring back to southwest Florida and beyond to create something historic. You see, especially for Black and Brown communities, the shops and salons were where you went to feel good, look good, and have some real and raw conversations! Salons and shops for decades were a safe space for so many – but as society has evolved, the dynamic has shifted, and many shops and salons are no longer a safe space for "unordinary" individuals. (I use quotes because this is the language that tends to be used; it is not a personal belief.)
To my surprise and great disappointment, when I arrived at the conference on the day of the session, "Brave Talks: Barbershop Edition" had been removed from the agenda. I had no idea why, but it bothered me deeply. I had hyped up a vision of how AMAZING this conversation was going to be, and all it would fuel me with to bring back to my area and do amazing things. But, much like USCHA itself, the greatest of things stem from an initial seed plant and, with work, flourish and blossom into something beautiful.
I don't know what I would have taken from that session but what I do know is that just the mere thought of its existence ignited something in me – a burning desire to put something together so shops and salons could be that safe space for all that they once were. Much like life, we grow through our greatest disappointments. In the words of Maya Angelou: "People will forget what you said, people will forget what you did, but people will never forget how you made them feel." The birth of "Brave Talks: Barbershop Edition," although short lived, had me feeling all the good feels.
So next time something disappoints you, think of this and remember that through an idea stems an emotion that leads to a vision. It's up to you to take action! Start a conversation, visit a local clinic, volunteer to pass out information on how HIV impacts our communities, or get tested! It starts with you, but it takes a village.