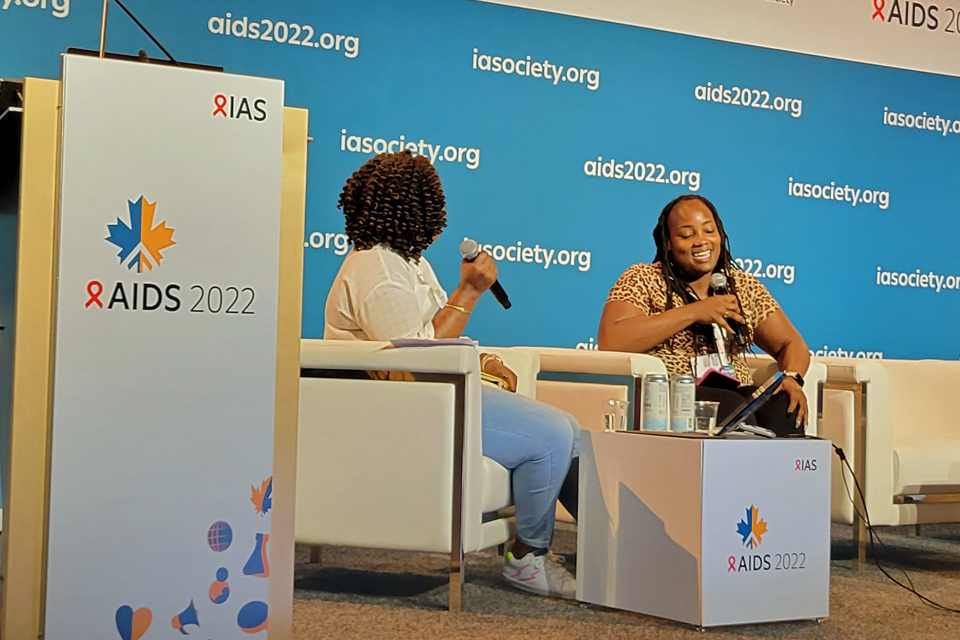 By Bridgette Picou, LVN, ACLPN
The Well Project was at AIDS 2022 in Montreal Canada from July 28-August 2 and is pleased to report on our experiences and what we took away from the meeting.​Click here to see additional photos from The Well Project's attendance at AIDS 2022.
Table of Contents
The 24th biennial International AIDS Conference took place in Montreal, Canada, this year from July 29 through August 2. The theme was about re-engaging and following science. Following science seems simple, but with misinformation and disinformation being at an all-time high, it was a good reminder about the need to continue to support the basics that have carried us so far throughout the years.
As part of The Well Project's commitment to sharing the current and relevant data and information, we are sharing updates from The Well Project's engagement at the conference and some of the knowledge that our team gained. The Well Project was a community partner for the AIDS 2022 U=U Global Summit pre-conference, participated in two conference sessions, presented an e-poster, and hosted a special session of A Girl Like Me (AGLM) LIVE in the Positive Lounge for Women.
Contextualizing the Meeting
In an important acknowledgement to culture and history, the pre-conference, main conference, and the Global Village were all opened by indigenous leaders offering a prayer, a thank you, and even a water ritual. This held even more significance in the context of the fact that many delegates from low- and middle-income countries were denied visas they needed to attend the meeting. In fact, UNAIDS Executive Director Winnie Byanyima was almost prevented from attending due to visa issues during her travel to the conference.
On its website, the International AIDS Society has pledged: "The conference will draw from the lessons from AIDS 2022 and reevaluate how we ensure that the International AIDS Conference remains an inclusive event, especially for the communities most affected by HIV." It also stated, "Underlying the difficulty experienced by many attendees of AIDS 2022 to enter Canada lies a broader problem of global inequity and systemic racism that significantly impacts global health." Protests throughout the conference drew consistent attention to the issue.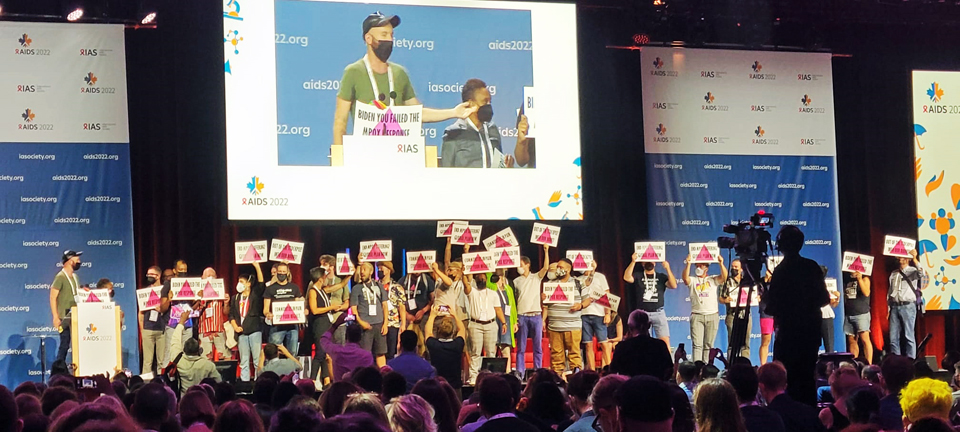 AIDS 2022 was attended virtually by 2,200 people (some of whom did so as a consequence of either not being able to obtain a visa or receiving approval too late for travel to be feasible). Overall conference attendance was 12,300 people from 161 countries, considerably lower than other recent International AIDS Conferences. There are ongoing discussions among community advocates on the future of large international conferences, including where they are held, their cost, and their accessibility (or lack thereof) to many of the most impacted by the epidemic.
Pre-Conference Summits
Pre-conference activities over the first two days leading up to the AIDS 2022 conference covered topics ranging from HIV in a time of global health threats (for example, COVID-19 or monkeypox), getting to the heart of stigma, updates on the 90-90-90 initiatives, a youth pre-conference, and others. The Well Project was proud to serve as a partner for the U=U (Undetectable Equals Untransmittable) Global Summit 2022. The day-long summit covered the strides the U=U campaign has made in the last six years, and how U=U translates and is being adapted into other populations and settings, including marginalized communities and low-resource countries. In Vietnam, for example, U=U translates to K=K and their campaign "Live Love, K=K" has had tremendous success in reaching people across the country with the support of the Vietnamese government.
There are also innovative ways the U=U message is being employed, such as by Jane Bruning of Positive Women in New Zealand, who launched a sperm bank for people living with HIV in 2019 to spread the U=U message and reduce stigma surrounding HIV and pregnancy. Called "Sperm Positive," to date, five HIV-negative babies have been born as a result of donors living with HIV with an undetectable HIV viral load.
Prevention Access Campaign also announced the launch of "WIN-WIN," a community-led campaign that promotes both an individual and public health strategy and responsibility. By advancing access to U=U, the WIN-WIN strategy aims to reduce HIV criminalization, decrease stigma, and increase access to PrEP (pre-exposure prophylaxis) and ARV (antiretroviral) medications.
Sessions at AIDS 2022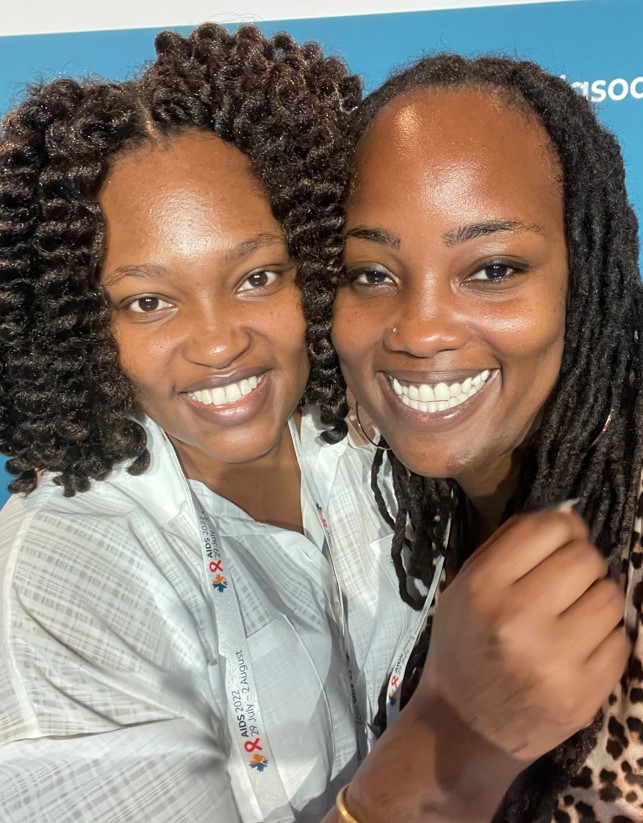 On July 31, Ciarra "Ci Ci" Covin, Program Manager for The Well Project, was a panelist in the "Breast is Best: Making Infant Feeding Options Available for All Women Living with HIV" session. She was joined by panelists from around the world including Marielle Gross, MD, MBE, University of Pittsburgh (United States); Nyasha Chingore, LLM, AIDS and Rights Alliance for Southern Africa (Zimbabwe); Keren Jemima Dunaway Gonzáles, International Community of Women Living with HIV or ICW (Honduras); Heather Ellis, Positive Women Victoria (Australia); and moderator Lucy Wanjiku Njenga, Positive Young Women Voices (Kenya). This was one of the livelier panel discussions of the conference and more than one person remarked that it was their favorite session of the meeting.
The conversation centered around best practices for ensuring parents living with HIV can make informed decisions when it comes to infant feeding. The discussion shed light on the way that differing guidelines on breastfeeding for mothers around the world confuses parents who are looking for recommendations on how to feed their children while living with HIV. Marielle Gross' extraordinary presentation explored the many ethical issues related to refusing to consider breastfeeding for parents living with HIV – and that HIV risk is almost always the only consideration for providers and policymakers in high-resource settings. Focusing singularly on risk means that we ignore the known benefits of breastfeeding for both mother and baby. And there are many!
Breastfeeding may mitigate comorbidities and protect infants against common illnesses for up to at least six months of age. Examples include decreased risks of respiratory issues in infants and lower numbers of sudden infant death syndrome (SIDS). Benefits of breastfeeding for mothers can include lower rates of diabetes, cardiovascular disease, and breast cancer, all of which disproportionately impact Black women. All of this reinforces the need to take every opportunity to improve education, conduct research, and expand policy on breast/chestfeeding and HIV. Attended by medical professionals and advocates alike, the session made clear the need for continued work in areas of shared decision making, for guidelines and policies to be clear and equitable, and for information to be readily available for those considering breast/chestfeeding.
On August 1, The Well Project Board Member and co-chair of the Ending HIV Epidemic Special Science workgroup Abby Charles, MPH, presented at the symposium "Working Together to End the Epidemic: Guided by the Voices on the Ground." The session was led by keynote speaker Shonda Jones, EdD, of Wake Forest University (US), who presented on her work in the COMPASS program, which includes building HIV awareness and prevention with and within faith-based organizations in the southern US.
Abby joined two other panelists, Michael Angelo Marquez, MD (Philippines) and Jean Robert, MD, of le Dispensaire (Canada), to showcase how innovation and resilience can help meet the challenges that lie ahead in ending the global HIV epidemic. Abby discussed her work with federally qualified health centers (FQHCs) in Washington, DC, which focuses on capacity building and increasing employment opportunities for women living with HIV. She also stressed the need for equitable access to PrEP for women and for the integration of prevention strategies into sexual healthcare.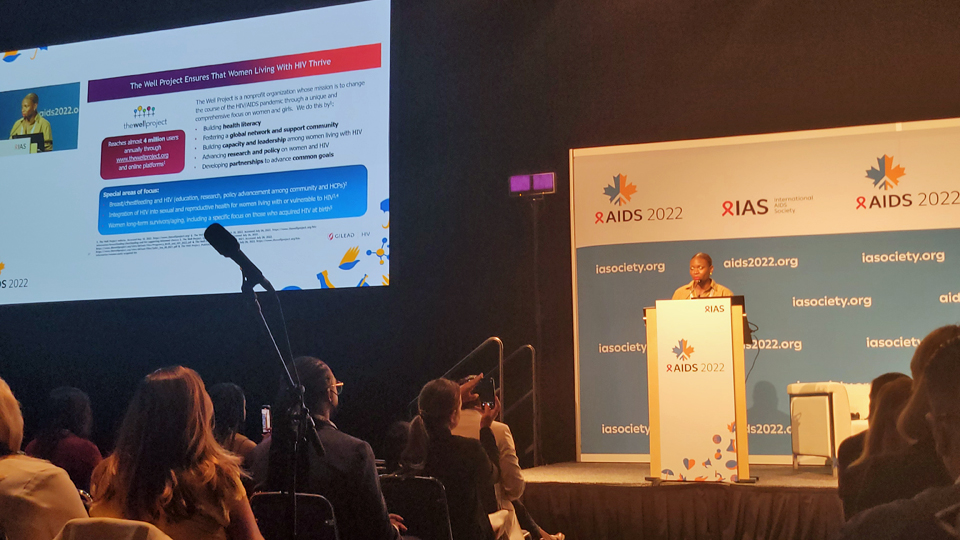 As part of her presentation, Abby also talked about The Well Project's global impact on women living with HIV, highlighting our efforts and programs that advance research, build health literacy, foster community connection, develop leadership, and create partnerships to advance common goals.
One of the prime sessions of the conference featured a virtual appearance by Anthony Fauci, MD, the longtime Director of the National Institute of Allergy and Infectious Diseases (NIAID) and Chief Medical Advisor to US President Joe Biden. Having since announced that he is retiring at the end of this year, this was his last official International AIDS Conference. He gave a detailed talk on the history and current state of HIV, speaking as someone who has worked in the field since the very beginning. When asked what he would do differently if he could travel back to 1984, his response was: "More quickly in the real-world setting, engage the community." Some of the main themes from Fauci's talk were closing the implementation gaps and developing (and delivering) new modalities for treatment interventions.
The Well Project E-Poster: Amplifying the Voices and Experiences of Parents Living with HIV Around Breast/Chestfeeding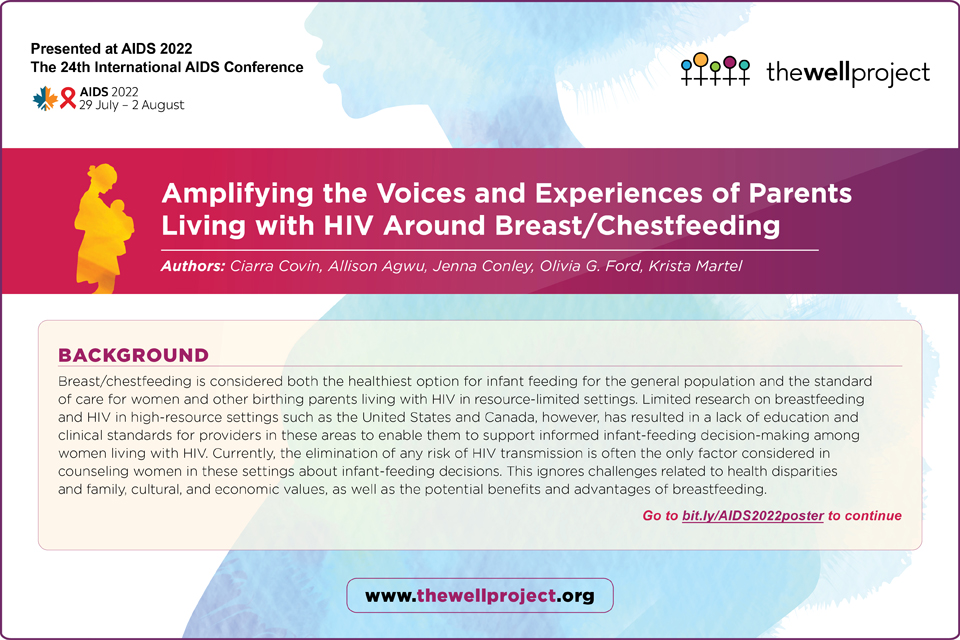 The Well Project was excited to present an e-poster about breastfeeding and HIV, a vitally important topic that is often overlooked. The e-poster sought to present information in a way that a broad range of audiences looking for information on infant feeding choices could access. It provided background on the issue, described the importance of shared decision making and recognizing women's autonomy, and demonstrated that significant gaps persist in research, provider education, and guidance related to HIV and breastfeeding.
Learn more about The Well Project's e-poster and download it here.
Women Being Well; A Girl Like Me LIVE in the Positive Lounge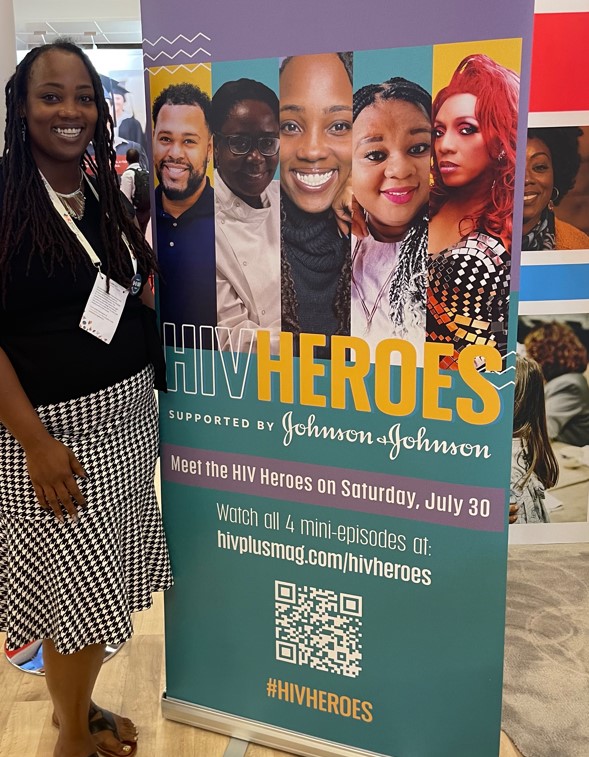 The Well Project's Ci Ci Covin and Stakeholder Liaison Bridgette Picou hosted a special in-person episode of A Girl Like Me LIVE for women living with HIV at the Women Being Well Café des Femmes in the Positive Lounge at AIDS 2022. The Positive Lounge was created as a dedicated space for delegates living with and affected by HIV from across the globe to facilitate and support dialogue and discussion for people living with HIV.
The session was very interactive, personal, and heartwarming. There were women in attendance from Spain, Germany, and Africa. The group discussed how the women felt from the time of their diagnosis up to now in their journeys with HIV and what it has been like to have children while living with the virus, including disclosure and feelings about breastfeeding. Ci Ci was able to help overcome the language barrier by putting most of the questions and answers into Google Translate, which made the participants feel even more comfortable. These types of conversations hold such value and importance because women can see themselves reflected in others and realize they are not alone.
The Global Village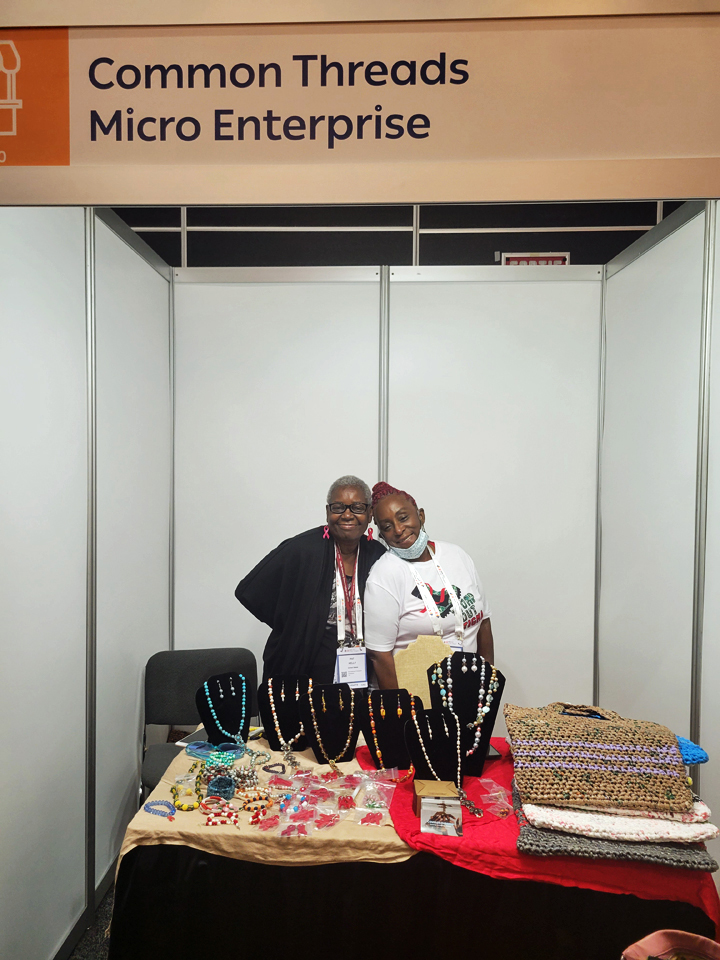 The Global Village at AIDS 2022 was a diverse space open not only to conference attendees, but to anyone wishing to experience its interactive and lively energy. The Global Village called attention to all the many ways people strive to reduce stigma and increase knowledge in HIV treatment and prevention. There were exhibitor booths, live presentations, and community discussions, as well as a marketplace with vendors from around the world with products made by people living with HIV to benefit people living with HIV.
This year the youth space was located in the Global Village, which was also the site for screening new short films and documentaries about HIV. One such film was called "The Letter," created by Daniel Canavese de Oliveira, Universidade Federal do Rio Grande do Sul, Brazil, which chronicled a woman of trans experience reading a letter she wrote to her nurse. It follows her journey from childhood to adulthood and her transition period and highlights the roles – both good and bad – that a healthcare worker plays in the lives of those affected by HIV. There were also theater performances, live music, and areas specially created to highlight people living with HIV who are often underrepresented, such as indigenous peoples and sex workers. It is a space most conference goers look forward to year after year.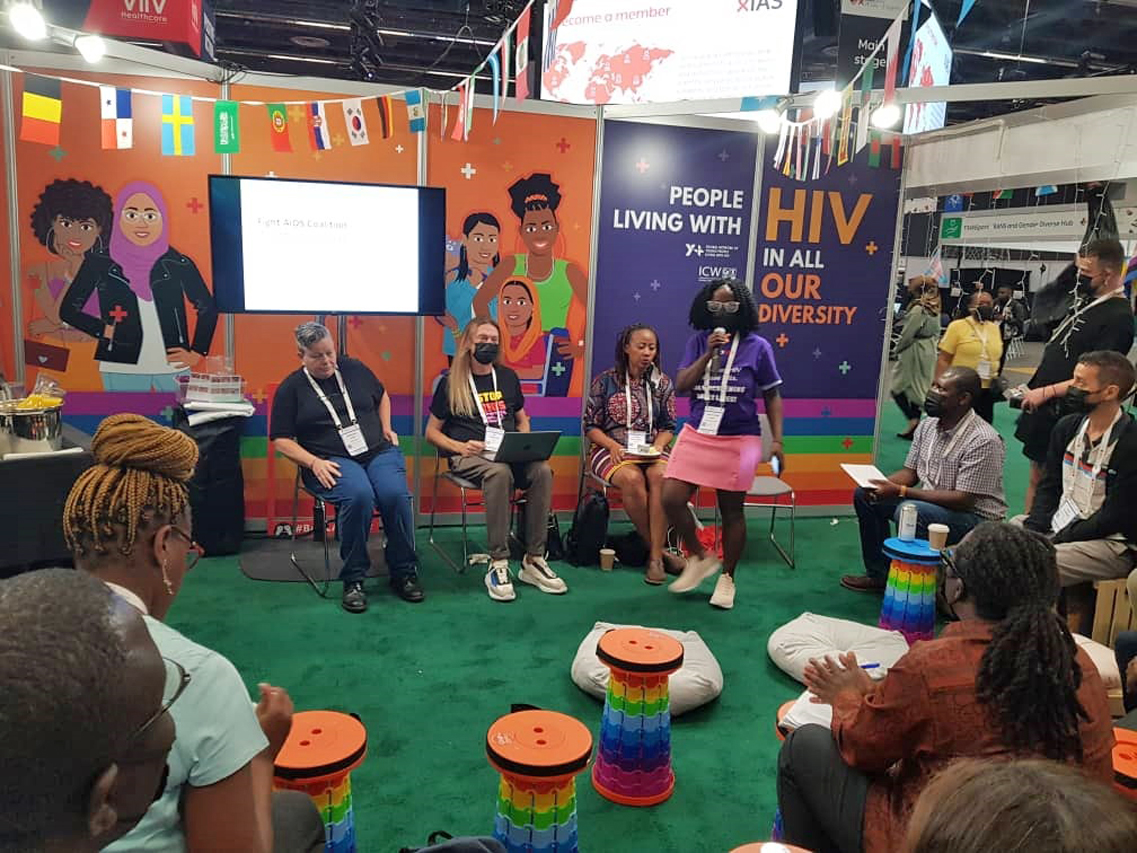 In Conclusion
In addition to all of the above, AIDS 2022 included a great many discussions and sessions about global policy, advocacy, activism, and navigating the future of our HIV work after years away due to the COVID-19 pandemic. A number of scientific interventions and advances were presented, including studies highlighting cure research, long-acting injectables (up to once every six months), and what may be in store for the future of HIV prevention and treatment. Click here to see additional photos from The Well Project's attendance at AIDS 2022.
For more conference coverage, visit our partners POZ or TheBodyPro, or AIDS 2022 media partner AIDSMap.