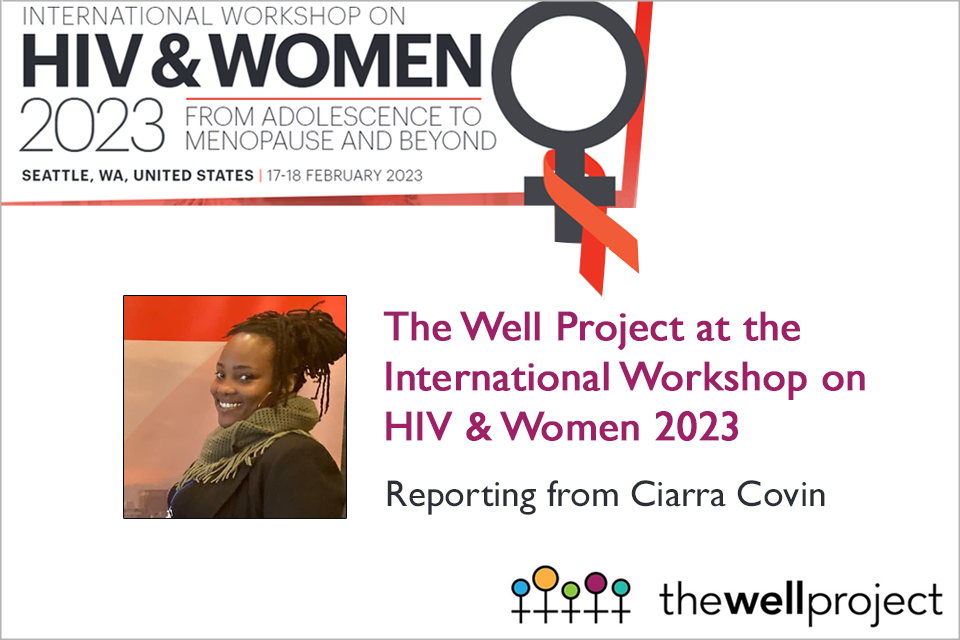 By Ciarra Covin
The International Workshop on HIV & Women and the Conference on Retroviruses and Opportunistic Infections (CROI 2023, celebrating its 30th year) took place back-to-back in February 2023 in Seattle, Washington. This was the first in-person gathering for both conferences since the COVID-19 pandemic began, and members of The Well Project's community were on hand (in some cases virtually). Read this author's perspectives and check out all The Well Project's coverage of these fascinating research meetings.
I had the opportunity to attend the International Workshop on HIV & Women 2023 in Seattle, Washington, in February to present a poster on behalf of a collaboration between The Well Project and Nourish-UK. Although this was my third international workshop, it was my first time having the honor to attend in person and it was amazing! It was such a fulfilling feeling to walk into a room where people recognize the work we do at The Well Project before I even have a chance to explain.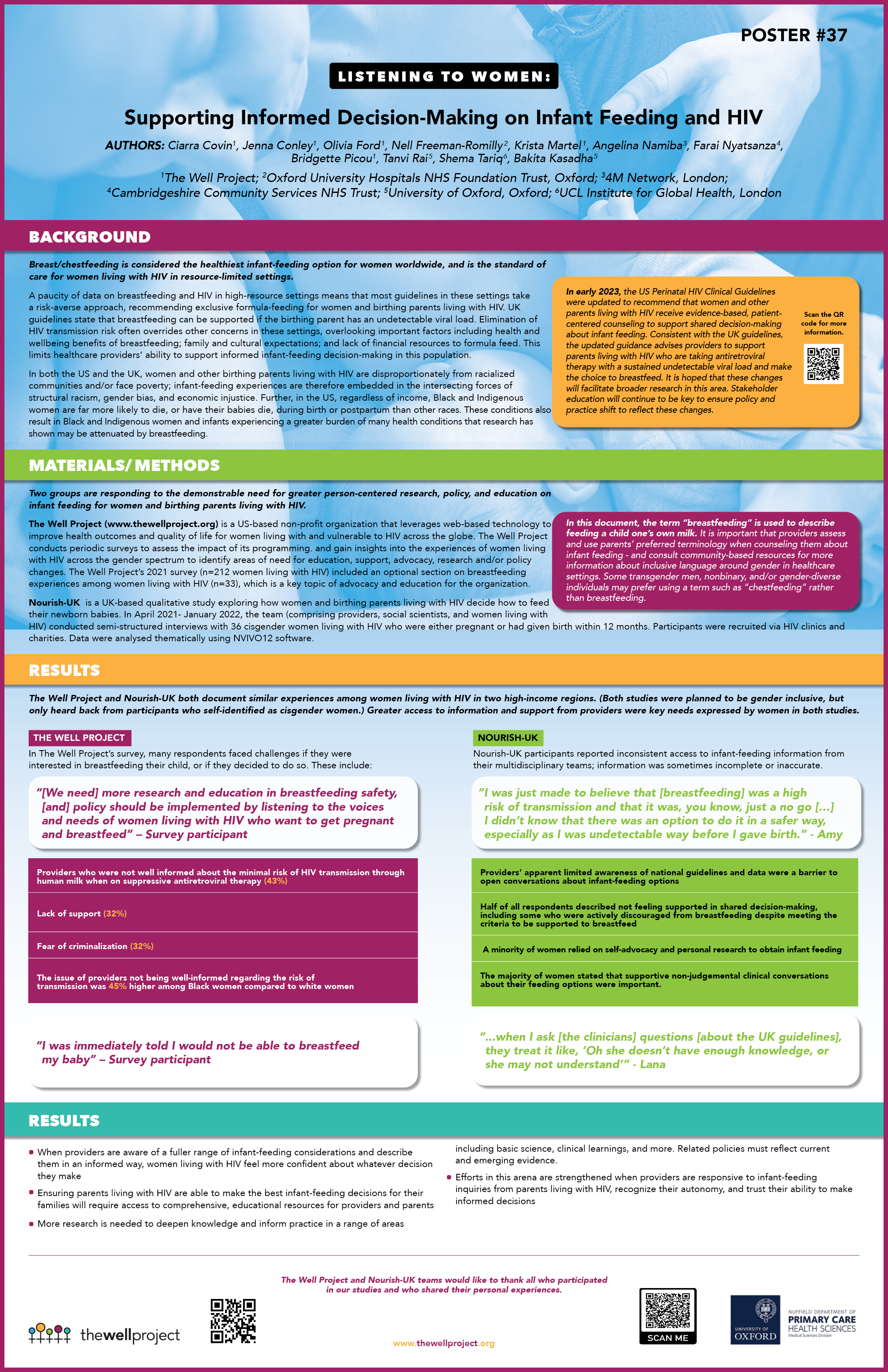 The title of our poster was Listening to Women: Supporting Informed Decision-Making on Infant Feeding and HIV. This presentation seemed especially important as the US Perinatal HIV Clinical Guidelines were recently updated on January 31, 2023. To have a space to present data and experiences at this workshop was right on time.
In our poster, we explored similar disparities faced by women living in both the UK and the US, challenges with access to infant-feeding information, the common need for more research on HIV and breastfeeding, and much more. During the presentation of the poster, I had the chance to meet some awesome providers who have been doing the work for an exceptionally long time. I could not do anything other than hug, cry, and thank them for their contributions to a topic that means so much to so many different women. Needless to say, the poster presentation went very well.
Download the PDF version of the poster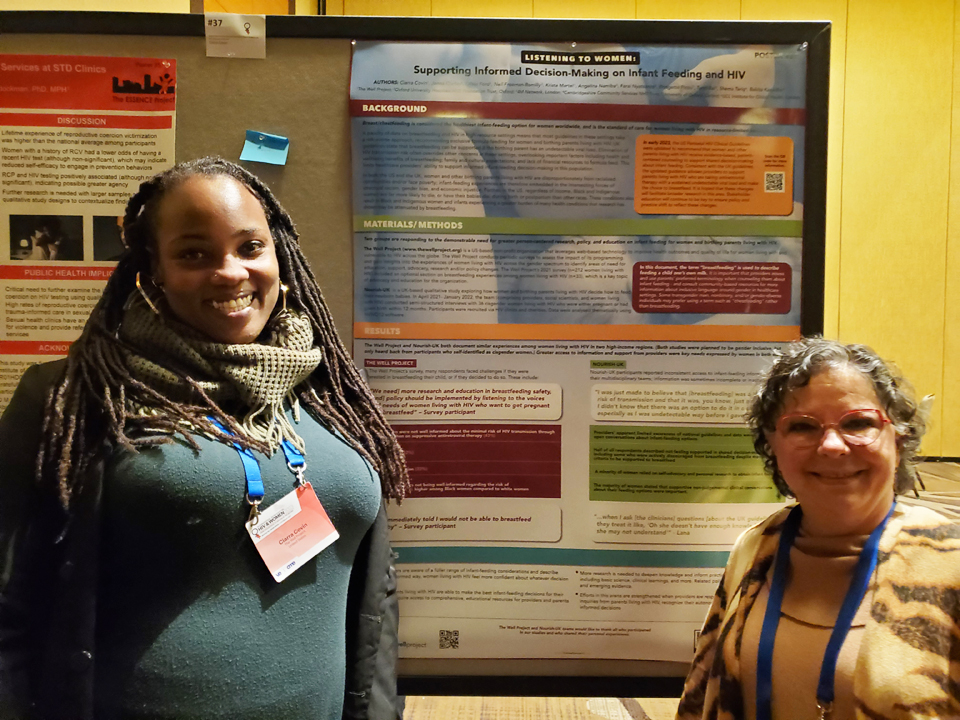 In one session, we heard from four different speakers on the impact of global crises on access to HIV prevention, treatment, and care for women. (Read "Community Challenges, Global Crises, and HIV" – a recap article by virtual attendee and The Well Project community advisory board member Katie Willingham, which features a summary of one of these sessions) In another session, monkeypox was the topic. And one that I found very impactful was a session where we heard results from a study that intended to look at messaging in research recruitment materials geared towards Black women – and the considerations that were given in the study as it was led by a Black woman.
One theme throughout the workshop that I found to be particularly interesting is the way that entities such as the US Centers for Disease Control and Prevention (CDC) and the UK Health Security Agency (UKHSA) may have different case definitions for certain diseases and symptoms. Case definitions are the standards used to classify whether a person has a particular health condition. It was interesting to discover that these differences may have a significant impact on the care that is received by people living with HIV all around the world and can affect things like reporting for research or even when one decides to initiate care.
There were so many other highlights at this workshop that involved the phenomenal work of the women of The Well Project. This includes the panel that editorial director Olivia G. Ford was part of for ViiV's Risk to Reasons initiative; community advisory board member Kim Canady's presentation of The Well Project's extremely popular poster Let's Talk About Sex: Facilitating Engagement about Sex and Pleasure Between Providers and Women Living with HIV; and watching The Well Project's founder, Dawn Averitt speak with Bill Short, MD, MPH, of the University of Pennsylvania on infectious co-morbidities in women living with HIV.
Overall, the International Workshop on HIV & Women 2023 was a fantastic opportunity to meet so many other advocates and stakeholders from across the world whose work I have only had a chance to admire from online. I continue to learn so much from these types of spaces and am honored to represent The Well Project!
---
Read all coverage from The Well Project at the International Workshop on HIV & Women and CROI 2023!