I truly don't know where to start because it is another great and wonderful opportunity given to me by The Well Project. If not for The Well Project, I could not have been able to attend this conference through the scholarship I received, since it only covered registration and accommodation, but no flight. The Well Project ensured that I did not miss the scholarship by providing funding for my flight.
At the conference, I was able to attend some sessions and plenaries at the conference on research, treatment and prevention. There were many references made on engaging young people in advocacy and social mobilization.
I also attended a session presented by UNICEF and more was discussed about orphans and vulnerable children (OVC) and the treatment for children. Emphasis was made on the fact that young children should also be put into consideration when research on new treatment development is being done. Children's treatment development should not wait till nine or ten years before they too get this new ARV treatment.
All in all, the conference would have been much better if there were no huge language barrier for the majority of us who attended this year's ICASA from English speaking countries. It was a gathering that accommodated people from diverse cultural background and so, communication was a little less effective because of the language barrier. Although communication devices like the headset were provided, there didn't seem enough to go around and there were stringent rules to acquire one for use. This also affected the level of communication in some sessions. Although we were of the same colour, there was a very big gap in communicating with one another.
Many sessions were moved without proper communication to participants by ICASA. There were lapses at the level of their planning and organisation of the conference. To me, I see it as a challenge to learn the French language after the conference. It was on day four of the conference that I saw screens by the entrances of most halls and rooms for different sessions than had been in the programme.
For me, I was able to get the best out of every day spent in Cote d'Ivoire. I was invited by the leader of the Youth, Mr. Martin-Mary Falana to attend a community outreach with some youth from four different Countries (Nigeria, Benin Republic, Togo, and Ghana). These are young adolescents who came by road with a caravan. Right there, we educated young people and women on the use of female and male condoms. Demonstrations for the use of both condoms were carried out by some youths. One spoke in English and another interpreted in French. The Condomize groups also put up a great performance during the community village session of the conference.
I was also invited by the Director DSW (Marsha A. Martin) of the Global Network of Black People Working on HIV to a dinner session. I also attended their Community leadership session where we had the presence of the First Lady: Kim Simplis Barrow of Belize.
But in all of the sessions and plenaries I attended, I did not hear any discussion on U=U (Undetectable = Untransmittable). It was strange for me and I had to asked some friends and my roommate from Kenya if they heard any discussions in the sessions they attended on Undetectable = Untransmittable. They also didn't hear anything on this topic. I felt it is such an avenue for such information to be disseminated because it is such an important topic for people to know about.
In conclusion, my experience during the conference was really worth my time because I not only learned a lot, but also met new people of diverse background. My profound appreciation to the organizers of this conference and The Well Project for seeing me worthy of participating in such conference.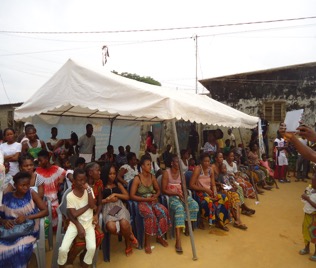 The Well Project Global Ambassador (Bose) at a Community outreach in Cote D'Ivoire


With the Condomize coordinators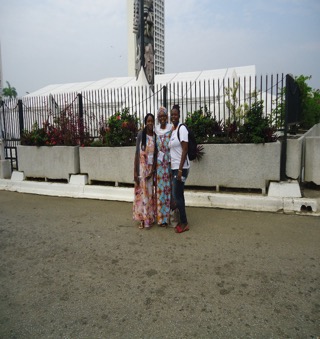 With some staff of the National Agency for the control of AIDS in Nigeria (NACA)