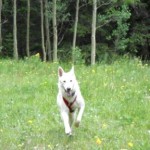 Hi, I am 44 years old living in Colorado, and was diagnosed with HIV at the age of 19 way back in 1989. I grew up on the east coast and life was not easy or simple for me as a child. I am a survivor of several kinds of abuse, for which none of us deserve no matter the excuse given. Most of my childhood and adolescence I lived on the run, or in detention centers, foster care, or state care. Finally when I became an adult, I thought I was free!! No more chains to bind me, no more adults to lock me up because they couldn't understand my running and anger. The universe, the Gods, Fate....(whichever tune you march to) had decided to bless me with another hurdle...HIV. It makes one serious fork in the road. A hairpin curve to be navigated with the utmost care. Which is what I did. All those lovely childhood lessons have made me a strong, defiant individual. Here I am more than 1/2 my life living with HIV, still navigating the road marked HIV.
Why sologirl wants to be a part of A Girl Like Me:
This is not a disease to fight alone. I would like to share my experiences, learn and grow with my girl peers so that we may all thrive, not just survive!