I may never forget the night I got the email from Bruce Richman (founder and Executive Director of the Prevention Access Campaign U=U) asking if I would be interested in joining a campaign. A campaign? A U=U campaign?? Abso-freaking-lutely!!!  I couldn't wait to find out more about it, he requested a phone meeting to discuss the details and I couldn't dial the numbers fast enough.  I was passionate about spreading the knowledge of U=U ever since I learned the facts of it in 2016, so I considered this to be an awesome opportunity.
Bruce told me all the details about the project and explained what he and the artist were wanting to accomplish. He told me that it would be artistic and eye-catching pictures that could be displayed in waiting rooms with a video sharing the personal story of four individuals about how the U=U message has affected their lives. Then he asked if I would be willing to share my story for this nationwide campaign to spread the U=U message in clinics, ASO's, and medical establishments across the country. Just four people in the entire country would be chosen to share their stories and I was one of them???  It all sounded so exciting and I was, without hesitation, all in.
Telling my story was no big deal for me, I've always been pretty open. When I was diagnosed, I told my entire family, my friends, my church, and even some of my neighbors (a decision I would later regret), but that's just how I am. Even when I came out as a transgender woman I did so publicly with a Facebook page. I wanted to immediately weed out the haters and deal with the aftermath and get it over with. The fallout was severe, I won't lie. I lost my church family and any relationship I might have had with my neighbors when I was diagnosed HIV positive. And when I revealed that I was transgender, I lost nearly my entire family and most of my friends so I had already lost everything I could lose that meant anything to me. I am a woman with nothing left to hide and no one left to lose and I'm good with that. Forty years of hiding behind a mask was quite enough for me, and I refuse to live that way another day.
I immediately went to work writing out my story holding nothing back, it wasn't very difficult because I had just recently written a blog for The Well Project on the very same subject so I had it all outlined and fresh on my mind. All I had to do was tweak it a little and add some more details about being transgender. I'll admit, it was difficult to write. It triggered memories that I've tried to not think about and leave in the still very recent past, like my divorce and the abandonment by my extended family, but I tried to be as open and honest as I could be. I think that's the best way to help others. I believe that the more honest you are, the more relatable you'll be to those who have been through similar experiences.
I sent my written story and some pictures of myself to Catalina who worked for an organization called Whatever Works, and worked with the four artists who created the campaign. We communicated through email for weeks as they worked on my character and story. I recall being so excited about the whole process and anxious to see the finished product, finally it came, she emailed me the picture of my character for my approval. I remember thinking "This looks nothing like me." lol, but I guess it wasn't really supposed to. It's not me that's important, it's the message, so I approved.
Months went by and I heard nothing further from Catalina, I supposed she was busy working on the rest of the project. I carried on about my life and thought little more about it, but I was inwardly soooo excited to see it completed. I was later told that the videos would be revealed for the first time at USCA (the United States Conference on AIDS) the largest AIDS conference in the United States, I so couldn't wait to go and see them. Finally, the day came, after weeks of work and months of anticipation, I was finally at USCA. The cards/posters were beautiful, they were colorful and eye-catching, just as Bruce said they would be. And the video was so moving. They had taken a little artistic freedom in telling my story, but I guess that was necessary to cut down the time and still be just as powerful to reach its intended audience.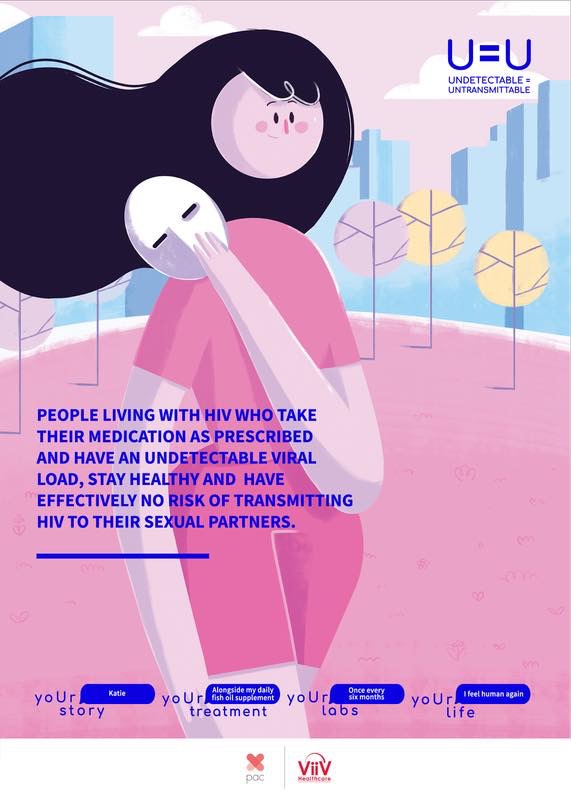 Now, the Positive Series Campaign can be found online at positiveseries.org. The videos and artwork are free to download yourself and are completely customizable to add the name and logo of your clinic/medical organization. The artwork can also be sized to any size you need, from posters to display on the wall to hand cards to hand out to clients and/or the general public. They're also being published in a multitude of languages to reach as broad of an audience as possible.
I'm so proud of this campaign and I'm honored to be a part of it. For far too long this life-changing information was kept from the HIV community, as we were not trusted by the medical community to be responsible with the knowledge of it. It was supposed by some that the freedom that comes with this knowledge would be abused to the point that precautions wouldn't be taken to protect ourselves from other STI's, and perhaps outbreaks could result. But this knowledge is not theirs to withhold, and doing so borders upon malpractice. We have a right to all information and the right to use that information to make our own informed decisions about our sexual and reproductive lives. And that's what this campaign offers, not only the freedom to live without fear of transmission and the power to kill the stigma of this disease that has done so much harm to us all, but also the autonomy to make our own decisions about our medical, sexual, and reproductive lives.
I can't wait to start seeing my poster displayed in waiting rooms across the country and the videos reaching a broad audience informing everyone of this powerful truth that changes lives.  Look them up at positiveseries.org if you have not yet seen them. And if your clinic isn't displaying them and sharing this knowledge of U=U, then ask them why not. We WILL get this truth into the hands of everyone in time, it's too powerful and too important not to.