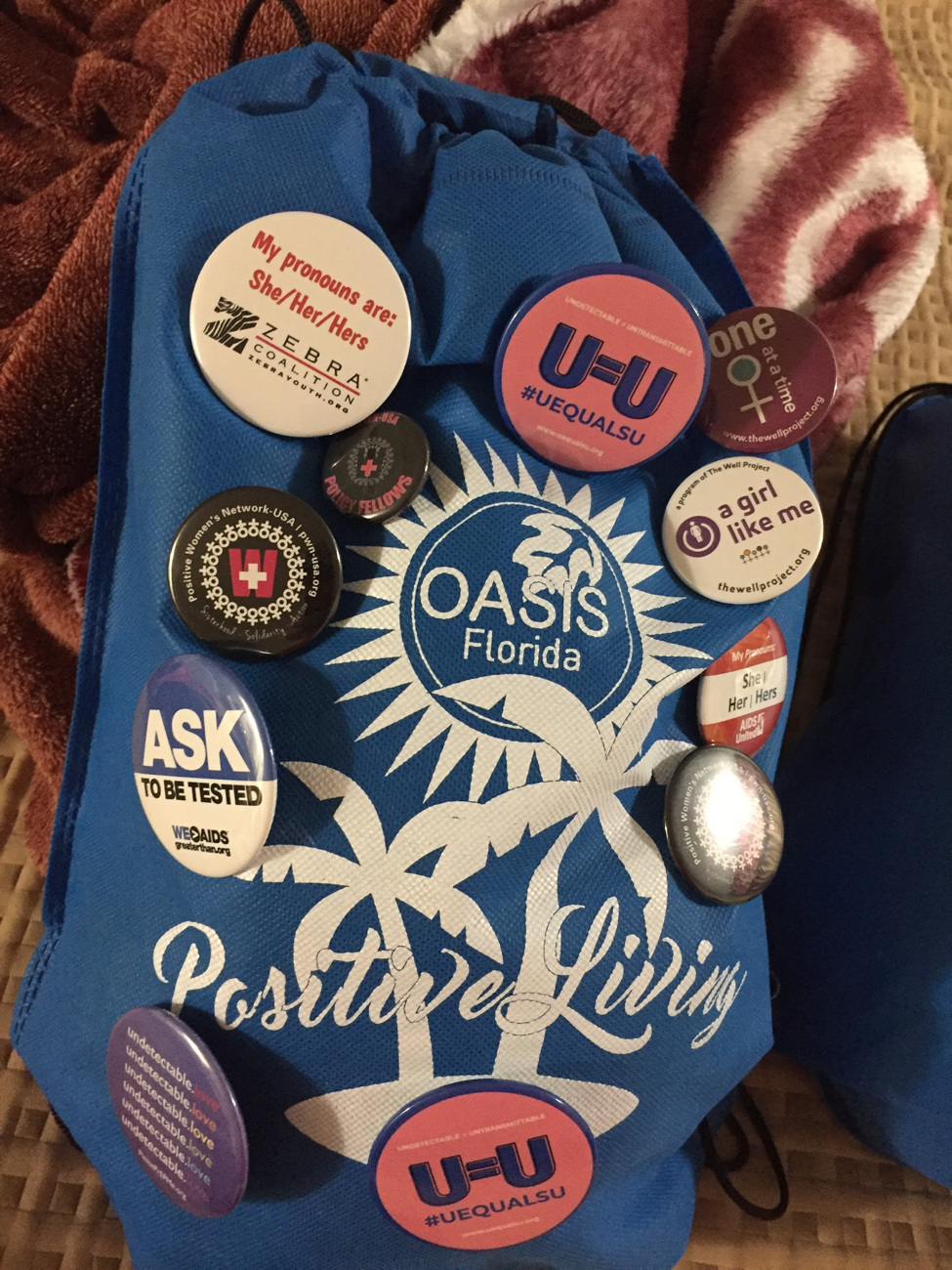 I love September, because it's that time of year again, time for the end of summer conference on the sands of Fort Walton… Positive Living.  I love this conference and look forward to going every year, because of all the HIV conferences, this one is special, let me tell you why by sharing my experience with Positive Living that began four years ago.
Positive Living 18 in 2015 was the first conference I ever attended, I wasn't yet into activism, I knew absolutely nothing about advocacy, and I'll admit, I considered it more of a vacation than anything, it was time on a beautiful Florida beach away from the worries of home, time I desperately needed at that moment, but as expected of me I attended the workshops and something happened… I got interested.  I didn't know what to do with that interest yet, but the seed was planted and waiting for water.
The following year I was so happy to be invited back to those beautiful beaches, not only for Positive Living 19 but also for a women's conference that took place at the same location just before Positive Living.  It was an organization I had never heard of before called PWN- USA.  This was the year that changed my life, meeting the women of PWN not only watered that seed of interest planted by Positive Living 18, but it watered that seed with fire, a fire of passion that lit a flame inside of me.  I knew I could no longer sit on the sidelines, I had to get involved, but I still didn't know how.
After the conclusion of the 2016 PWN Speak Up Summit, Positive Living 19 began, I was changed and feeling a passion to get involved in my community however lost as to where to begin.  I wondered how could Positive Living match the experience I just had with PWN, but they delivered, cause Positive Living 19 was the first time I heard Bruce Richman speak about U=U.  The fact backed by science that stated that if one is adherent to treatment and undetectable for six months or more then they CAN NOT transmit the virus.  Hearing this utterly changed my life, I no longer felt like a walking biohazard.  Learning that I was no longer a danger to others was life altering, I felt like it gave me back my humanity and human dignity.  For the first time since my diagnosis in 2000 I didn't fear intimacy with a sexual partner, I didn't fear bleeding around my children, I no longer lived in fear of transmitting the virus to anyone and that was powerful.
When I returned home from Positive Living 19 I was excited, and determined to find a way to get involved, and it didn't take long for that opportunity to present itself.  My ASO gave me an application to join their Community Advisory Board, then I was invited to join the Alabama HIV Prevention and Care Group of the Alabama Department of Public Health, not long after that I was welcomed into the inaugural class of PWN's Policy Fellowship.  Boy, was I was involved, lol.  I had jumped off into the deep end of the pool and didn't even know how to swim yet, lol.
2017 was a busy year for me, with meetings and webinars and assignments, learning to become an advocate.  It was exciting, enlightening and at times exhausting, by the time September rolled back around I was ready for the sands Positive Living again.
I came to Positive Living 20 a completely different person, I was now an advocate and here for business, I don't think I ever even made it to the beach that year, instead, I tried to work on my networking skills, I had made friendships in the two previous years and it was wonderful to see those people again, but I also met new people and tried to learn from them by listening as they spoke about their work and personal backgrounds, It's so educational and exciting to talk to new people about their experience, their passion, their achievements and even their struggles.  I built new friendships and forged new alliances, expanding my network of knowledgeable resources, encouraging support and cherished colleagues.  I also attended the awesome workshops and was inspired once again to continue advocating, nurturing passion to achieve goals while remembering that self care is extremely important. Then I went to the after hours entertainment for the fellowship, feeling re energized by spending time with fellow advocates and having fun.
In 2018 I graduated from PWN's Policy Fellowship, joined Thrive Alabama's iAdvocate Project, created two Facebook groups (Alabama Poz Life and Alabama Transgender Coalition), worked with the Prevention Access Campaign on the first national U=U campaign in the United States, began blogging for The Well Project, and became PWN-USA's first Alabama State Lead.  I couldn't wait to attend Positive Living again, lol.
As with every year, Positive Living 21 was educational, inspirational and memorable.  From the moment I walked into the doors of the hotel I felt like I was with family, among people who I love and support and who love and support me, again as always I felt comfortable and safe in this space and fully accepted for who I am as a woman of transgender experience, Positive Living has always been an allie of marginalized communities and inclusive of all people, I know many other conferences are also inclusive but still, this is a conference like no other, maybe it's the sand and beautiful waters, maybe it's the comfortable size of the hotel, or maybe it's the affectionate love and respect among its participants, but this conference is special. It's relaxing, intimate and rejuvenating, it's a place where advocates are nurtured and close familial bonds are formed.   
In my opinion, Butch McKay (the founder and creator of Positive Living) has played a big part in forming the person I am today, in just a few short years I went from knowing nothing about advocacy, activism or social service to becoming a champion for the needs of others.  I don't know where I would be now had I not attended four years ago where that initial seed of interest was planted.  It could be argued that on the sands of Fort Walton, I as an advocate was born, and am continually nurtured, nourished, strengthened and reenergized in this annual family reunion.  So each year I continue to return and I go home different than I came, ready to advocate for another year.  I'm grateful to Butch and the Oasis organization for making this conference what it is and nurturing it all these years, keeping it going through hard times, disagreements and other challenges for those of us who enjoy it, love it, and need it.  I'm sure all of us who attend year after year are grateful for this wonderful conference, cause this conference is special, this conference is family, this conference is home.