In December of 2009...I was cold, hungry, living in my car. Rescued by AIDS Care Service on December 21, 2009, they safely housed me in one of their transitional apartments.
I quickly realized I wasn't a typical client for them...I was hungry to heal by GIVING BACK. At that time volunteerism simply wasn't done. Slowly but surely that began to change...because I am the Change! Little did I dream then how far I would come by believing "I can be the Change." Slowly but surely, this warrior inside of me would no longer be silent. It was a constant roar inside my heart, my soul, my head.
First I worked up courage to write to Betty Londergan of "What Gives 365." That led to the CEO of Gray Ghost Ventures donating my 1st computer, a used but so appreciated Netbook! It was ON then. I immediately started a Facebook page, living out loud and proud with my AIDS. People sending me friend requests (which I review before accepting) from all over the world.
With encouragement from staff of AIDS Care Service, Katherine White Foster, Jesse Duncan, Rivkah Meder, I started spreading my wings...further. Applying for scholarships to attend various HIV/AIDS related events...what's they worst that could happen? "I'm sorry but you don't qualify." Real Talk...if I didn't at least apply, that's 100% of no way! I was accepted in 2010 to the final class of AIDS Alliance Consumer Leadership Corps Training with Linda Scruggs as our trainer, then to Treatment Action Groups Advocacy to encourage the NIH to continue funding for HIV and Aging.
In 2012, the XIX International AIDS Conference was coming to Washington DC…AND so was the Positive Women's Network to do a Pre-Summit to AIDS 2012. International AIDS Conference 2012 in Washington DC: I volunteered for 10 days before, during and after the conference. I had been communicating via Twitter, Facebook, etc. with Positive Women's Network (PWN) for almost a year. I attended their 2012 Pre-Summit, our slogan, "Turning the Tide." I volunteered with them, helping tear strips of cloth for a wave in the Turning the Tide March.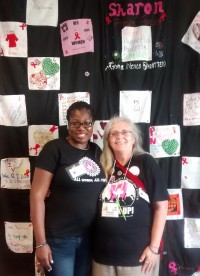 PWN rescued me when my traveling companions had me in an unsafe situation. They "rescued me" and…BAM...I've been a part of their family since...an amazing collection of Warrior Sisters from across the United States and its territories, sisters unafraid to ask the HARD questions. "Funding cuts?" Sisters would ask, "What cuts? Why the cuts? Were the funds redirected? If so, WHY?"
Being part of PWN, being outspoken on social media…Twitter and Facebook especially gained the attention of my other Sisterhood...The Well Project and A Girl Like Me! I was at first humbled by the notice, then asked myself "Do they really mean me...?" I was at that time about 58 years old...hardly a girl! But indeed, as Krista Martel explained to me, the voice of a "seasoned" (not old) woman like myself was needed in the world of HIV/AIDS.
So...here I am, having completed Positive Women's Summit "Speak Up" AND my first ever Positive Living Conference, which is in its 17th year of existence.
During the PWN summit, approximately 200 women from across the US and its territories spent an INTENSIVE two days together discussing the needs for Organizing so our Voices are hear, Criminalization...because HIV is NOT a Crime! Social Media, which is mostly free, gets our voices or written word heard and seen around the world! Having strong activist women come together for a conference like this is Powerful. Though we are connected via social media, email, etc., get us in rooms together and the Creativity, the Strategies for our ongoing work, the Energy we inspire in each other could probably fuel a NASA shuttle to Mars!
I can't begin to tell you all the conversations...Let me leave you with just a few catch phrases that raised the roof as we shouted...
"ALL WOMEN ALL RIGHTS"
"WE ARE THE CHANGE, YOU BE THE CHANGE TOO!"
Though many come to any one of us and say you're amazing, your energy, etc…It is NOT about me or any one of us...It is about inspiring others…about Leading by Example!
For those not quite ready to live out loud with their HIV or AIDS (I'm thriving with AIDS)...We will proudly be your voice until you are ready!
Until the next time...Forward Together, Not One Step Back (had to get my NC Moral Monday slogan in here...it's appropriate for us too)!
Thank you The Well Project and Positive Women's Network for you Vision and the "Never Give Up" spirit that enabled this "herstoric" event to become a reality!