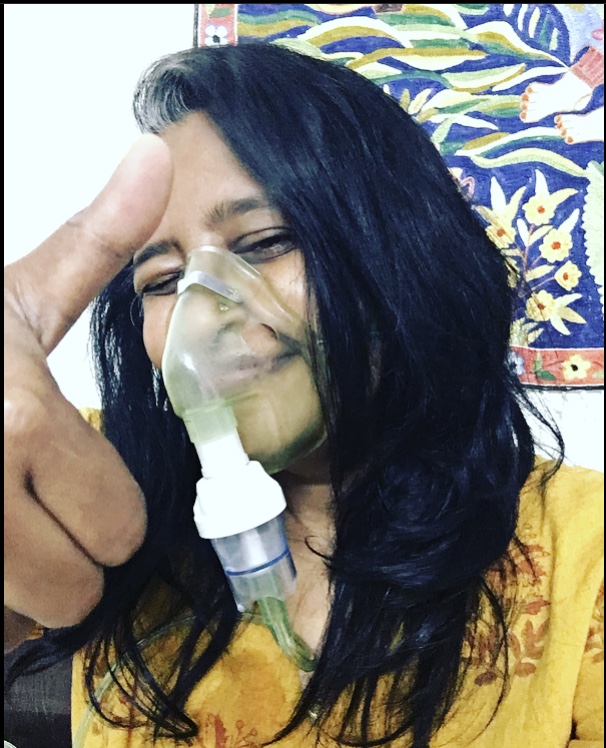 On 18th January I decided to take RT PCR test for two reasons:
My friend who had hosted me when I visited her city whatsapp'ed me to say that she had been tested positive
I was having an itchy throat for the past 2-3 days. Prior to that, I had a fever of 101.7 for two days
When the result came out positive, I did not panic. I had been vaccinated against COVID (Covaxin) and it had been nine months. Given below is my point-by-point experience of battling with Omicron.
Day 1 and Day 2
Fever of 101.7. I was mostly in bed, with body pains, headache and severe pain in my back and legs. Burning eyes. Since I stay alone, I didn't have strength to cook, hence I relied on tea and toast these two days.
Day 3
With fever gone, I was exhausted. Fatigue took over. Was in sleep-wake-sleep cycle. Put up a post in Facebook, requesting for someone to drop in at my place as I needed help.
Day 4
Booked a home-visit COVID test that cost me Rs 700/-. Result came out in 7 hours. Positive with CT Value of 25.59. Not bad. I had tele-consultation with my doctor who suggested home isolation and prescribed me certain medicines for clearing out the respiratory issues – as I was asthmatic. Though I was not having breathing issues, I had slight pain and heaviness on my chest and cough with a bit of sputum.
Day 5
My first day of home isolation. I even placed an order for home tiffin.
Like everyone else, I was NOT prescribed Dolo and Vitamin C. I was told to take paracetamol only when fever and pain persist. Being the one with family history of asthma, I was to take Nebulisation twice a day and a dissolvable 600mg tablet that would help in the treatment of respiratory issues with mucus. I was advised to drink plenty of fluids – coconut water, buttermilk, ORS, lemon juice, soups.
I was also advised to monitor mty temperature/pulse/oxygen saturation (Oxymeter) once a day at around 5pm.
During my next 5 days, I got stronger, better. At times, I would get exhausted over nothing and a bit of a power nap brought back the much needed strength. At the time of typing this blog (24th Jan), I was on my final day of home isolation.
Hence I would like to say this:
VACCINATE. It save lives. It is effective. It does its job; instead of fighting for life in the hospital and on a ventilator, all one needs is home isolation. If you do get COVID, there is an excellent chance of full recovery. I thank heavens for the vaccine.