Register now
for The Well Project's very first international
A Girl Like Me
conference call/web chat on Thursday, March 7, 2013 at 10:00 am ET in honor of
National Women and Girls HIV/AIDS Awareness Day (NWGHAAD).
The call/web chat is a great opportunity to ask questions of some of your favorite bloggers who are a source of support to women around the world. Featured bloggers will include:
Angela Krebs (Indianapolis, IN, USA)
Bose Olutu (Lagos, Nigeria)
Connie Johnson (GoldyLyfe) (Chicago, IL, USA)
Dawn Averitt, Founder of The Well Project (Charlottesville, VA, USA)
Devarah (Dee) Borrego (Boston, MA)
drkatmd (Kat/Lyric) (Maryland, USA)
Jae (Southern California, USA)
Kate (Cleveland, OH, USA)
Maria Mejia (Miami, FL, USA)
Michelle Anderson (Ms. Plus America) (Dallas, TX, USA)
Sonia Roy (India)
Tabby (wowreallytab) (Kansas City, KS, USA)
Tiffany (Voices from our Allies) (Philadelphia, PA, USA)
Vickie Lynn (lovinglife) (Tampa, FL, USA)
We hope you will join us for what promises to be an enlightening, informational, and entertaining hour with the women who make
A Girl Like Me
such a powerful resource.  
Instructions for participation:
To register in advance please go to: http://www.anymeeting.com/PIID=E953DA8185483C 
At 10:00 am ET on March 7, you can join us via the web and/or telephone

Web: click on http://www.anymeeting.com/thewellproject1 and use your computer microphone and speaker
Phone: dial 213-416-1560 and enter Passcode 1044335
Participants may enter in an alias name if you do not want your real name displayed during the webcast
All information received during registration will be kept confidential
*************************************************************************************
About NWGHAAD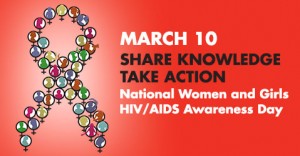 National Women and Girls HIV/AIDS Awareness Day
(NWGHAAD) is a day to "Share Knowledge. Take Action." The nationwide observance held each March 10 sheds light on the disease's often overlooked impact on women and girls and empowers people to make a difference. Every year on this important day, thousands of people, advocacy organizations, and local and state public health officials share the facts about HIV/AIDS and how it affects women and girls. They also take action in a variety of ways, such as:
Telling women and girls how to prevent HIV/AIDS
Getting more of them to get tested
Providing services to those living with the disease
Doing whatever it takes to reduce the impact of HIV/AIDS
Together, we can educate others, change behaviors, and help shape the future for women and girls.